PHOENIX, April 15, 2019 — INSYS Therapeutics, Inc. (NASDAQ: INSY), a leader in the development, manufacture and commercialization of pharmaceutical cannabinoids and spray technology, today announced that the Board of Directors has appointed Andrew G. Long as Chief Executive Officer, effective immediately. Mr. Long succeeds Saeed Motahari, who has mutually agreed with the INSYS Board of Directors to resign as President and CEO of the Company.
In connection with INSYS' leadership changes, Andrece Housley, INSYS' Corporate Controller, has been appointed Chief Financial Officer, succeeding Mr. Long. Additionally, Dr. Venkat Goskonda has been promoted to Chief Scientific Officer, overseeing the Company's R&D and manufacturing activities.
Steven Meyer, Chairman of the Board of Directors, remarked, "We believe that now is the right time to transition leadership and that Andy is an excellent choice to serve as the Company's CEO. Andrece and Dr. Goskonda's promotions are a reflection of their contributions to INSYS. On behalf of the Board, I thank Saeed for his commitment to INSYS and meaningful contributions to the enterprise. We appreciate Saeed's dedication to INSYS' employees and stakeholders and we wish him all the best in the future."
Mr. Long joined INSYS as Chief Financial Officer in August 2017 with more than three decades of experience in the life sciences, bio-pharma and industrial sectors. Prior to joining INSYS, he served as Senior Vice President of Global Finance at Patheon, where he worked on a number of initiatives leading up to Patheon's IPO. Prior to working at Patheon, Mr. Long spent nine years as Vice President of Finance for multiple divisions at Thermo Fisher Scientific. He previously spent five years leading the global finance and supply chain functions for the BioScience Division of Cambrex Corporation. Previously, Mr. Long also spent almost a decade building his financial expertise in various roles at Abbott Laboratories.
Contact:
Investor Relations & Corporate Communications
Jackie Marcus or Chris Hodges
Alpha IR Group
312-445-2870
INSY@alpha-ir.com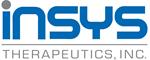 Source: INSYS Therapeutics, Inc.