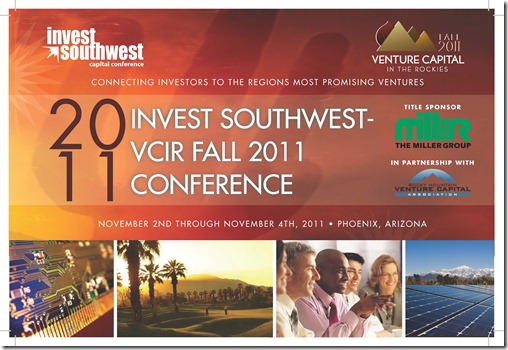 This year's Invest Southwest is being held in conjunction with Venture Capital of the Rockies and will bring many new investors, capital groups and institutions to Arizona.
If your company meets the criteria needed to attract savvy investors, get your application in early for optimum visibility.
INVEST SOUTHWEST/VCIR FALL 2011 PRESENTING COMPANY APPLICATION GUIDELINES
Companies wishing to present at the November Invest Southwest/VCIR Fall 2011 Conference, should be seeking to raise $500,000 to $10M dollars. An application form must be submitted no later than 5:00 p.m. on September 1, 2011. A complete application form consists of the following components:
contact information
management team
company profile
executive summary
product/service summary
market & strategy summary
financial information
5-minute video presentation
Applicants can obtain an application form beginning June 1, 2011, by visiting www.investsouthwest.org , and click on the "Presenters" page.
Applicants will automatically be redirected to the Angelsoft program, which requires you to register or login as an entrepreneur. Follow the instructions after logging in, and complete the application form in Angelsoft. Applicants will receive a confirmation email once completed. Please complete all information!
The deadline to submit application fees and applications is 5:00 p.m. on September 1 but it is highly recommended that you submit earlier.