Study tests targeted agent, BDTX-1535, an EGFR inhibitor with brain-penetrant properties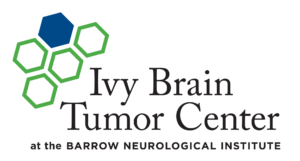 PHOENIX, ARIZ, November 6, 2023 – The Ivy Brain Tumor Center at Barrow Neurological Institute announced the first patient has been treated in a novel Phase 0/1 clinical trial of BDTX-1535, an experimental drug targeting oncogenic EGFR (epidermal growth factor receptor) mutations in patients with recurrent high-grade glioma.
BDTX-1535 is a targeted agent designed to enhance brain penetration relative to other drugs in its class. This Phase 0/1 clinical trial will assess the drug's ability to cross the blood-brain barrier in patients with EGFR-altered gliomas, and measure tumor response to the drug.
The primary objective of this study is to evaluate how much BDTX-1535 accumulates in the tumor tissue of participants. Patients who demonstrate adequate drug penetration may be eligible for continued treatment within the trial's expansion phase.
The clinical trial is enrolling 22 patients. It is one of more than a dozen Phase 0 clinical trials the Ivy Center has initiated for patients with glioblastoma and other aggressive brain tumors.
"Oncogenic EGFR alterations are prevalent in high-grade glioma, with approximately half of patients harboring EGFR amplification, mutations or variants," says Nader Sanai, MD, Director of the Ivy Brain Tumor Center and Director of Neurosurgical Oncology at Barrow Neurological Institute. "Currently, there is no effective EGFR-targeted therapy for glioma patients, emphasizing a critical unmet need."
BDTX-1535 is also under investigation for the treatment of patients with non-small cell lung cancer with oncogenic EGFR mutations. BDTX-1535 is intended to expand the addressable patient population by targeting families of EGFR mutations with a single oral drug.
"We are very pleased to collaborate with the Ivy Brain Tumor Center, a leader in the field of brain cancer drug development, and look forward to advancing our knowledge of EGFR inhibition with BDTX-1535 in patients with high grade gliomas in this clinical trial. BDTX-1535 has been developed to address the limitations of prior drugs targeting EGFR which is commonly altered in patients with glioblastoma," said Sergey Yurasov, M.D., Ph.D., Chief Medical Officer of Black Diamond Therapeutics.
To learn more about this clinical trial, including eligibility criteria, visit https://clinicaltrials.gov/study/NCT06072586.
About BDTX-1535
BDTX-1535 is an oral, brain-penetrant MasterKey inhibitor of oncogenic EGFR mutations in non-small cell lung cancer (NSCLC), including classical driver mutations (exon19del, L858R), non-classical driver mutations (e.g., L747P, L718Q), acquired resistance mutation C797S, and complex mutations. BDTX-1535 is a fourth-generation TKI that potently inhibits, based on preclinical data, greater than 50 oncogenic EGFR mutations expressed across a diverse group of patients with NSCLC in multiple lines of therapy. Based on preclinical data, BDTX-1535 also inhibits EGFR extracellular domain mutations and alterations commonly expressed in glioblastoma multiforme (GBM) and avoids paradoxical activation observed with earlier generation reversible TKIs. The ongoing BDTX-1535 Phase 1 clinical trial is currently in dose expansion for NSCLC and dose escalation for GBM.
About Ivy Brain Tumor Center
Ivy Brain Tumor Center at Barrow Neurological Institute in Phoenix, AZ, is a tertiary care and nonprofit translational research program that employs bold, early-phase clinical trial strategies to identify new treatments for aggressive brain tumors, including glioblastoma. Our leading experts in neurosurgical oncology, neuro-oncology, radiation oncology, neuroradiology, neuropathology and neuroscience nursing treat more patients annually than any other brain tumor center in the United States. The Ivy Center's Phase 0 clinical trials program is the largest in the world and enables personalized care in a fraction of the time and cost associated with traditional drug development. In addition, unlike conventional clinical trials focusing on single drugs, the Ivy Center's accelerated program tests therapeutic combinations matched to individual patients. We leave no stone unturned in the pursuit of hope and healing. Learn more at IvyBrainTumorCenter.org. Follow the Ivy Brain Tumor Center on Facebook, Instagram, Twitter, and LinkedIn.
SOURCE: https://www.ivybraintumorcenter.org/about/newsroom/news/press-release/ivy-center-announces-first-patient-treated-in-targeted-phase-0-1-clinical-trial-for-high-grade-glioma/