Jim Harris, Vice President of Business Development for Translational Genomics Research Institute (TGen), joins other bioscience and business leaders who will support the executive team of the Phoenix-based regenerative medical company.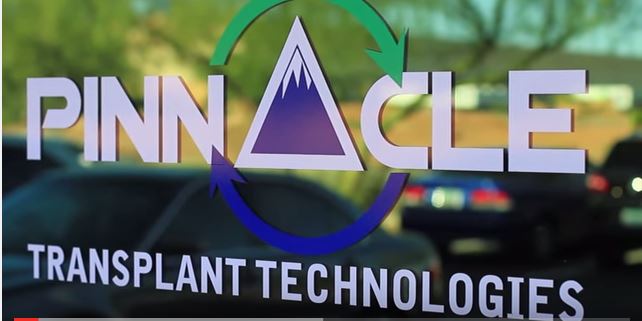 Pinnacle Transplant Technologies, a regenerative medical company that manufactures innovative allografts for human transplant, scored a big win with the latest addition to its advisory board: Jim Harris of the Translational Genomics Research Institute (TGen).
Mr. Harris brings over three decades of experience in the Biomedical Research Testing markets including both Research and Diagnostic products; he currently serves as the Vice President of Business Development for TGen, where he successfully shifted an academic-focused tech transfer function to a "business-driven science" focus that covers the breadth of the Institute's capabilities. During his tenure, the Business Development group has actively established strategic partnerships with several major Life Science, Pharmaceutical and Diagnostic companies. He previously served as a key executive for Beckman Coulter, which "develops, manufactures and markets products that simplify, automate and innovate complex biomedical testing," according to its website.
"We have spent several months strategically recruiting bio- and life-science leaders as well as seasoned business executives in Phoenix to sit on our advisory board," commented Pinnacle CEO Russ Yelton. "These are the best of the best in their respective fields, and they will offer tremendous expertise and guidance to our executive leadership team as we continue to scale our company."
The other members of Pinnacle's advisory board include:
Michael Hool: As Managing Partner of Hool Coury Law, Mr. Hool works with select companies as an advisor, legal counsel and periodically serves in executive and board capacities. His practice is focused primarily on corporate and commercial representation, securities, finance and venture capital, mergers and acquisitions, corporate governance matters, and all aspects of counseling emerging companies. He represents both issuing companies and investors in a large variety of financing transactions.
James A. Jacobs: Mr. Jacobs is Managing Partner of West Desert Partners, a strategic and financial advisory services firm assisting companies in defining and executing on their growth and profitability objectives. He previously served as Sr. Vice President of Corporate Development for Studio One Media, Inc., an entertainment technology company, and was a Managing Director at JDB Capital Partners, an Arizona merchant bank.
Alan Lobock: Mr. Lobock is a serial entrepreneur who has founded numerous companies, including Worthworm, SkyMall, Inc. and D-Strut LLC. He is also serving several startups as an Advisory Board member and is mentoring startups through Seed Spot and Arizona State University's Entrepreneurship and Innovation Group.
Mario Martinez II: With more than 17 years of enterprise class experience with multi-billion dollar U.S. and International Life Sciences firms both public and private, Mr. Martinez brings with him sales and marketing technology management expertise including end-user and infrastructure technology operations and support, customer relationship management, and business intelligence solutions. His most recent experience includes serving as the founder and chief executive officer of 360 Vantage, which developed cloud-based sales and marketing technology to solve the challenges facing mobile workforces in health care and life sciences. 360 Vantage was later acquired by IMS Health.
Keith Stoneback: Mr. Stoneback is a proven Life Sciences' industry executive with a record and reputation for achieving results and adding significant value to the businesses he has led. During his 30 year executive management career, he has built and led teams that succeeded within large corporate structures, start-up environments and private equity financed turnaround situations. The majority of his industry experience has been within the medical device and healthcare equipment markets.
Scarlett Spring: Ms. Spring's focus of work is in early cancer detection. She is President of VisionGate, a biomedical company pioneering early detection diagnostics specifically focused on lung cancer. Her experience ranges from executive leadership in a top ten pharmaceutical company to Chief Operational Officer at a nationally ranked public private partnership to an innovative start-up. She has led Fortune 100 companies with teams as large as 500 individuals and multi-million dollar budgets to lean organizations with less than 20. Previously, Ms. Spring served as the Chief Operating Officer and Executive Vice President of Business Development for the Greater Phoenix Economic Council (GPEC).
For full biographies, please visit http://pinnacletransplant.com/about/advisory-board-members