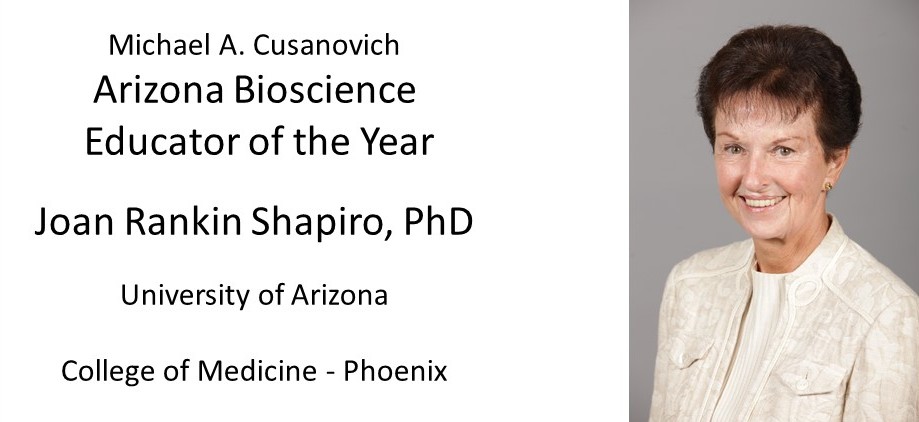 The Arizona BioIndustry Association has named Joan Rankin Shapiro, Ph.D., Associate Dean for Research and Professor of Basic Medical Sciences at the University of Arizona College of Medicine – Phoenix, the 2015 Michael A. Cusanovich Arizona Bioscience Educator of the Year.
"Great educators open our eyes to possibilities.  Great researchers unlock those possibilities.  When the two skills are combined, it inspires new generations and lays the groundwork for tomorrow's miracles." shared Joan Koerber-Walker, President and CEO of the Arizona Bioindustry Association. "For those of us who may have left the classroom years ago, they create for us the gift of future scientists, engineers, medical professionals, entrepreneurs, and leaders. Through her work in the classroom, in the lab, and as a leader in our community, Dr. Joan Rankin Shapiro has inspired us all."
Dr. Joan Rankin Shapiro was appointed Associate Dean for Research in 2010. She is a Professor of Basic Medical Sciences at the University of Arizona College of Medicine – Phoenix where she oversees the research program for the medical school.
"The medical school and its extensive reach statewide has been unbelievably fortunate to have Joan not only join our college at its most formative stage, but to build the foundation for research on which the school will grow," said Stuart D. Flynn, MD, dean of the UA College of Medicine – Phoenix. "She is a leader as a scientist, a wonderful role model for all to emulate, a collaborator extraordinaire, and an icon in our community. Her legacy will live in perpetuity for generations to follow as she has set the standard for how we should all work toward common goals selflessly, not selfishly."
The UA College of Medicine – Phoenix is one of only two medical schools in the country that requires that each graduating medical student complete a four-year research scholarly project and thesis. The value of this is far reaching, including representing the catalyst for these physicians to be lifelong learners and embrace discovery throughout their careers. Dr. Shapiro has been a leader in shepherding the students through this complex maze of work.
Before assuming her current administrative role, Shapiro was engaged in human birth defects research at Rockefeller University and later transitioned to cancer research at Memorial Sloan-Kettering Cancer Center (MSKCC), New York. Her research led to an important publication in 1981 describing the extensive genetic differences between patients' tumors as being a fundamental cause of why tumors responded differently to chemotherapeutic agents and/or radiation. In September 1989, she relocated to the Barrow Neurological Institute (BNI) of St. Joseph's Hospital and Medical Center, Phoenix, Arizona, as the Director of Neuro-Oncology Research. The primary focus both at MSKCC and at the BNI, concerned problems related to the treatment of brain cancer and local invasion of normal brain by tumor cells.
Shapiro received NIH and foundation funding amounting to more than $16 million over the 25 years of laboratory investigations. In October of 2007, she received a Lifetime Achievement Award from the Society of Neuro-Oncology for her contributions to the field of neuro-oncology in recognizing the individual uniqueness of malignant tumors and their response to therapy.
While at BNI, Dr. Shapiro in partnership with Dr. Adrienne Scheck created an award winning internship program that allows undergraduate and high school students to work alongside BNI's world-class researchers.   Now in its 20th year, the program has helped to inspire hundreds of students and new generations of researchers.
In recognition of her commitment to ensuring that Arizona life science students and physicians have every opportunity to succeed, Joan Rankin Shapiro, PhD is the Arizona BioIndustry Association's 2015 Michael A. Cusanovich Arizona Bioscience Educator of the Year.
A ceremony honoring Dr. Shapiro will take place at the AZBio Awards on October 1, 2015 at the Phoenix Convention Center. The AZBio Awards ceremony celebrates Arizona's leading educators, innovators and companies. Each year, AZBio honors bioindustry leaders from across the state of Arizona who are illustrative of the depth, breadth and expertise of the bioscience industry.
Past recipients of the Michael A. Cusanovich Arizona Bioscience Educator of the Year Award include:  Dr. Mile Orchinik (Arizona State University), Amanda Grimes (Mesa Biotechnology Academy), Dr. Jennifer Kahlet Barton (The University of Arizona), Dr. Nadja Anderson (The University of Arizona BIO5 Institute), Dr. Andrew Lettes, (Pueblo Magnet High School), Barbara Fransway (Arizona Research Laboratories, The University of Arizona), Margaret Wilch (Tucson High Magnet School), and Xan Simonson (Mesa High School).
###
For registration and more information, go to www.azbioawards.com.
About AZBio
AZBio – The Arizona Bioindustry Association – is comprised of member organizations in business, research, government, and other professions involved in the biosciences.  AZBio supports the members of the Arizona bioscience community by providing access to the key resources, connections, and information that support their ability to Connect, Collaborate, Innovate and Succeed thus supporting the growth of a thriving economic ecosystem for Arizona's Bioscience Industry.
For more information visit www.AZBio.org and www.AZBio.TV
Contact: 
Joan Koerber-Walker, Arizona Bioindustry Association
jkw@azbio.org  480-332-9636
Photos available upon request.
About the UA College of Medicine – Phoenix
The University of Arizona College of Medicine – Phoenix admitted its inaugural class of first-year medical students in August 2007 and currently has 320 students training to be physicians. The College inspires and trains exemplary physicians, scientists and leaders to optimize health and health care in Arizona and beyond.  The College of Medicine – Phoenix is uniquely positioned to accelerate the biomedical and economic engines in Phoenix and the State by leveraging vital relationships with key clinical and community partners. For more, visit phoenixmed.arizona.edu.