The Arizona Bioindustry Association will honor Laurence Hurley, PhD, of the University of Arizona College of Pharmacy as the Arizona Bioscience Researcher of the Year at the 2017 AZBio Awards. Arizona life science and business leaders, as well as guests from across the nation, will recognize Dr. Hurley for his legacy of work that has made a significant clinical impact to improve patients' lives.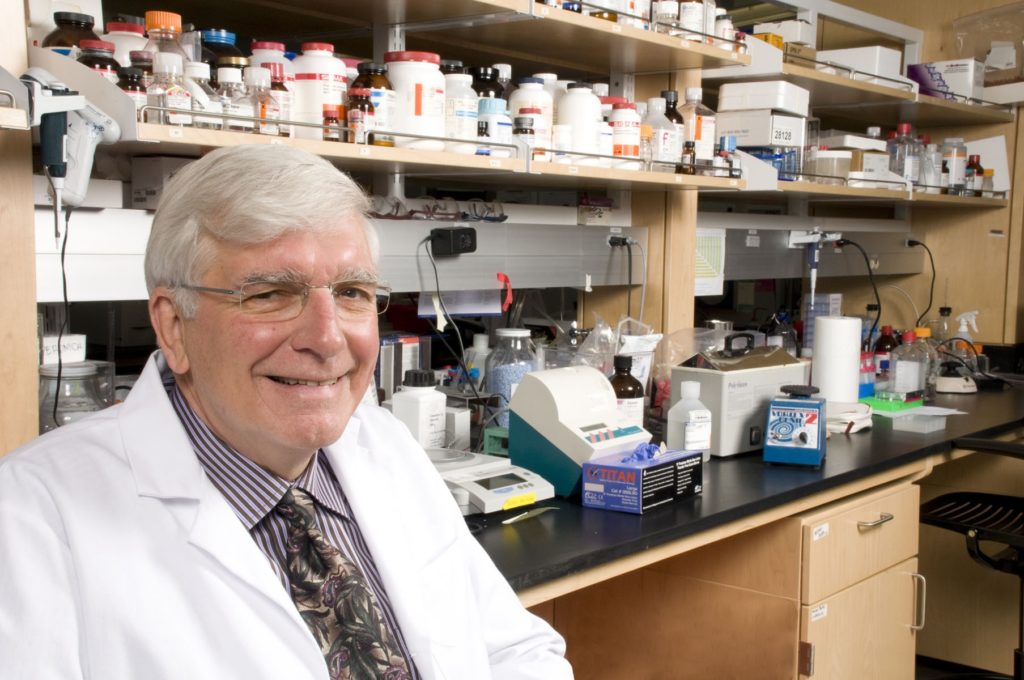 Laurence Hurley, PhD, is the Howard Schaeffer Chair in Pharmaceutical Sciences at the UA College of Pharmacy and director of the UA BIO5/College of Pharmacy Drug Discovery and Development Program. He also is a research member of the UA Cancer Center, among other roles.
He is the leading authority in the identification of small molecule therapeutic agents that target DNA quadruplexes, which are unique four-stranded DNA structures that control gene expression.
"A quadruplex is like a knot in DNA and we have the capability, using drugs that act like natural proteins, to undo or tie up these knots. In effect, this process allows us to turn genes on or off," said Hurley, who pioneered the method nearly 20 years ago. "With this approach, we can turn off cancer genes and thereby mitigate the progression of the disease. In a similar vein, we have the capacity to turn on genes, which may be important to other disease areas, such as those related to the natural process of aging."
Hurley and his team recently developed a groundbreaking platform technology that accelerates the discovery process for next-generation pharmaceutical agents that modulate quadruplex control of gene expression. This work resulted in eight peer-reviewed publications over the last 12 months in high-impact science journals, such as Journal of the American Chemical Society and Nature Chemical Biology. Notably, he fully characterized quadruplex control systems for several important drug targets, including telomerase, c-MYC, BCL2, KRAS, HIF1-α, VEGF, and PDGFR-β. Further, he developed the fundamental drug-discovery tools required to translate quadruplex-controlled gene expression onto a commercialization path for each of these targets. This platform technology now is in the hands of a Tucson-based drug discovery company called Reglagene (Hurley is CSO and Richard Austin, PhD, MBA is CEO).
Hurley and his team work to design and develop novel antitumor agents that will extend the lives of patients diagnosed with cancer. Hurley's team applies structural biology techniques to validate quadruplex control systems, high-throughput assay technologies to identify drug leads and medicinal chemistry intertwined with clinical oncology programs in cancer therapeutics to create new medicines. Hurley has built an impressive network of clinical collaborators, including the best of Arizona. He has active collaborations with clinicians at the Translational Genomics Research Institute (TGen) and the HonorHealth Research Institute (HRI), both scientifically led by Daniel Von Hoff, MD, and with research groups within the UA Cancer Center.
"Dr. Hurley is one of the most gifted scientific investigators and teachers in this world," said Von Hoff. "His pioneering work on DNA quadruplexes is visionary. His efforts have always been driven to make a difference for patients."
Throughout his distinguished career, Hurley has pioneered several novel drug therapies. This research has been recognized internationally with numerous top scientific awards, including two Outstanding Investigator Awards from the National Cancer Institute, Honorary Doctorates from the University of Bath and Purdue University, and the Nucleic Acid Award from the Royal Society of Chemistry. He has placed two novel cancer medicines into human clinical trials, founded three biotech companies (Cylene, Tetragene and Reglagene) and provided the technology for a fourth company (Horizon Biotechnologies).
A prolific author and inventor, Hurley has published more than 265 peer-reviewed articles and has 25 issued patents or patent applications.
Laurence Hurley was born in Birmingham, England. He earned a Bachelor of Pharmacy from the University of Bath and a doctorate in chemistry from Purdue University. He conducted postdoctoral research at the University of British Columbia and served on the faculties at the University of Maryland, University of Kentucky and University of Texas at Austin. In 2000, Hurley joined the University of Arizona as the Howard J. Schaeffer Chair in Pharmaceutical Sciences. He has served as associate director of the UA BIO5 Institute and co-director of the Molecular Therapeutics Program at the UA Cancer Center. Since his arrival at the UA, Hurley has trained more than 40 graduate and postdoctoral students.
"Dr. Hurley's work is an excellent example of the value created through basic research and the impact made possible as we continue along the road to find a cure for cancer," said Joan Koerber-Walker, president and CEO of AZBio.
For his commitment to pushing the frontiers of science for the betterment of people in Arizona and around the world, Laurence Hurley, PhD, is the 2017 Arizona Bioscience Researcher of the Year.
A ceremony honoring Hurley will take place at the AZBio Awards on Oct. 11 at the Phoenix Convention Center.
The AZBio Awards ceremony celebrates Arizona's leading educators, innovators and companies. Each year, AZBio honors bioindustry leaders from across Arizona who are illustrative of the depth, breadth and expertise of its bioscience industry. The AZBio Awards ceremony is held annually during Arizona Bioscience Week. Arizona Bioscience Week 2017 was proclaimed by the Arizona Senate earlier this year. Multiple educational events focused on the value of life science innovation will take place Oct. 8-14, including the BMES Annual Meeting in Phoenix.
The Biomedical Engineering Society (BMES) is the world's leading society of professionals devoted to developing and using engineering and technology to advance human health and well-being. Attendees at BMES 2017 in Phoenix are expected to include nearly 4,000 professional scientists, engineers, researchers and students from academia and industry who are leaders in biomedical engineering.
###
For registration and more information, go to www.azbioawards.com
For more information on Arizona Bioscience Week, visit www.AZBio.org/AzBW2017
About AZBio
A key component in Arizona's life science ecosystem, the Arizona Bioindustry Association (AZBio) is the only statewide organization exclusively focused on Arizona's bioscience industry. AZBio membership includes patient advocacy organizations, life science innovators, educators, health-care partners and leading business organizations. AZBio is the statewide affiliate of the Biotechnology Innovation Organization (BIO) and works in partnership with AdvaMed, MDMA and PhRMA to advance innovation and to ensure that the value delivered from life-changing and life-saving innovation benefits people in Arizona and around the world.
For more information, visit www.AZBio.org and www.AZBio.TV
Contact:
Joan Koerber-Walker, Arizona Bioindustry Association
jkw@azbio.org (480) 332-9636
Amanda Vega
Amanda@AmandaVega.com (480) 275-9797
Alli Benjamin
abenjamin@pharmacy.arizona.edu (520) 626-3389
Lisa Romero
lisaromero@bio5.org (520) 271-6568
Photos available upon request.