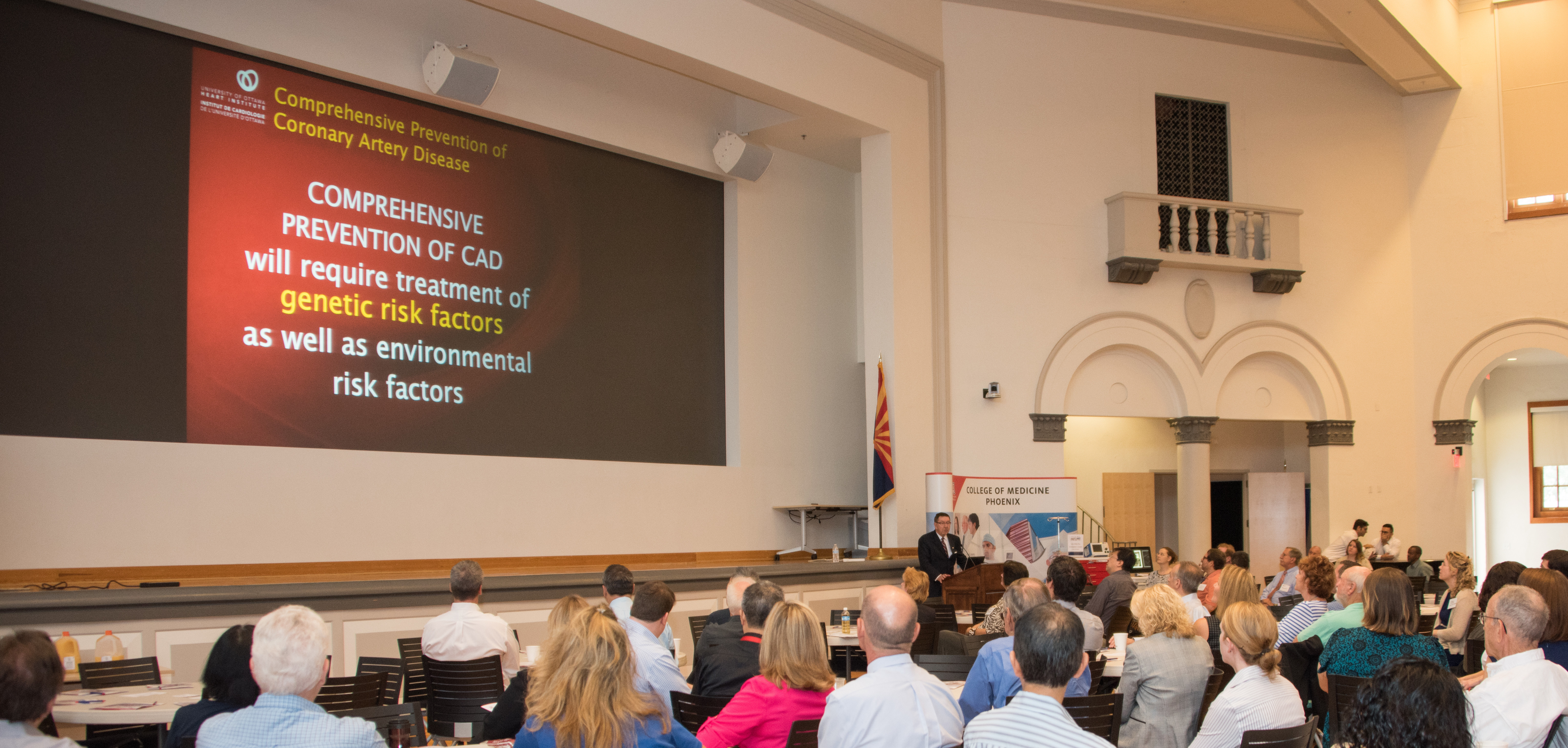 The first annual Collaborative Fair sponsored by the Valley Research Partnership and Arizona Biomedical Research Commission was held at the University of Arizona College of Medicine Phoenix on Tuesday, September 22. Over 125 participants from the Phoenix Metropolitan Region representing 40 biomedical research-related institutions, medical centers, companies, and patient advocacy groups participated and aimed to develop cross-institutional research collaborations. Attendees listened to presentations describing collaborative projects and research resources from five speakers.
Robert Roberts, MD, is currently Professor of Medicine and Assistant to the Dean at the University of Arizona College of Medicine Phoenix, is a world famous cardiologist.  He developed the MBCK Test, the gold standard for heart attack diagnosis, and discovered/co-discovered over 20 genes associated with cardiac disease. One of his published research papers has over 250 authors and collaborators.
William Knowler, MD, is Chief of the Diabetes Epidemiology and Clinical Research Section in the Division of Intramural Research at the National Institute of Diabetes and Digestive and Kidney Diseases (NIDDK). Dr. Knowler has conducted diabetes research in Arizona's Gila River Indian Community for more than three decades.
Jennifer Botsford, MPSH is the Program Manager for a sponsor of the Collaborative Fair, the Arizona Biomedical Research Commission (ABRC). The Commission is an agency of the Arizona Department of Health Services that advances Arizona as a bioscience leader. One major ABRC program supports research funding in Arizona.
William Read, PhD is Vice President of the Flinn Foundation.  He oversees its basic and translational research programs, and interacts with the scientific research community in Arizona, guiding the Foundation's interest in emerging grant opportunities for biomedical research and assesses the impact of Arizona's investments in the biosciences.
Chengcheng Hu, PhD, Associate Professor, Public Health and Director, Biostatistics – Phoenix Campus oversees the Biostatistics Service between the University of Arizona Mel and Enid Zuckerman College of Public Health and the UA College of Medicine Phoenix. He assists UA researchers and their collaborators with study design and data analysis.
Following the speakers, attendees participated in a round of 'Speed Networking' where 8 participants each presented a two minute thumbnail description of their research interests, followed by a short discussion. This networking opportunity engaged participants in a fun way and allowed connections with possible research collaborators.
General interactions among the participants and twenty exhibitors allowed further discussions regarding collaborations and research resources.
This is likely to be an annual event.  Look for another Collaborator Fair next year!  Contact Burt Feuerstein at PBC-VRPGrants@email.arizona.edu for any comments or questions.
Story provided by:  Kathleen Carlson, MLS, AHIP, Associate and Education Librarian, UA College of Medicine – Phoenix