The Arizona Bioindustry Association will honor Mark W. Mitchell, Mayor of the City of Tempe Arizona, with the AZBio Public Service Award at the 2017 AZBio Awards. Arizona life science and business leaders as well as guests from across the country will be on hand to applaud Mayor Mitchell for his leadership and support of Tempe's growing life science industry.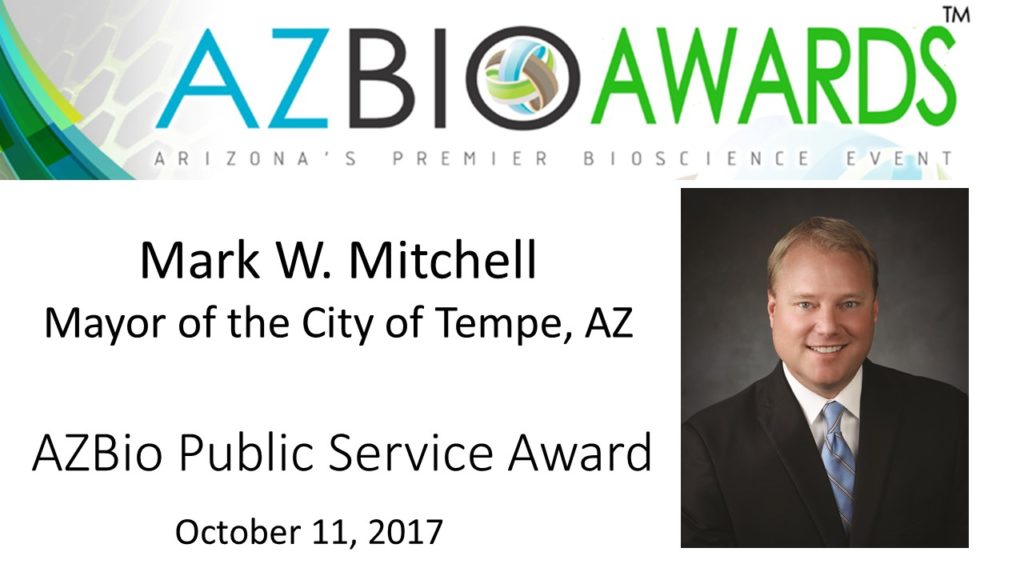 Mayor Mitchell is committed to the growth of the bioscience industry in Tempe. The city is home to the main campus of Arizona State University and the Biodesign Institute, global companies BARD Peripheral Vascular, Inc. and Medtronic along with homegrown start-ups Apex Environmental, Applied Micro Arrays, Calviri, GenoSensor, INanoBio, Korwave, Life365, PADT, Susavion, and SynBuild.
The City's high-tech community includes approximately 15,000 people employed in technology-related fields, with an average salary of $95,000.
Under the Mayor's leadership, the city is developing a new Bioscience and Technology Campus called I.D.E.A. Tempe at Tempe Town Lake next to the Tempe Center for the Arts.
"We're a magnet for technology companies, world class researchers, and talented students who either beginning their technology journey in Tempe or growing their reputation or tech company," said Mayor Mitchell. "Tempe is building for the future because we understand that our community can have an impact on individuals, fight diseases across the globe and create technologies that will change life as we know it. Think of the impact this will have on our worldwide community. Just look at the ASU Biodesign Institute—it has generated more than $1.5B impact on the regional economy and supported more than 3,000 jobs since it opened in 2003. Biodesign Building C opens in 2018 and there is so much more to come."
"Powered by intellect, energy and innovation, our researchers believe they can accomplish what others often find impossible," said world renowned cancer researcher Dr. Joshua LaBaer who serves as the Executive Director of the Biodesign Institute. "With the addition of Biodesign C, we will soon have nearly 700 scientists of all kinds — biologists, engineers, chemists, physicists, mathematicians, computer technologists — and students working together to find creative and clean solutions for energy, air and water. We will invent new diagnostics and treatments that are accessible and affordable, and in some cases, we expect to be able to halt disease before it even begins."
Mark W. Mitchell is a third-generation Arizonan with deep roots in the Tempe community.
Mark W. Mitchell was elected to the Tempe City Council in March of 2000 and served three four-year terms. A native of Tempe, Mitchell attended elementary and middle school in the community before graduating from McClintock High School. He also earned a Political Science degree from Arizona State University. During his time as Mayor, Mitchell has focused on strengthening Tempe's local economy and the economic recovery by working to attract new businesses and retain current business partners. Since his election as Mayor in May, 2012, the City of Tempe has announced the addition of more than 28,000 jobs. In addition to the biosciences, the city has significantly grown its financial sector with new campuses for companies including Chase, Northern Trust, State Farm, Silicon Valley Bank, and Union Bank. With its combined tech and financial sector focus, Tempe is looking forward to welcoming tens of thousands of jobs over the next decade.
Mayor Mitchell is also committed to maintaining and improving Tempe's world-class assets like the Tempe Center for the Arts and Tempe Town Lake, working with law enforcement to ensure that Tempe is made up of safe neighborhoods, and to providing a transparent city government.
Mayor Mitchell currently serves on the Arizona Bioscience Roadmap Steering Committee and the Executive Committee for the League of Arizona Cities and Towns. He is also involved with the U.S. Conference of Mayors and the National League of Cities. Mitchell is also on the Board of Directors of the Greater Phoenix Economic Council and serves as the City of Tempe's representative on the Maricopa Association of Government's Regional Council, Regional Council Executive Committee, and Transportation Policy Committee.
As a community member, Mayor Mitchell has served on numerous boards and charitable organizations, including T the Kiwanis Club of Tempe, Tempe Diablos, Tempe Leadership Class XV, Tempe Sister Cities, Tempe Impact Education Foundation, Rio Salado Foundation, and Tempe YMCA.
A ceremony honoring Mayor Mitchell will take place at the AZBio Awards on October 11, 2017 at the Phoenix Convention Center.
The AZBio Awards ceremony celebrates Arizona's leading educators, innovators and companies. Each year, AZBio honors bioindustry leaders from across the state of Arizona who are illustrative of the depth, breadth and expertise of its bioscience industry. The AZBio Awards ceremony is held annually during Arizona Bioscience Week. AZBW 2017 was proclaimed by the Arizona Senate earlier this year. Multiple educational events focused on the value of life science innovation will take place from October 8, 2017 to October 14, 2017 including the BMES Annual Meeting in Phoenix. The Biomedical Engineering Society (BMES) is the world's leading society of professionals devoted to developing and using engineering and technology to advance human health and well-being. Attendees at BMES 2017 in Phoenix are expected to include nearly 4,000 professional scientists, engineers, researchers and students from academia and industry who are leaders in biomedical engineering.
Past recipients of the AZBio Public Service Award include: Congresswoman Kyrsten Sinema; Arizona House Speaker Pro Tempore, Bob Robson; W.J. "Jim" Lane, Mayor of the City of Scottsdale, Arizona; John Lewis, Mayor of the Town of Gilbert, Arizona; Rick Myers, Chair of the Arizona Board of Regents; Greg Stanton, currently Mayor of Phoenix, Arizona; Rep. Nancy K. Barto, Arizona House of Representatives; Arizona Governor Janet Napolitano; and Senator Carolyn Allen, Arizona State Senate.
###
For registration and more information, go to www.azbioawards.com
For more information on Arizona Bioscience Week, visit www.AZBio.org/AzBW2017
About AZBio
A key component in Arizona's life science ecosystem, the Arizona Bioindustry Association (AZBio) is the only statewide organization exclusively focused on Arizona's bioscience industry. AZBio membership includes patient advocacy organizations, life science innovators, educators, healthcare partners and leading business organizations. AZBio is the statewide affiliate of the Biotechnology Innovation Organization (BIO) and works in partnership with AdvaMed, MDMA, and PhRMA to advance innovation and to ensure that the value delivered from life-changing and life-saving innovation benefits people in Arizona and around the world.
For more information visit www.AZBio.org and www.AZBio.TV
Contact:
Joan Koerber-Walker, Arizona Bioindustry Association
jkw@azbio.org 480-332-9636
Amanda Vega, Amanda Vega Consulting
Amanda@AmandaVega.com (480) 275-9797