TUCSON, AZ, September 17, 2013 – MSDx, Inc., a personalized medicine diagnostics company developing blood test products for monitoring disease activity in neurological disorders, announced today that the United States Patent and Trademark Office issued a patent that broadly protects the company's exclusive rights for monitoring or detecting Multiple Sclerosis (MS) in a patient, utilizing its proprietary technology.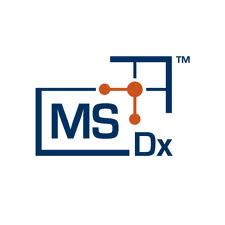 U.S. Patent 8,506,933 entitled "Methods of detecting a neurological condition via analysis of circulating phagocytes" features methods of monitoring or detecting a neurological or inflammatory condition in a patient across a broad set of blood and spinal fluid sample types. The patent covers methods of detecting one or more biomarkers inside a recirculating phagocyte.  The presence or absence of these biomarkers indicates changes in neurological or inflammatory conditions in the brain. The technology is being developed to provide the neurologist with critical data that aids treatment decisions to optimize patient outcomes.  Ultimately healthcare costs can also be reduced using the MSDx products and services to monitor the 2.5 million patients that live with MS.
"As an innovative company in this market, it is important that we build and protect our intellectual property position to strengthen our competitive advantage" stated Marie Wesselhoft.  "This is the first patent to issue in a broad portfolio of intellectual property that seeks coverage for multiple biomarkers across several neurological and inflammatory diseases. MSDx currently has a number of pending U.S. and foreign patent applications relating to the detection and monitoring of MS and other neurological conditions, and the company is aggressively pursuing issuance of those applications as well."
Dr. Ramesh Nayak, MSDx Director of Research, led the company's efforts in the discovery and development of this invention. "We have taken the novel approach of viewing the phagocyte system as a shuttle vector that retrieves debris from the brain. The phagocytes then digest the debris, and detection of debris in recirculating phagocytes indicates neurodegenerative activity," Dr. Nayak explains.  "In this way, our technology provides a rapid and simple assessment of active neurodegenerative processes in the brain.  It can be thought of as a non-invasive 'brain biopsy.'"
About MSDx, Inc.  
MSDx discovered a novel source of blood-based biomarkers that can offer a real-time view of disease activity in the brain.  The company refers to its proprietary, patented approach as WINDOW INTO THE BRAINTM.   Multiple Sclerosis is the first disease of focus for the company.  Ultimately, this technology may be applied in other brain diseases such as Parkinson's disease, Alzheimer's disease, and Traumatic Brain Injury.  MSDx blood tests offer critical data to improve treatment decisions helping slow disease progression for the patient while reducing lifelong healthcare costs.
MSDx is pursuing the development of Laboratory Developed Tests (LDT) as well as In Vitro Diagnostic (IVD) blood tests for brain diseases.  The company is located in Tucson at the University of Arizona's Tech Park business incubator called the Arizona Center for Innovation (AzCI). Please visit www.msdx.co for more information about the company and their patent-pending technology.
Media Contact:
Marie Wesselhoft,
mwesselhoft@msdx.co
520-907-3267