8,000+ children and parents inspired by hands-on exhibits at Connect2STEM
Click here to view the Connect2STEM Highlight Video and the Connect2STEM Photo Gallery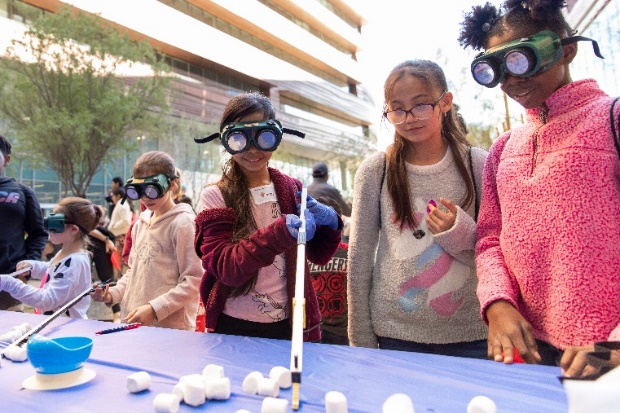 The University of Arizona College of Medicine – Phoenix campus transformed into a gigantic science lab Saturday as more than 8,000 children and parents tried their hand at robotic surgery, dissected pig hearts, tested the aerodynamics of baseballs, made slime and gurgling foam, extracted DNA from a strawberry and flew a simulated drone.
The exhibits were among the more than 100 hands-on activities offered at Connect2STEM, an annual outreach meant to inspire kids about science, technology, engineering, math and medicine. It was the sixth year for the free event, which is organized by the University of Arizona College of Medicine – Phoenix in partnership with Cox Communications.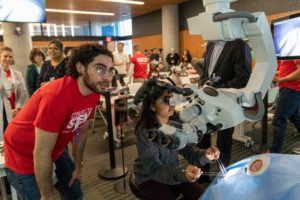 Kids and adults crowded into BrainWorks Lab, where they watched actual brain surgery through virtual reality goggles. Steady hands were tested on an operating microscope where attendees used a strand smaller than a human hair to thread a needle. This was the debut of BrainWorks Lab, powered by Banner Health and the College of Medicine – Phoenix.
BrainWorks was spearheaded by Peter Nakaji, MD, chair of the Department of Neurosurgery at Banner – University Medical Center and physician executive of Neurosurgery at Banner Health. He attended last year's Connect2STEM with his own children.
"It's more fun for me this year because I am able to bring some of the most exciting and cutting-edge things we are doing at Banner, but make it totally accessible to these children," Dr. Nakaji said. "They don't feel like this is over their head. They feel like they want to be in someone's head and doing this. That's what we want."
Jennie Logan brought her nine-year-old daughter and a friend to the event and said the girls were having a great time, so much so that she couldn't get them to move on from a booth where they used colorful modeling clay to affix organs on a skeleton.
Arizona State Senator Heather Carter, EdD, assistant professor of practice in the Mel and Enid Zuckerman College of Public Health at the University of Arizona, who spoke during the opening ceremony, said now is the time to capture young people's interest in science, technology, engineering, math and medicine because "Who knows? That person who might cure cancer one day might be in our midst today."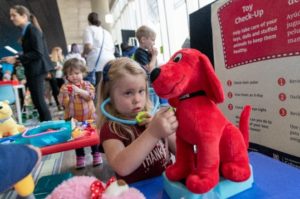 Rose Carlson attended with her three- and five-year-old grandchildren. She said what made Connect2STEM different from other events is that the kids could touch, feel and actually participate. "The interaction is invaluable," she said. "Hopefully it will spark an interest in STEM."
The UA College of Medicine – Phoenix showcase exhibit was a vast simulation room where children learned from medical students how to intubate a realistic, high-fidelity mannequin, take vitals, perform ultrasounds, perfect their CPR technique and practice surgery skills with the da Vinci surgical robot. Kids gathered around cow eye and pig hearts where medical students explained the organs' anatomy and function. At the Wildcat Play Hospital, little ones gave their stuffed animals checkups with help from UA College of Nursing students and faculty.
Other University of Arizona divisions and departments on hand were the College of Pharmacy, Department of Planetary Sciences, College of Architecture's Planning and Landscape Architecture, Cooperative Extension, Mel and Enid Zuckerman College of Public Health's Student Alliance, Police Department, East Valley Cats, Eller College of Management, Field Crops Insect Management, Flandrau Science Center and Planetarium, Health Sciences Library, Lowell Institute for Mineral Resources, UArizona Health Sciences, School of Information, Office of Undergraduate Admissions/Early Academic Outreach, Cancer Center and Graduate Women in Science Arizona chapter.
The daylong event featured exhibitors from all three of the state's universities, including the Northern Arizona University Physical and Occupational Therapy programs and Arizona State University's Graduate Association of Interdisciplinary Neuroscience Students.
Professionals from businesses and local community organizations also took part, including Phoenix Children's Hospital, the National Weather Service, the U.S. Army, Intel Corp., Arizona Diamondbacks, Children's Museum of Phoenix, Arizona Science Center, Phoenix Herpetological Society, American Society for Microbiology and the American Industrial Hygiene Association. Several local high schools were represented with their robotics teams.
Sponsors were Banner Health, USAA, Radiall, Arizona Public Service Co., City of Phoenix Public Works Department, Southwest Airlines, Sundt | DPR, Boyer Company, Standard Parking and Fry's Food Stores.
Connect2STEM is the kickoff for the Arizona SciTech Festival, a two-month campaign in February and March that promotes science events across the state. During the opening ceremony Abbey Schroeder from U.S. Senator Martha McSally's staff, gave special recognition to Jeremy Babendure, executive director of the SciTech Institute, for leading efforts to raise awareness, make connections and empower youngsters about STEM education.
Roxanne Wingate, senior community relations specialist for Cox Communications, said the technology company is proud to partner with the University of Arizona.
"We know that the youth attending today's event are our future innovators and the next generation of STEM leaders," she said.
About the University of Arizona College of Medicine – Phoenix
Founded in 2007, the University of Arizona College of Medicine – Phoenix inspires and trains exemplary physicians, scientists and leaders to optimize health and health care in Arizona and beyond. By cultivating collaborative research locally and globally, the college accelerates discovery in a number of critical areas — including cancer, stroke, traumatic brain injury and cardiovascular disease. Championed as a student-centric campus, the college has graduated 500 physicians, all of whom received exceptional training from nine clinical partners and 1,800 diverse faculty members. As the anchor to the Phoenix Biomedical Campus, which is projected to have an economic impact of $3.1 billion by 2025, the college prides itself on engaging with the community, fostering education, inclusion, access and advocacy. For more information, please visit phoenixmed.arizona.edu.
About Cox Communications Arizona
Cox Communications is the third largest cable provider and a multi-service broadband communications company in the country, serving nearly 3 million residential and business product subscribers in Arizona (a product subscriber represents an individual service purchased by a customer). In metro Phoenix, Cox serves approximately 2.5 million product subscribers. In Southern Arizona, Cox serves approximately 400,000 product subscribers. Cox's 24,000-mile hybrid fiber coaxial cable network throughout Phoenix and Southern Arizona provides homes and businesses with digital television, high-speed Internet, home networking, high-definition television and digital telephone service over its own nationwide IP network. Cox is the third largest private for-profit employer in Arizona. During the past 10 years, Cox has topped numerous J.D. Power and Associates' studies of customer satisfaction, most recently receiving top honors for residential telephone and high-speed Internet, and business data services, and has received PC Magazine's "people's choice" award for the sixth time. Additionally, Cox High Speed Internet has been ranked number 1 for the past eight years on the "Ranking Arizona − Best of Arizona Business" list. Cox media is responsible for the sale of cable advertising throughout Arizona. Cox Communications is a wholly owned subsidiary of Cox Enterprises Inc. and serves approximately 6 million customers nationwide. Additional information about Cox in Arizona is available at www.cox.com/arizona.
---
Media Contact: Marian Frank, 602-827-2022