Listen to the Onco'Zine Brief hosted by Peter Holfland: A Commitment to Innovation in Medicines, Medical Devices and Healthcare Technologies
In this episode of The Onco'Zine Brief, just ahead of the Arizona Bioscience Week held in Phoenix, AZ, from September 30 to October 4, 2019,
Peter Hofland
talks with 3 experts' biotech entrepreneurs about their company, cancer and cancer treatment and how Arizona's bioscience industry is truly committed to discovering, developing and delivering innovative medicines, medical devices and healthcare technologies that make life better for people in Arizona and around the world.
Located in the heart of the Rocky Mountain Southwest Region, Arizona is home to one of the fastest growing life science sectors in the country. Arizona's Bioscience Roadmap, a long-term strategic plan originally commissioned by the Flinn Foundation in 2002 and updated in 2014 with the goal of Arizona becoming globally competitive and a national leader in select areas of the biosciences by 2025 has provided a framework for growth and levels of collaboration that are rarely found outside of Arizona.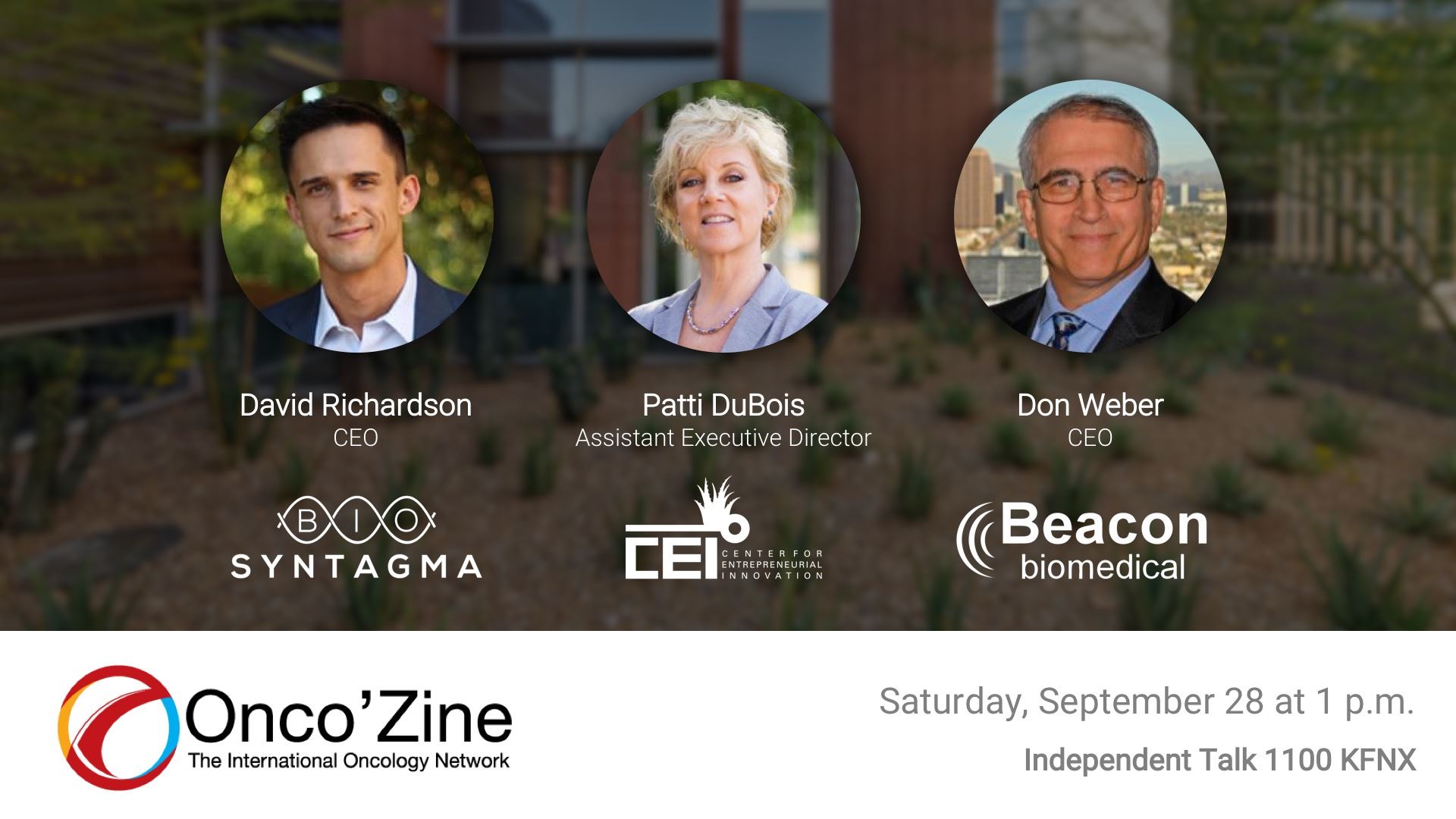 Hofland talks with:
Patti DuBois, Assistant Executive Director of the Center for Entrepreneurial Innovation (CEI), a comprehensive business incubator which provides specific services, space and support critical to the development of early-stage and startup companies,
Don Weber, President & Chief Executive Officer of Beacon Biomedical, a medical diagnostic development and an accredited laboratory services company providing easy, accurate and affordable blood tests for earlier cancer detection, and
David Richardson, Chief Executive Officer and a founding member of bioSyntagma, a company combining artificial intelligence or AI with medicine to assess so called Molecular Fingerprints to predict treatment combinations in both drug discovery and diagnostics, leading to the development of personalized or targeted therapies and companion diagnostics.
This edition of the Onco'Zine Brief was recorded at the Center for Entrepreneurial Innovation (CEI) in Phoenix, AZ.
---
Republished with permission.