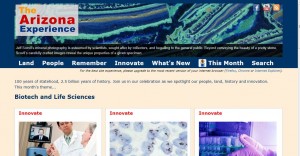 On 24 April, the Arizona Experience website unveils Biotechnology and Life Sciences theme showcasing the organizations, institutions, and research facilities that have helped catapult Arizona to one of the nation's leading states in biomedical research. Flinn Foundation, AZBio, BIO5 Institute, ASU Biodesign Institute, NAU, and numerous institutions provided their insight and materials in order to showcase the successes in Arizona's biotech community.
"One of the recommendations of Arizona's Bioscience Roadmap is to inform state citizens on the importance and potential of the biosciences," said Brad Halvorsen, Vice President for Communications, Flinn Foundation.  "The Arizona Experience website will be instrumental in helping to get the message to broad audiences that may be new to the biosciences."
The April 24 roll out of the Arizona Biotechnology and Life Sciences theme includes:
Additional topics and content will continue to roll out for the next 30 days, including:
Featured Artist –Student centennial art competition  winners from across the state.
Tumamoc Hill America's first Desert Botanical  Laboratory; the birthplace of conservation ecology.
Explore how citizen science groups around the state are  impacting their world.
Arizona State University's groundbreaking Ask a Biologist program.
Habimap – Mapping Wildlife and Habitat Conservation  Potential by Arizona Game and Fish Dept.
Browse through the Arizona Sonoran Desert Museum's digital collection of over 12,000 images.
About Arizona Experience – The Arizona Experience is a dynamic, multimedia, 4D (3D plus time) web environment with interactive maps, thousands of images, historical timelines, flyovers of iconic landscapes, interviews with Arizona leaders, featured artists, videos (both onsite and at the Arizona Experience YouTube channel), and oral histories that capture the experiences of the men and women that shaped the state.