The Flinn Foundation will fund up to 10 research teams focused on advancing new products or services to address a compelling clinical need during the next round of its Translational Research Seed Grants Program.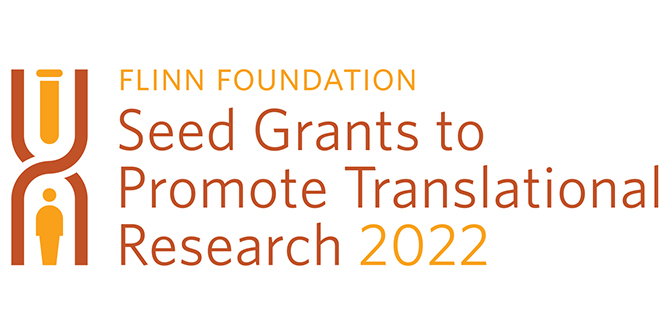 The awardees will each receive a $100,000 grant over 18 months. At the end of the grant period, up to two of the most successful projects may receive up to an additional $100,000 over the following year.
The deadline to apply is Dec. 3.
The program supports teams that include both scientists and clinicians affiliated with Arizona-based academic research institutions and/or health-care systems.
For additional information about the program benefits, eligibility, and expectations, as well as the application process timeline, check out the program brochure and visit www.flinn.org/seedgrants. And then apply.
Questions? Contact Mary O'Reilly, Ph.D., vice president, bioscience research programs, at moreilly@flinn.org or Juliet Gomez, bioscience program manager, at jgomez@flinn.org.
About the Flinn Foundation
The Flinn Foundation is a privately endowed, philanthropic grantmaking organization established in 1965 by Dr. Robert S. and Irene P. Flinn that awards grants and operates programs in four areas: the biosciences, the Flinn Scholars, arts and culture, and the Arizona Center for Civic Leadership. The foundation's mission is to improve the quality of life in Arizona, to benefit future generations.
The foundation's focus on health care and medical research stems from the career of Robert Flinn, a cardiologist who headed the departments of cardiology and electrocardiography at St. Joseph's Hospital in Phoenix. He was chief of the medical staff at St. Joseph's and at Phoenix Memorial Hospital, president of both state and county medical societies, and co-founder and first president of the Arizona affiliate of the American Heart Association.