CHICAGO, Jan. 8, 2014 — FDA Study Aimed at Harnessing Immune System to Fight Tumors Now Available at All Five CTCA Hospital Sites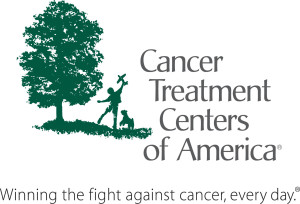 Cancer Treatment Centers of America® (CTCA), a leading provider of innovative cancer care for patients living with complex and advanced-stage disease, is now enrolling patients in an ovarian cancer vaccine clinical trial at all five of its hospital sites.  CTCA Western Regional Medical Center (WRMC) in suburban Phoenix, Arizona and Southeastern Regional Medical Center (SERMC) in suburban Atlanta, GA are the two newest sites to participate in the Phase I/II study.  The study evaluates the safety and the immune stimulating activity of this unique ovarian cancer vaccine therapy in patients with recurrent ovarian cancer.
The American Cancer Society ranks ovarian cancer as the ninth most common cancer among women, and it is the fifth leading cause of cancer-related deaths in women. It is estimated that there will be about 22,240 new cases of ovarian cancer in the U.S. in this year, and that more than 14,000 women will die of the disease in 2013. Currently, 1 in 72 women will be diagnosed with ovarian cancer and there is a 1 in 100 chance that, in a woman's lifetime, she will develop the disease.
The study is being conducted at all Cancer Treatment Centers of America hospitals. Eligible participants must have recurrent ovarian cancer.  Participants must first undergo surgery at a CTCA hospital to remove the ovarian tumor.  Patients become eligible for the vaccine trial when it is determined that enough tumor cells have been harvested from the resected tumor to create the vaccine.
CTCA, in consort with the trial's sponsor Avax Technologies, Inc., will create a personalized vaccine, using each patient's own tumor cells that have been surgically removed.  These cells will be chemically-modified in the Avax laboratories by a proprietary process designed to increase the immunologic response to the patient's ovarian cancer.
"This is another example of the emergence of personalized medicine into the field of oncology," noted Maurie Markman, MD, CTCA Senior Vice President, Clinical Affairs and National Director, Medical Oncology.  "The potential for vaccine therapy is enormous and we are extremely pleased to be leading this study."
Additional information about the vaccine trial, ovarian cancer, and ovarian cancer treatment can be found at cancercenter.com/ovarian-cancer.
About Cancer Treatment Centers of America Cancer Treatment Centers of America, Inc. (CTCA) is a national network of hospitals focusing on complex and advanced stage cancer.  CTCA offers a comprehensive, fully integrated approach to cancer treatment and serves patients from all 50 states at facilities located in Atlanta, Chicago, Philadelphia, Phoenix and Tulsa.  Known for delivering the Mother Standard® of care and Patient Empowerment Medicine®, CTCA provides patients with information about cancer and their treatment options so they can control their treatment decisions.  For more information about CTCA, go to www.cancercenter.com.
About Avax Technologies, Inc. Avax Technologies, Inc. specializes in the development and commercialization of a universal cancer immuno-therapeutic, the Autologous Cell "(AC) Vaccine™ Technology. The AC Vaccine™ Platform is a patented, therapeutic approach that stimulates the patient's own immune system to recognize, contain and eliminate cancer using the most relevant tumor antigens, the Patients own tumor cells.
SOURCE: Cancer Treatment Centers of America