Delivering innovation on a consistent basis is a recipe for success.  Getting recognized for the impact your efforts make in helping others succeed too is the icing on the cake.  Just ask Rey Chu, Mark Johnson, Eric Miller, and Ward Rand the owners of PADT, Inc.
What we call a recipe for success, they state as the PADT Philosophy…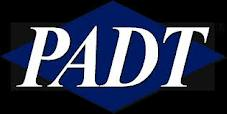 The PADT Philosophy
Phoenix Analysis & Design Technologies was established in 1994 by a group of Aerospace Engineers who saw the value of combining state of the art technology with motivated and intelligent people. The company hasexperienced steady and consistent growth from the beginning, primarily based upon customer loyalty and referrals.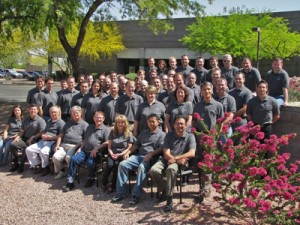 The basic philosophy behind PADT is very simple:
These concepts affect the way everyone at PADT approaches their job. In a small flexible organization, it is possible to implement methods and processes that are infeasible in larger, stratified, and compartmentalized companies. Working in this way, PADT has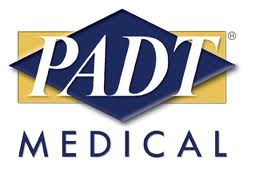 established a diverse customer base in its brief history.
(The PADT Philosophy appears here on the PADT website for all to see.)
  PADT has Arizona's Collaborative Gene.
While touring the rapid prototyping facilities at PADT Medical, in Tempe, AZBio's CEO shared a vision of creating an iconic award that would become an AZBio tradition.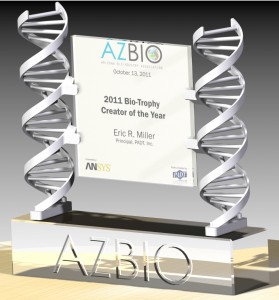 Mark Johnson, one of the PADT co-founders knew  that the team's rapid prototyping technology, normally used to create state of the art aerospace and medical device prototypes,  could be used to  turn vision to reality.  He invited co-founder Eric Miller to collaborate and the result now graces the offices of Arizona's leading innovation companies across the state and will for years to come.
The icing on the cake
This year the team at PADT was recognized repeatedly for innovation, leadership and growth by organizations across the state.
President's Award from the Arizona Promoters of Applied Science in Education  – June 2011
AZBio Fast Lane Award  – October 2011
Pioneer Award from the Arizona Technology Council – November 2011
Entrepreneurial Leadership award from the Arizona State University's W. P. Carey School of Business Spirit of Enterprise Center –  November 2011
Congratulations PADT!
Press Release from PADT, Inc.
PADT, Inc. Wins 2011 Governor's Celebration of Innovation Pioneering Award TEMPE, AZ – November 21, 2011 –
The Arizona Technology Council, in partnership with the Arizona Commerce Authority, presented Phoenix Analysis & Design Technologies, Inc. (PADT, Inc.) with the 2011 Governor's Celebration of Innovation Pioneering Award. This award is given to an Arizona based company that "has gone above and beyond the call of duty in contributing to Arizona's technology industry through sustained business presence, corporate citizenship, community involvement, and business success."
This year's GCOI event, held on November 17th, 2011 at the Phoenix Convention Center, was oriented around the theme of "Arizona Rising" and focused on how the local technology business community is growing and prospering even in hard economic times. PADT was recognized for their contribution to this growth. Around 1000 local people from the Arizona technology community attended to cheer on the winners.
The four owners of PADT; Rey Chu, Mark Johnson, Eric Miller, and Ward Rand, accepted the award on behalf of their employees during the ceremony. In the acceptance speech, Eric Miller took time to acknowledge the winner of the Large Business Innovator of the Year award, Honeywell Aerospace. All four of PADT's owners started their careers at Honeywell and Honeywell is one of PADT's largest customers. Mr. Miller offered special thanks to the Honeywell managers and engineers in attendance and acknowledged the honor of following them in the awards: "It has been a great ride all these years with you and our other customers."
Mr. Miller pointed out that "Innovation is important to PADT because that is how we make our money, we help people innovate." He then went on to point out that the process of applying for the GCOI Pioneering Award showed that when you reduce PADT's significant breadth and depth of product and services offerings down to its impact on the technology community they found that "what we do, is we make innovation work. We are very proud of that."
The speech also highlighted the important contributions of the four owners' wives, in particular and pointed out that "spouses are the true unsung heroes of innovation." He also emphasized the pride and joy that the owners of PADT feel about their employees: "they are smart, they are funny, they are enthusiastic and they truly walk the talk when it comes to doing right by our customers."
More detailed information about the 2011 GCOI ceremony and the other winners of awards can be found at: http://www.marketwatch.com/story/winners-announced-for-arizona-technology-councils-2011-governors-celebration-of-innovation-2011-11-18
2011 has been a year of recognition for PADT, beginning with the President's Award granted in June from the Arizona Promoters of Applied Science in Education for support of educational robotic competitions. In October, the company was awarded an AZBio Fast Lane Award presented by the Arizona Bioindustry Association for their work in helping companies with the development of new medical devices (www.azbio.org/azbio-awards ). The company also received the Entrepreneurial Leadership award on November 8, 2011 from the Arizona State University's W. P. Carey School of Business Spirit of Enterprise Center: http://wpcarey.asu.edu/spirit/
PADT has focused on providing world class mechanical engineering services as well as sales and support of leading mechanical engineering software and hardware tools from ANSYS, Inc. and Stratasys, Inc. The company makes innovation work for over one thousand customers around the world from its main offices at the ASU Research Park in Tempe, Arizona, their Littleton, Colorado office, and through staff members located around the country.
More information on PADT can be found at www.PADTINC.com .