CHANDLER, Ariz — (BUSINESS WIRE) — The Arizona Bioindustry Association (AZBio) today announced that Regenesis Biomedical, Inc. has been named the Arizona Bioscience Company of the Year and will be honored on October 2, 2019, at the AZBio Awards.
"Pain is real. If it is your pain, relief can be life changing," stated Joan Koerber-Walker, president & CEO of AZBio. "Regenesis Biomedical discovered an underutilized therapy and developed a unique platform that is delivering a solution to help patients manage their pain with a safe, easy to use, non-drug medical device."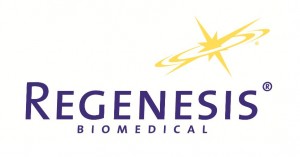 The National Institutes of Health explains the two primary types of pain like this: Acute pain is a normal sensation triggered in the nervous system to alert you to possible injury and the need to take care of yourself; chronic pain is different. Chronic pain persists. Pain signals keep firing in the nervous system for weeks, months, even years.
Results from a National Health Interview Survey shown that about 25.3 million U.S. adults (11.2 percent) had pain every day for the previous 3 months. This study also revealed that individuals with severe pain had worse health, used more health care resources, and had more disability than those with less severe pain.
To treat pain, doctors most often prescribe pain medications (like opioids) that may have complicating side effects including nausea, constipation, sleeplessness, vomiting, and abdominal discomfort. In some cases, pain medications can also lead to abuse and addiction. In acute pain cases, these usually are the patient's best option. In other chronic pain situations, non-drug alternatives are available that can bring relief without these side effects
Regenesis offers the Provant® Therapy System, an FDA-cleared medical device that is a safe, prescriptive non-drug alternative to opioids. Regenesis' customers include health care facilities and providers that serve patients treated in hospitals, rehabilitation centers, outpatient clinics, and by patients self-treating at home.
Provant® Therapy may help reduce the amount of pain medicine that people suffering need to take. Provant® is electromagnetic energy intended as an adjunctive treatment for post-operative pain and edema of soft tissue. Since introduction, Provant® patients have utilized over 3 million treatments.
Outcomes with Provant® Therapy are documented in clinical studies, journal articles, white papers, and case reports. It has been shown to help relieve pain in post-operative conditions, including orthopedic surgery, joint replacement, amputation, shoulder injury, back surgery, hernia repair, wound debridement, hand and foot surgeries, and most recently diabetic neuropathy.
"Our Military Veterans are one group at increased risk for chronic pain," shared Scott Brooks, president & CEO of Regenesis. "For over 10 years Regenesis has assisted Veterans overcome debilitating chronic pain. Our focus on helping veterans has enabled us to hire many employees who served our country in the armed services. For this group, along with our entire company, helping a fellow Veteran is especially rewarding."
"To improve health and welfare for an active and fulfilling life is Regenesis Biomedical's mission and our focus every day", said Brooks. "We are fortunate to have a dedicated, passionate and tenured group of employees, a constructive and committed Board of Directors and fantastic ownership who make it possible to fulfill our mission."
"The Arizona Bioscience Company of the Year Award is the highest honor our community can bestow on a commercial venture," stated Koerber-Walker. "Nominated by members of the Arizona Bioscience community and scored by independent judges, it is awarded to the bioscience company whose Arizona-based operations did the most to transform the world during the last 12 months."
About the AZBio Awards
A key component of Arizona Bioscience Week, The AZBio Awards & Life Science Fiesta brings together Arizona's life science and leadership community with visitors from around the country to celebrate life-science innovation and innovators. The AZBio Awards takes place the evening of October 2, 2019, at the Phoenix Convention Center. Highlights of the evening include honoring the honorable Jane Dee Hull, 20th Governor of the State of Arizona with the AZBio Pioneer Award for Lifetime Achievement, and a celebration of achievements of leading researchers, educators, and innovator companies. The Life Science Fiesta following the award ceremony features a Student Discovery Zone that showcases the work of fifty students from Arizona high schools, community colleges, and universities along with exhibits featuring Arizona companies and patient advocacy organizations.
Arizona Bioscience Week, including the AZBio Awards & Life Science Fiesta, are presented by AZBio and the Arizona Commerce Authority. For more information on the 2019 AZBio Awards, visit www.azbioawards.com. For more information on Arizona Bioscience Week, visit www.AZBio.org/AZBW2019
About AZBio
For 16 years, the Arizona Bioindustry Association (AZBio) has supported life science innovation and life science innovators in Arizona. A key component in Arizona's life science ecosystem, AZBio is the only statewide organization exclusively focused on Arizona's bioscience industry. AZBio membership includes patient advocacy organizations, life science innovators, educators, healthcare partners and leading business organizations. AZBio is the statewide affiliate of the Biotechnology Innovation Organization (BIO) and works in partnership with AdvaMed, MDMA, and PhRMA to advance innovation and to ensure that the value delivered from life-changing and life-saving innovation benefits people in Arizona and around the world.
For more information visit www.AZBio.org and www.azbio.tv
---
AZBio Media Contact:
Joan Koerber-Walker, Arizona Bioindustry Association
jkw@azbio.org 480-332-9636