RiboMed Biotechnologies Inc., a leading Epigenetics-Based Diagnostics company, today announced that the U.S. Patent and Trademark Office has issued three additional patents covering the use of their core technology, Abscription® (Abortive Transcription), for disease and biowarfare agent related biomarker detection. The patents expand protection to MethylMagnet® and MethylMeter®, RiboMed's bisulfite-free DNA methylation detection products and assays, including a new prognostic test for brain cancer, G-CIMP DecisionDx. 
CARLSBAD, CA (PRWEB) December 05, 2012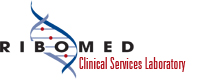 "These patent issuances further solidify RiboMed's position in clinical diagnostics, particularly in the use of DNA Methylation biomarkers for cancer detection, staging and drug development" stated Dr. Michelle Hanna, Chief Executive Officer and Scientific Director of RiboMed. "The technologies protected by these patents make sensitive, reproducible and quantitative DNA methylation profiling possible even on formalin fixed paraffin embedded (FFPE) tumor tissues, as we have shown with the G-CIMP DecisionDx test launched in RiboMed's CLIA laboratory earlier this year." G-CIMP stands for Glioma specific CpG Island Methylator Phenotype, and the test predicts the aggressiveness of certain brain tumors, providing physicians and patients with a new tool for making treatment decisions. The test was developed in partnership with Castle Biosciences.
The claims of U.S. Patent 8,263,339, entitled "Abscription based molecular detection" broadly cover RiboMed's core Abscription technology for use in detecting a wide variety of molecular biomarkers, including DNA, RNA, protein and methylated DNA. Detection tests reduced to practice in addition to those for DNA methylation include sensitive and robust assays for Salmonella (DNA), viral RNAs and protein toxins, such as ricin, Botulinum toxin and the food poisoning agent, SEB. These assays were developed together with the Departments of Defense (DARPA) and Homeland Security (HSARPA).
U.S. Patent 8,242,243, entitled "Methods and reagents for detecting CpG methylation with a methyl CpG binding protein (MBP)" covers a highly quantitative and sensitive, bisulfite-free method for measuring DNA methylation at CpG sites and CpG islands using RiboMed's proprietary Methyl CpG binding fusion protein. This work was supported in part by Small Business Innovative Research grant and contract awards from the National Cancer Institute. In addition to the currently available brain cancer staging test, RiboMed is developing similar DNA methylation profile based diagnostic, prognostic and companion diagnostic tests for ovarian and lung cancers.
Finally, U.S. Patent 8,211,644, entitled "Molecular beacon based methods for detection of targets using Abscription" provides claims to sensitive fluorescence-based methods using molecular beacons to detect the products of Abscription and makes real time detection methods possible. The molecular beacon-based technology makes Abscription more attractive to the vast majority of clinical and research laboratories that do not have access to a mass spectrometer, which is used for the current G-CIMP assay, but routinely use fluorescence detection instruments. The molecular beacon format allows for more streamlined workflows and faster assay set-up. The new fluorescence read-out is readily adapted for the detection of RNA, DNA and protein targets and should have wide applicability in areas such as cancer diagnostics and environmental testing.
About RiboMed Biotechnologies, Inc. RiboMed Biotechnologies, Inc. (http://www.ribomed.com) is a molecular diagnostic company providing proprietary epigenetic and genetic biomarker tests for applications in Personalized Medicine and Companion Diagnostics, which is the use of information about an individual's cellular biomarkers to detect and treat disease. The current focus of the Company is on the detection of epigenetic biomarkers (DNA methylation) and genetic biomarkers associated with disease initiation, progression and response to drug treatment.
RiboMed provides products and services for disease management and drug development utilizing its proprietary and patented technologies for biomarker detection (Abscription®) and methylated DNA isolation and quantification (MethylMagnet® and MethylMeter®). In February, 2011, the Company expanded to add the RiboMed Clinical Services Laboratory (RCSL, CLIA License #05D2020043).
For more information, contact:
Michelle Hanna, Ph.D.     CEO & Scientific Director
760-448-1355  mmhanna(at)ribomed(dot)com
This press release contains forward-looking statements and estimates with respect to the anticipated future performance of RiboMed and the market in which it operates. Such statements and estimates are based on assumptions and assessments of known and unknown risks, uncertainties and other factors, which were deemed reasonable but may not prove to be correct. Actual events are difficult to predict, may depend upon factors that are beyond the Company's control, and may turn out to be materially different. RiboMed expressly disclaims any obligation to update any such forward-looking statements in this release to reflect any change in its expectations with regard thereto or any change in events, conditions or circumstances on which any such statement is based unless required by law or regulation.