TEMPE, Ariz. (April 24, 2020) – Sonora Quest Laboratories, the market share leader in diagnostic laboratory testing in Arizona, announced today that it will ramp up its fight against COVID-19 and offer antibody testing for coronavirus (COVID-19) using blood specimens. With this new offering, Sonora Quest now provides healthcare providers in Arizona access to a COVID-19 antibody test as well as the molecular diagnostic testing that has been offered since mid-March.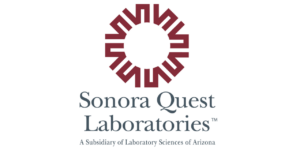 "Antibody testing can be a game-changer in our fight against COVID-19," said Governor Doug Ducey. "Sonora Quest has continually innovated to make increased testing available to Arizonans. This is another welcome expansion that will help provide certainty as Arizona looks to economic recovery at the appropriate time."
Beginning Friday, April 24, physicians will be able to prescribe, collect and route COVID-19 antibody testing specimens to Sonora Quest for testing. Additionally, patients can schedule an appointment at one of the 20+ Sonora Quest Patient Service Centers that have dedicated resources for COVID-19 antibody testing collection. Appointments should be scheduled in advance online at SonoraQuest.com/antibody and require a physician's test order.
Patients being collected in a Sonora Quest Patient Service Center must be without symptoms and fever for at least 10 days to have the most reliable test results, and in following the CDC's safety guidelines, wear a face mask.
The antibody testing will be performed at Sonora Quest's core laboratory in Tempe, and they expect to perform 1,000 – 3,000 tests per day initially, then continue to scale up testing capacity on the antibody platform. Sonora Quest turnaround time to report antibody test results is one to four days from specimen collection, depending on demand. Additionally, starting in early May, Sonora Quest plans to begin offering antibody testing through their direct-to-consumer My Lab ReQuestTM solution, where consumers can receive testing without a provider's order or insurance in Arizona.
Sonora Quest's antibody offering uses a test kit developed by EUROIMMUN, a PerkinElmer company, that has been marketed under U.S. Food and Drug Administration's (FDA) Policy for Diagnostic Tests for Coronavirus Disease-2019. Sonora Quest has completed independent validation studies on this testing. The test aids in detecting the presence of immunoglobulin G (IgG). IgG antibody response typically develops between 10-14 days after symptom onset. According to the FDA, COVID-19 antibody testing may indicate that "the person has been exposed to the virus and developed antibodies against it, whichmay mean that person has at least some immunity to the coronavirus." Antibody testing uses blood serum specimens and is sometimes referred to as serology testing.
"As the FDA has indicated, antibody testing has the potential to help healthcare professionals identify people who have been exposed to COVID-19 and may have developed an immune response," said Brian Mochon, PhD, D(ABMM), Scientific Medical Director, Infectious Diseases Division for Sonora Quest. "In addition, the FDA has indicated that antibody testing can help identify those who could contribute a part of their blood, called convalescent plasma, which may provide an avenue for possible treatment for those who are seriously ill from COVID-19."
As the trusted laboratory leader in Arizona, Sonora Quest wants to see our communities and healthcare workers stay healthy and get back to work.
Patients suspected of having or confirmed to have active COVID-19 infection or disease should not visit Sonora Quest Patient Service Centers. Patients who believe they may have active COVID-19 are strongly encouraged to contact their healthcare provider. Sonora Quest Patient Service Centers do not collect COVID-19 specimens.
For more information about the COVID-19 testing service, visit www.SonoraQuest.com/coronavirus.
About COVID-19 testing at Sonora Quest
Sonora Quest is the leader in infectious disease testing services in Arizona, with a broad menu of molecular, antibody, and other test services to aid diagnosis, treatment and monitoring. On March 20, 2020, the company introduced an RT-PCR test allowing for the detection of nucleic acid in respiratory specimens of patients meeting CDC's clinical criteria for COVID-19 testing. RT-PCR tests for COVID-19 are generally used to aid diagnosis during active disease. Sonora Quest has performed and reported results of more than 35,000 diagnostic COVID-19 tests. Furthermore, with additional test collection supplies such as swabs, reagents and appropriate personal protective equipment, Sonora Quest has additional capacity to run up to 4,200 molecular tests per day at their Tempe lab.
About Sonora Quest Laboratories

Sonora Quest Laboratories, a joint venture between Banner Health and Quest Diagnostics (NYSE: DGX), is part of the nation's largest integrated laboratory system with approximately 3,500 employees serving more than 22,000 patients every day throughout Arizona. Sonora Quest Laboratories is the market share leader in clinical laboratory testing in Arizona, performing nearly 90 million diagnostic tests per year.
Sonora Quest Laboratories offers a local comprehensive test menu which encompasses routine, molecular, prescription drug monitoring, genetic/genomic, women's health and pathology testing services. My Lab ReQuest provides consumers direct access to a diverse range of affordable screening tests that can be ordered online at SonoraQuest.com or in any of Sonora Quest's 75+ patient service centers across Arizona. Ninety-eight percent of all testing is performed at our primary testing facilities located in Tempe, Tucson, Flagstaff, Prescott and Yuma. Sonora Quest Laboratories is accredited by the College of American Pathologists (CAP) which is the gold standard in laboratory accreditation, helping laboratories to maintain accuracy of test results and ensure accurate patient diagnosis. This accreditation ensures the highest standard of care for all laboratory patients as CAP inspectors examine laboratory staff qualifications, equipment, facilities, safety program and records, and overall management.
Friday, April 24, 2020 | Category: Press Releases