The effects of concussions (mild traumatic  brain injury or mTBI) has been big news of late in the world of professional sports.  But for many of us, the facts about the impacts of mTBI on younger athletes are less well known.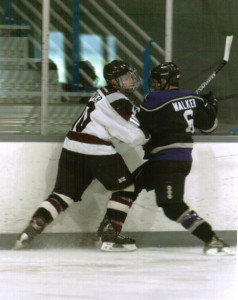 According to the CACTIS Foundation, " traumatic brain injury is the leading cause of death and disability for America's youth. While many of the severe cases are attributed to accidents, it is estimated that sports and recreational activities cause between one and four million new brain injuries each year. Of course, this doesn't mean you should pull your child from all physical activity and contact sports; however, being able to recognize the signs and symptoms and how to properly monitor and treat a mTBI can prevent serious, but avoidable, complications."   The CACTIS Foundation partners with both Barrow Neurological Institute in Phoenix and The Boys & Girls clubs to educate youth players, youth coaches, and parents on this important health issue.  See Dr. Hirsch Handmaker's interview on 3TV
A key message to remember  "When in Doubt…Sit them Out."
USA Hockey agrees.  The number of reported concussions is on the rise, particularly in youth sports. At a December 2012 USA Hockey Conference neurologists who are on the front lines, shared that the rise is not because there are more concussions but rather the methods of diagnosing and responding to the early warning signs have dramatically improved over the years. Getting back in the game after a bad hit was once a sign of toughness.  Not any more.  USA Hockey has a major campaign to educate coaches, parents AND players.  Concussions are serious business.
While sports like boxing, ice hockey, soccer, and football often are in the spotlight as "contact sports", they are not alone.  Just ask coaches or trainers for cheer leading, volleyball,  lacrosse, basketball, equestrian events, and gymnastics to name a few.
Fiesta Bowl, Barrow Team Up for "Barrow Brain Ball" for Youth Athletes
On Tuesday August 27, 2013, The Fiesta Bowl and Barrow Neurological Institute today launched the "Barrow Brain Ball," an interactive game aimed at preventing concussions for young athletes.
The groundbreaking video game teaches children how to avoid collisions with other players. It is geared toward children ages 8 to 12 and was funded by a grant by Fiesta Bowl Charities. The video game is free and can be downloaded on all Android phones and will soon be available for download on the iPhone.
"We have developed concussion education for high school students, but until now there's been minimal education available to youth athletes," Dr. Javier Cardenas, neurologist and brain injury expert at Barrow Neurological Institute, said during a news conference at St. Joseph's Hospital and Medical Center. "Barrow Brain Ball is an innovative way for us to start teaching children throughout the U.S. about concussion in early age. We want them to learn how to play safe when they're young."
The Fiesta Bowl has made concussion awareness and prevention a priority of its community involvement. Each of the last two years, the Fiesta Bowl Spring Summit has offered seminars with national experts on the subject. Dr. Cardenas was a presenter at last spring's event, which was attended by college football coaches, athletics directors and media, and that set the stage for the collaboration on the "Barrow Brain Ball."
"The Fiesta Bowl is very proud to be a partner with Barrow and Dr. Cardenas with his efforts on concussion education," Fiesta Bowl Executive Director Robert Shelton said. "The Fiesta Bowl has a charitable mission, and that is areas of youth, sports, education and human relations. In that regard, all of these fit with our sponsorship of Dr. Cardenas and Barrow.""We decided to appeal to the interest of youth and created a video game designed to teach kids how to reduce the chances of concussion and reduce injury," said Dr. Javier Cárdenas, director of Barrow's Resource for Acquired Injury to the Nervous System (BRAINS) Program.
The free game, to be released for iPhone and Android devices, features helmet-shaped icons that players move around to score points by avoiding collisions with other players. Play also involves going to a simulated classroom to learn about symptoms and signs of concussion in order to advance.
"While the fun part of the game is running up and down the field, they can only advance if they complete the educational sessions as well," Dr. Cárdenas said.
Brainbook stemmed from a 2011 state law requiring that high school athletes be removed from play if a concussion is even suspected and then receive written clearance to return from a medical professional like a physician or athletic trainer. To date, nearly 180,000 high school athletes have completed Brainbook training.
Barrow also created a network, Barrow Concussion Training, offering telemedicine consultations for athletic trainers in remote areas.
Educating even younger players will pay off, Dr. Cárdenas said, adding that the younger the athlete, the longer it takes to recover from a concussion, also known as traumatic brain injury."TBI is something we have to live with in the game," he said. "And we cannot prevent a concussion, but we sure can reduce the chances of them."
Barrow announced the game with the AIA and the Arizona Cardinals.
"We are pleased to see that it [concussion education] has gone down to youth sports," said Chuck Schmidt, the AIA's associate executive director.
Michael Bidwill, president of the Cardinals, said he knows that how the NFL addresses the risk of concussions is watched by student athletes at all levels. "They are going to emulate what the players do and what the coaches do and how they play," he said.
Watch Sports Concussions & Sheriff Arpaio & Goodyear Fire Station on PBS. See more from Arizona Horizon.
Preventing Concussions and Supporting Post Concussion Safety:
Barrow Neurological Institute and AT Still University are collaborating to offer free
baseline testing, statewide concussion research, and statewide concussion consultation
to all Arizona Interscholastic Association member schools. This statewide effort is called
the Barrow Concussion Network.
Baseline testing for concussion is a form of neurocognitive or neurofunctional testing used to gather objective information regarding an individual's normal or baseline brain function. Since "normal" brain function differs from person to person, baseline testing gives clinicians a point of reference when later evaluating the neurological impact of an injury. Baseline testing uses computerized programs to measure one's ability to recognize, remember and react to words and pictures. The results provide a fingerprint of sorts to illustrate how the brain functions in a non-concussed state. Whether young or old, athlete or not, the fingerprint of neurologic function identified through baseline testing ensures health care providers better understand the impact of a concussion should injury occur. Ultimately, the more knowledgeable providers are about the extent of a person's injury, the better armed they are to treat it.
State law: In 2011, Arizona became the first state in the United States to mandate all male and female AIA high school athletes undergo concussion education and pass a formal test before play through Barrow Brainbook. In addition, the development of the Barrow Concussion Network is working to provide medical resources to AIA athletic trainers, provide pre-injury testing and post-injury treatment to athletes, and conduct research on injured.  Arizona law requires that high school athletes be removed from play if a concussion is suspected and receive a medical professional's written clearance to return.
Concussion registry: Voluntary registry created by Barrow Neurological Institute and A.T. Still Registry that allows high schools to report concussions to researchers looking to improve the safety of athletes.
Barrow Brain Ball: iPhone/Android video game teaching children ages 8 to 12 how to avoid concussions.
New AIA practice rule for football: Taking effect this school year, it specifies that no more than half of football practice can involve contact in the preseason, dropping to one-third of practice during the regular season.
Contributing Sources:
 3TV
Arizona Interscholatic Sports Association
Barrow Neurological Institute
CACTIS Foundation
EIGHT: Arizona Horizon
The Fiesta Bowl
The Arizona Diamondbacks
The Arizona Cardinals
USA Hockey Magazine