New biotechnology and medical device startups join the Center for Entrepreneurial Innovation business incubator to take advantage of its resources and create jobs for the region.
Neolight is one of 4 local startups that is setting up shop
at the Center of Entrepreneurial Innovation at GateWay Community College in Phoenix
The Center for Entrepreneurial Innovation (CEI), a Phoenix-based business incubator, recently announced the acceptance of four new local startups into its program.
These four companies will receive in-house business development assistance from counselors, mentors and an entrepreneur-in-residence, as well as access to dedicated wet lab and office space, a robust network of investment and entrepreneurial partners, and onsite 3D printing and engineering services through Phoenix Analysis & Design Technologies (PADT).
"Each of these clients are leaders in the bio and medical technology space and have shown tremendous traction already," said executive director Jeff Saville. "With our business development resources, we will continue to accelerate their growth in the region."
Here is an overview of CEI's four new clients, all of whom will occupy space in the 18,000 square-foot incubator:
Amnio Technology is a regenerative biologics company with a focus on advancing scientific research, development, and manufacturing of high quality amniotic tissue allografts for the treatment of chronic wounds, orthopedic defects, as well as nerve, ligament, and tendon repair.
Paraffin International LLC utilizes its proprietary wax treatment called gLOVE Treat for dry, tired, aging hands and feet to further help those suffering from joint and skin conditions. The company was also a graduate of social impact incubator Seed Spot in May 2015.
NeoLight creates phototherapy beds which cure one of the world's leading neonatal health problems: jaundice. NeoLight was also a recent graduate of Arizona State University's Edson Student Entrepreneur Initiative cohort and was recognized by Peoria-based BioAccel as part of its Solutions Challenge.
Superior Silica manufactures large quantities of ultra high purity monodisperse silica particles for the optics, pharmaceutical, and liquid chromatography industries, among others.
Vivek Kopparthi, NeoLight Co-Founder and CEO, is excited about joining the program. "Every day we have the opportunity to receive guidance from CEI business experts as well as medical device specific mentors like MediCoventures," he said. "We are also thrilled to access CEI's StartUpLabs 3D printing center to further our product development."
Saville noted that the incubator tailors its program to meet the diverse needs of each of its clients, identifying a majority of them during its rigorous monthly selection, or "pre-incubation," process.
"We believe in finding and supporting the most dedicated entrepreneurs in the region," he said. "Whether you are in the early stages of validating your technology or actually commercializing it in the marketplace, we exist to provide you with the most relevant resources to help grow your company."
To date, CEI member companies have created an estimated 145 jobs and earned over $29 million in revenues as well as $11 million in capital investment.
If you are technology startup, CEI accepts applications at any time throughout the year. Visit ceigateway.com to apply.
###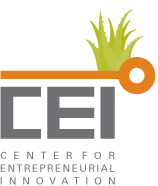 About CEI
A division of the Maricopa Corporate College, the Center for Entrepreneurial Innovation is a community-based business incubator located in the heart of Discovery Triangle. With funding from the US Economic Development Administration, City of Phoenix and Maricopa County Community College District, CEI provides targeted business services and proactive business support to create a systematic link between technology development, compelling markets and opportunities; entrepreneurial and managerial talent development; early stage capital sourcing; and education and training, interns, coaching and business counseling from Maricopa Small Business Development Center (SBDC) analysts and other leading industry specialists. For more about CEI, visit www.ceigateway.com.
Media Contact
Greg Bullock, bullock@ceigateway.com, 602-286-8958 (Office), 480-544-8320 (Cell).