AdvaMed Announces Presenting Companies & a Special Scholarship Opportunity from RCT Ventures
Inano Bio, Invoy Technologies, LLC, and Regenesis Biomedical to take the stage in Washington DC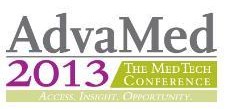 AdvaMed has announced the selected companies that will deliver business development and investor 
Company Presentations 
at 
AdvaMed 2013
.
These brief investor presentations will connect the latest MedTech innovators and entrepreneurs with established industry business development executives, venture capitalists, angel and family fund investors and other strategic partners.
Click here
 to see the full list of selected presenting companies.
Company Presentations will be scheduled in sector blocks and followed by corresponding Sector MeetUps – targeted networking sessions for presenting companies and strategic investors, hosted by leading business development executives.
AdvaMed is  holding a final presentation slot for one lucky start-up company that  will be chosen by 
RCT Ventures (RCT)
of Tucson, Arizona to receive a scholarship for presenting at 
AdvaMed 2013
.
RCT's generous scholarship will cover the winning company's conference registration and company presentation fees as well as round-trip travel to the conference and accommodations at the Renaissance Washington, D.C. Downtown Hotel for up to three nights.