The West was won by innovators, investors, and prospectors who understood  the value of discovery and accepted the challenge of investing in new frontiers.
Join us to meet a new generation of biotech and healthcare pioneers at  White Hat Investors 2016, as we showcase the best of the Rocky Mountain & Southwest Region at the Phoenix Convention Center on September 21 & 22, 2016.
Registration includes:
White Hat Investors Investment Prospectus Catalog

Reserved Seating at the AZBio Awards on 9/21

Access to all presentations and sessions

Breakfast, refreshment breaks and keynote luncheon on 9/22

Admittance to the Closing Cocktail Reception.
Registration is complimentary for all accredited investors, elected leaders, candidates for elected office, and members of the media for BOTH the AZBio Awards and White Hat.
White Hat and The Rocky Mountain Life Science Investor and Partnering Conference (RMLIPC) are a regional partnership between State Biotech Organizations across the region.
 Below you will find a list of  investors who have participated since the partnership began in 2013.
Amgen Ventures, Thousand Oaks, CA
Aphelion Capital, Mill Valley, CA
Arizona Tech Investors - ATI – Phoenix, AZ
Benefunder -  SanDiego, CA
BioGenerator, St. Louis, MO
BioVentures, Wellesley, MA
Boston Equity Advisors, Canton, MA
Boulder Ventures, Boulder, CO
Bristol-Myers Squibb, New York, NY
Canaan Partners, Menlo Park, CA
Charter Life Sciences, Santa Clara, CA
CSU Ventures, Fort Collins, CO
Draper Fisher Jurvetson, Menlo Park, CA
Delphi Ventures, Menlo Park, CA
Desert Angels, Tucson, AZ
Epic Ventures, Albuquerque, NM 
Frontier Angels, Polson, MT
GE Healthcare Financial Services, Chicago, IL
GE Ventures, San Francisco
Glaxo SmithKline, San Diego
High Country Venture, Boulder, CO
Who Should Apply?
Diagnostics Companies
Therapeutics (Drugs and Biologics) Companies
Medical Device Companies
Health IT, Telemedicine, and mHealth Companies
There is  no cost to apply. Presenting Companies will be invoiced when confirnmed by the selection committee.  The fee to present at White Hat 2016 is $1,000
Who should attend?
Angel Investors
Venture Capital Firms
Institutional Investors
Strategic Investors
Supporting Organizations
Investor is defined as a representative of a family office, investment fund, corporate investment /business development professional for life science oriented firrms (strategic investors), granting foundations, venture capital firm, and accredited investors
(Accredited investor status is subject to validation/certification when requesting complimentary registration.)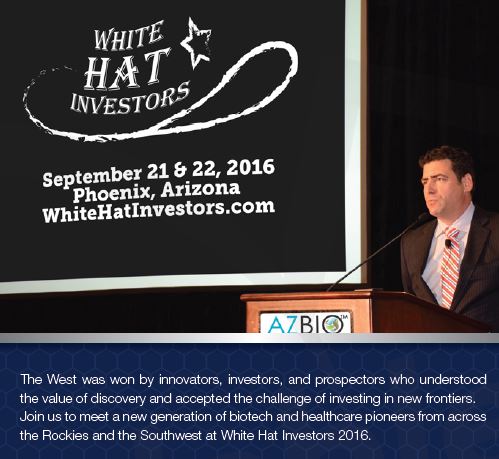 Bioindustry Associations from across the Rocky Mountain and Southwest Region are coming together to present an opportunity  for Angels, Venture Capitalists and Strategic Investors to connect with the best biotech and healthcare investment opportunities from across the Rocky Mountain & Southwest states at White Hat Investors 2016 in Phoenix, Arizona on September 21 & 22, 2016.
State Bioindustry Association Partners

AZBio Supporters support us so that we can support you.