8-week paid summer program pairs students with TGen researchers in significant efforts to benefit patients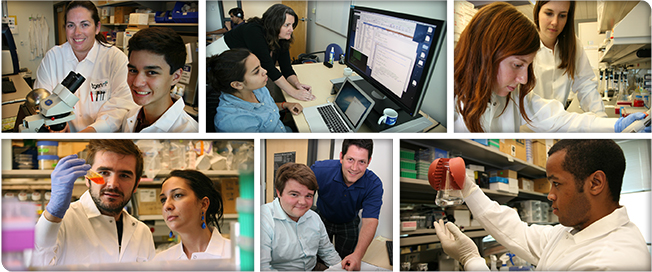 The Translational Genomics Research Institute (TGen) today began seeking 45 students for its 2016 Helios Scholars at TGen biomedical research internship program, supported for the 10th year by the Helios Education Foundation. Arizona students are encouraged to apply.
Helios Scholars at TGen is the research institute's flagship summer internship program for Arizona students looking to further their interest in bioscience and medicine. Helios Scholars work in TGen's laboratories — receiving one-on-one mentorship from TGen scientists — on research projects that aim for new discoveries about illnesses such as neurological disorders, infectious diseases and many types of cancer.
"We look forward to recognizing the 10th anniversary of Helios Scholars at TGen throughout 2016," said Paul J. Luna, President and CEO, Helios Education Foundation. "The program has become one of the most sought after bioscience internships in Arizona, providing opportunities for intensive, hands-on learning to a diverse student population."
Nearly 400 students have completed the Helios Scholars at TGen program since it began in 2007. The eight-week, full-time, paid internships are open to Arizona high school, undergraduate and graduate level students, including those in medical school. More than 600 students applied in 2015.
"I wouldn't be where I am today without the learning experiences and research opportunities I received through Helios Scholars at TGen," said Megan Russell, who completed the Helios program in 2009 and now works as a bioinformatician in TGen's Neurogenomics Division. She now serves as a mentor to new classes of Helios Scholars.
"I highly recommend that any student in Arizona planning on going into the fields of bioscience or medicine apply for the Helios Scholars at TGen program," said Juan Rodriguez, who completed the Helios program this past summer. He received his Bachelor's Degree in Applied Mathematics from Arizona State University in December, and will soon start graduate school studies in Software Engineering and Bioinformatics while working in labs at ASU and TGen.
In addition to patient-focused research, Helios Scholars participate in professional development seminars, including science communication, public speaking, and basic business etiquette, as well as social activities to build and strengthen relationships between students.
Scholars boast an array of impressive accomplishments including acceptance into top tier graduate and medical schools, unique career developments, national awards and scholarships, and authorship credit in numerous scientific publications.
"Helios Scholars at TGen has helped launch the careers of many promising and talented researchers and physicians, and after a decade is beginning to add significantly to the bioscience workforce landscape in Arizona.  In partnership with Helios, we have been able to provide hundreds of highly-motivated students the unique opportunity to contribute to innovative, patient-centric research" said Dr. Jeffrey Trent, TGen President and Research Director.
Applications for the 10th class of Helios Scholars at TGen will be accepted through Feb. 12 at www.tgen.org/intern. For more information, contact Julie Euber, TGen Education and Outreach Specialist, at 602-343-8459, or jeuber@tgen.org.
# # #
About Helios Education Foundation
Helios Education Foundation is focused on creating opportunities for individuals in Arizona and Florida to succeed in postsecondary education by advancing the academic preparedness of all students and fostering a high-expectation, college-going culture. Through a decade of strategic partnership and investment, Helios has identified Early Grade Success, College and Career Readiness and Postsecondary Completion as the three most critical reform priorities in achieving our long term goal.
As an engaged foundation, embedded in communities across both states, the Foundation is contributing its expertise and financial resources to better prepare students for college and career in a globally-competitive economy. Since 2006, Helios has invested more than $170 million in education-related programs and initiatives in Arizona and Florida. For more information about the Foundation, visit www.helios.org.
Press Contact:

Rebecca Lindgren
Marketing Communications Director
Helios Education Foundation
602-381-2294
rlindgren@helios.org
About TGen
Translational Genomics Research Institute (TGen) is a Phoenix, Arizona-based non-profit organization dedicated to conducting groundbreaking research with life changing results. TGen is focused on helping patients with neurological disorders, cancer, and diabetes, through cutting edge translational research (the process of rapidly moving research towards patient benefit).  TGen physicians and scientists work to unravel the genetic components of both common and rare complex diseases in adults and children. Working with collaborators in the scientific and medical communities literally worldwide, TGen makes a substantial contribution to help our patients through efficiency and effectiveness of the translational process. For more information, visit: www.tgen.org. Follow TGen on Facebook, LinkedIn and Twitter @TGen.
Press Contact:
Steve Yozwiak
TGen Senior Science Writer
602-343-8704
syozwiak@tgen.org