Last week, over 200 leaders from across the nation visited Washington D.C. to meet with their Congressional delegations and share ideas with our nation's leaders on the importance of our bioindustry and on the issues that are key to moving innovation forward and providing access to these life sustaining and life saving innovations.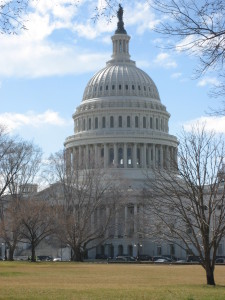 Our Arizona delegation included a representative from Johnson & Johnson, a graduate of the University of Arizona College of Medicine who is now a third year resident at the Vanderbilt University Health Center also representing the Alliance for Patient Access, and AZBio Government Affairs Committee Members Frank Plescia and Joan Koerber-Walker.
A Recap of Key Conversations on The Hill:
Protecting Medicare Part B and Medicare Part D
As the federal budget talks continue, the Department of Health and Human Services budget f0r FY 2013 is estimated to be 25.1% of the total goverment budget (p. 94) with the largest line item in this budget belonging to Medicare and Medicaid. HHS has the largest budget of any federal agency.  Understanding that  the need for budget economy is a fiscal necessity, we discussed how programs like Medicare Part B and Medicare part D are working well and in the case of Medicare Part D are actually performing at 43% below their original budget projections.  Medicare Part B's ASP+6 pricing model provides health care providers with cost coverage for administering life saving medicines to the sickest of our patients.  Reducing Part B below ASP+6 will result in a reduction in services provided, especially in rural areas, causing limiting access to the Americans who need help the most.  As market based programs, Part B and Part D use market pricing factors to keep costs in line while providing high levels of patient satisfaction and access.  Changing these programs could trigger various factors that would reduce patient access and when these patients do not have access to their medication, hospital stays and higher health care costs can be the unintended result.
All innovation begins with a discovery and many of our most vital discoveries occur in U.S. universities, private research institutes and small businesses that rely on research funding from NSF, NIH, DOD, BARDA, and DOE.  Many of these innovations will lead to cost savings in the healthcare system, new sources of alternate energy, and innovations in agriculture to help feed a growing global population.  Reducing our investments in research today, limit America's future prospects as a global innovation leader.
Arizona's Graduate Medical Education Shortage
As Arizona's population has grown and continues to grow, high quality health services are dependent on an adequate supply of doctors.  Today, it is estimated that Arizona is 850 residency slots (GME allocation) short each year  based on our current and future needs.   Our main message to the delegation on this issue was that this is a wonderful opportunity for our Arizona Congressional Delegation to work together to benefit ALL of the people of Arizona by helping to address our GME allocation shortage. We also discussed the need to work this issue on both the National and State level and AZBio's commitment to work with leadership at home and in DC to help ensure that Arizona has the physicians we will need now and in the future.
Support for the FDA
The U.S. Food and Drug Administration is our partner in bring safe and effective products to market.  FDASIA, MDUFA, and PDUFA fees help to support the FDA's critical mission, but it is equally important tha FDA's federal line item fundingof $2.9B  not be adversely affected.   The FDA is responsible for working with industries that generate over 25% of the U.S. GDP and must have the funding to work efficiently and effectively to ensure that not only that safety is maintained but also that our economy continues to move forward.
Repealing the Medical Device Tax
We learned that all is not yet lost on the repeal of the Medical Device Excise Tax.  This week, the Senate is scheduled to take up its version of the 2013 Budget Resolution. This is a non-binding resolution that outlines policy priorities along with spending and revenue targets for the year. Repeal would be linked to the creation of a deficit-neutral reserve fund within the Budget Resolution. There are already 21 separate reserve funds proposed in the version of the Budget Resolution introduced by Budget Committee Chairman Murray (D-WA). These reserve funds simply express the intent to address specific policy areas and to accommodate the development of future offsets for those policy changes.  Although inclusion of the device tax repeal in the Budget Resolution would not be binding, this is an important opportunity for the Senate to express its support for addressing the medical device tax in a fiscally responsible manner, and would represent the first Senate vote on the device tax.
A Note of Thanks
AZBio is deeply appreciative for the time and attention our Congressional leaders and their teams invested in meeting with us and provideiing us with the opportunity to exchange ideas.  Thanks go to:
U.S. Senator Jeff Flake and Health Legislative Assistant Sarah Towles
U.S. Representative Ron Barber and Legislative Director Lauren Alfred
U.S. Representative Paul Gosar and Legislative Director Jeremy Harrell
U.S. Representative Matt Salmon and Health Legislative Assistant Liam Morrison
Beau Brunson, Legislative Director for U.S. Representative. David Schweikert
Bobby Cornett, Legislative Director for U.S. Representative Trent Franks
Laurie Ellington, Health Legislative Assistant for U.S. Representative. Ed Pastor (Dean of the AZ House Delegation)
Brenna Hansen, Health Correspondent for U.S. Representative Ann Kirkpatrick
Chris Kaumo, Senior Advisor for U.S. Representative Raul Grijalva
Kris Pratt, Legislative Director for U.S. Representative Kyrsten Sinema
While we were only there for a short time, our partners from the Biotechnology Industry Organization (BIO) are on The Hill all the time, working with us and for us to monitor, educate and inform on the issues that are key to our industry.  While we are now be back in our home states, the BIO Advocacy team is on the job for us in D.C.