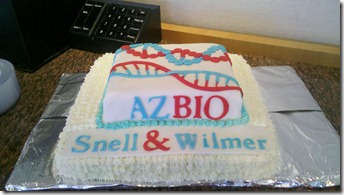 When it comes to moving things forward…faster a personal touch is always a key ingredient.  Last week at AZBio we saw many examples of that as our team, our leadership, our strategic partners and our members all came together to  work on key projects. 
A big one is of course this year's BIO International Convention in Washington DC.  Thanks to the great support of our community by the Arizona Commerce Authority, our state will be well represented with a 600 square foot Arizona Pavilion showcasing why Business + Bioscience is better in Arizona.    As we get ready for the big show the last week in June, the AZ Pavilion team was again treated to a get together at Snell and Wilmer for all the groups and members who will be representing our state.  What a surprise to walk into the party and see this terrific cake.  But where did it come from?  Soon the mystery was solved.  It was a special treat brought by Maribeth Ackzen  that had been made by Maribeth's husband, Brent Ackzen (Cakes by Brent). It looked GREAT and tasted event better. :-)
But the week was not all fun and parties.  Each day we had meetings with great Arizona organizations to lay a foundation for new programs, partnerships and resources.  Many thanks to the AZBio Marketing Committee and the AZBio Events Committee who are hard at work on this year's AZBio Awards and Expo on October 13th and  14th , the AZBio Government Affairs Committee, the AZBio Executive Committee, the Arizona Technology Council, The Arizona Science Center, Dr. Jeremy Babendure of the Arizona SciTech Festival, the team at BioAccel and others for reaching out, collaborating and sharing great ideas that will help move us all forward…faster.
Things won't be slowing down anytime soon.  This week kicks off with two days of collaboration around STEM education and our future workforce, the Arizona BioScience Road Map meeting  with statewide leaders at the Flinn Foundation mid week and of course a party as we gather with the  Southern Arizona community for a little Beer and Bio Thursday night.  After all, it's not just about business and bioscience, it's about the people that make it happen, and that takes a personal touch.
So stay tuned..there's more great things to come!
Joan Koerber-Walker, President and CEO , AZBio
About AZBio
AZBio – The Arizona BioIndustry Association
Business + BioScience for a Better Arizona
AZBio is comprised of member organizations in business, research, government, and other professions involved in biosciences.
The Mission of AZBio:
To serve our Members, both as organizations and as individuals, by providing access to the key resources, connections, and information that support their ability to Connect, Collaborate, Innovate and Succeed thus supporting the growth of a thriving economic ecosystem for Arizona's Bioscience Industry.