TUCSON, AZ / ACCESSWIRE / January 18, 2022 / Aqualung Therapeutics, an early stage immunotherapeutics company with an anti-inflammatory therapeutic platform for life-threatening unchecked inflammation, has closed a $2.5M convertible note fund raise led by a $1.5M investment from JSR Life Sciences, LLC. The convertible note close brings the total Aqualung funding to date to >$17M, with $14 million derived from non-dilutive capital via NIH-funded grants and an earlier successfully executed $700,000 early seed round. In addition to investments in the convertible note, JSR Life Sciences has committed an additional $1.5M to the upcoming $10M Series A capital raise.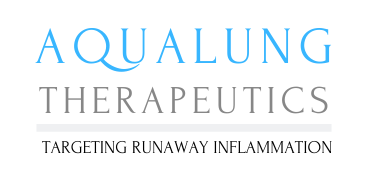 The newly obtained convertible note funding will facilitate Aqualung's 'First in Human' phase 1A safety trial in healthy human volunteers utilizing an innovative humanized eNAMPT-neutralizing ALT-100 mAb therapy. This phase 1A trial in healthy human volunteers is anticipated to start in June 2022. Aqualung has completed manufacturing of ~3500 doses of the ALT-100 mAb which are now available for this initial safety human trial and for subsequent human trials in subjects with ARDS. The new convertible note funding also allows for IND filing with the US FDA for the ARDS indication.
JSR Life Sciences is not only financing a major portion of this convertible note but is working with other experienced life science investment teams to coordinate a syndicated series A capital round within the coming months. "As early investors in this novel target of eNAMPT, we have seen how ALT-100 can potentially bring significant value to the industry and lead to therapeutic breakthroughs for patients," said Jason Zhang, Head of the Corporate Venture Fund, JSR Life Sciences. "We believe that the Aqualung team has developed a truly innovative platform technology that can have an impact on reducing hospitalization for those with ARDS, but also save lives of ARDS patients."
"Closing this convertible note capital raise during these uncertain times further validates Aqualung's disruptive approach to treating vexing, life threatening inflammatory conditions; including Acute Respiratory Distress Syndrome (ARDS). The infusion of this new capital greatly accelerates testing of our novel therapeutic in human clinical trials," said Joe GN Garcia, MD, CEO and Founder of Aqualung Therapeutics. "We are excited to work with investors such as JSR Life Sciences to bring our platform technology to market as quickly as possible and to achieve our mission of saving lives of patients afflicted by devastating inflammatory disorders such as ARDS."
The development of ALT-100 mAb is based upon the identification by Aqualung Therapeutics scientists of extracellular NAMPT or eNAMPT, as a master regulator of tissue and systemic inflammation and as a novel therapeutic target in ARDS and other diseases in which runaway inflammation is a major contributor.
About Aqualung Therapeutics Corporation
Aqualung is an early-stage biotech immunotherapeutics company which has developed an anti-inflammatory therapeutic platform for patients life-threatening unchecked inflammation. Founded in 2016 and led by a physician-scientist, Aqualung's science-driven approaches led to the identification of nicotinamide phosphoribosyltransferase (NAMPT) as a major contributor to the severity of potentially fatal inflammatory diseases. Aqualung Therapeutics has developed eNamptor™, a Next Gen platform comprised of: i) the humanized ALT 100 mAb, an eNAMPT-neutralizing monoclonal antibody; ii) eNAMPT-Plex, a plasma-based biomarker panel comprised of cytokines and eNAMPT, which predicts ARDS mortality; and iii) NAMPT-Gene, a genotyping assay that identifies individuals genetic variants that predispose to ARDS risk and death. In addition to ARDS and ventilator-induced lung injury, the pipeline of ALT-100 mAb indications currently includes radiation-induced injuries, intrauterine infections during pregnancy (chorioamnionitis), prostate cancer, pulmonary hypertension, autoimmune disorders (IBD, SLE) and both pulmonary and hepatic fibrosis (NASH). Each of these potentially fatal inflammatory conditions exhibit significant unmet medical needs for therapeutics to reduce morbidity and mortality. For additional information about the company, please visit www.aqualungtherapeutics.com.
About JSR Life Sciences, LLC
A business unit of JSR Corporation, JSR Life Science LLC (JSR LS) is changing human health as a strategic partner and pathfinder for the life sciences industry. Rooted in a history of materials innovation, JSR LS provides specialized products, materials, and services to biopharmaceutical companies and academic researchers. Together with its world-class affiliates, JSR LS offers best-in-class integrated services that de-risk molecule selection, accelerate biologic development timelines, increase clinical success rates, and develop novel in vitro diagnostics. JSR LS's global network of affiliates includes Crown Bioscience, KBI Biopharma, Inc., Selexis SA, and MEDICAL & BIOLOGICAL LABORATORIES CO., LTD. The company operates R&D and applications labs, manufacturing facilities, and sales offices worldwide. For more information, visit JSRLifeSciences.com
Aqualung Therapeutics Corporation
www.aqualungtherapeutics.com
Tel: +1- 312-618-7337
Joe GN Garcia MD
email: skip@aqualungtherapeutics.com
SOURCE: Aqualung Therapeutics