Phase 0 trial in ARDS subjects estimated completion by end of 1st QTR 2022
FDA indicates general agreement on required IND-enabling program for ALT-100 mAb in ARDS patients
ALT-100 humanized mAb manufacturing initiated and speeding toward GMP completion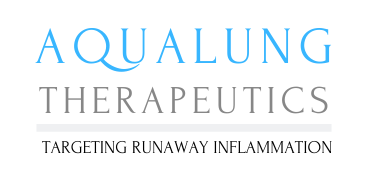 TUCSON, AZ / ACCESSWIRE / June 15, 2021 / Aqualung Therapeutics Corp., a biotech company focused on the development of novel therapies to combat unchecked systemic inflammation, completed a successful Type B meeting with the U.S. Food and Drug Administration (FDA). The meeting centered around IND-enabling and early human studies for the use of ALT-100 (humanized mAb) in the treatment of patients with Acute Respiratory Distress Syndrome (ARDS) and Ventilator-Induced Lung Injury (VILI). The company is now planning to move forward with a Phase 0 study in ARDS subjects in the coming months to be included as an important component of our IND submission packet. A Phase 0 trial is an exploratory investigational new drug (IND) study, and the goal is to quickly establish whether an agent will work as desired in humans. It should also show whether a drug's pharmacokinetics and pharmacodynamics warrant continued exploration.
In the Type B meeting, Aqualung shared the overall IND-enabling development plan for ALT-100 mAb, coupled with extraordinarily compelling pre-clinical evidence in rat and porcine ARDS /VILI models. The FDA provided valuable insight as to the path forward providing Aqualung clear and specific guidance on both aspects of the IND filing as well as the initial patient safety trial.
Aqualung has completed PD/PK and toxicology studies in rodents and has also completed stable mammalian cell line development and has now moved quickly to initiate ALT-100 mAb manufacturing (in bioreactor stage). GMP material is expected by the end of this calendar year allowing execution of an early, human phase 0 study in ARDS subjects to be conducted in Australia.
"The FDA provided Aqualung specific and valuable insights and we now have a clear path forward as we look to get ALT-100 manufactured and into human subjects who are experiencing ARDS. ARDS has an estimated 40% mortality and there are ~500K new ARDS patients annually in the U.S., and this does not include those who were diagnosed with COVID-19 Induced ARDS" said Stan Miele, President and CBO of Aqualung Therapeutics. The conduct and completion of the ALT-100 phase 0 study in ARDS subjects is subject to Aqualung's ability to obtain up to ~ $2.5 million of near-term funding. While Aqualung is working with a banking institution as part of a preferred equity round, this near-term funding will be a convertible note.
"We are excited about advancing our eNAMPT-neutralizing ALT-100 mAb into the manufacturing stage of its development. After years of effort, we are now one step closer to addressing the serious unmet need for novel and effective therapies to treat ARDS subjects", states Joe GN Garcia MD, CEO and Founder of Aqualung Therapeutics. "Our technology has been robustly validated with almost $10M dollars of non-dilutive capital from the NIH. We are hopeful that some institutional investors will see our rapid and dramatic progress over the last 18 months and consider investing in a company that has a therapeutic drug which will reduce hospitalization and save lives."
About Aqualung Therapeutics Corporation
Aqualung is an early-stage biotech company developing immune-focused therapeutic antibodies for patients suffering from disorders characterized by acute and chronic lung and systemic inflammation. Founded in 2016 and led by a physician scientist, Aqualung's science-driven approaches led them to the identification of nicotinamide phosphoribosyltransferase (NAMPT) as a contributor to severe inflammatory diseases. Aqualung Therapeutics is developing eNamptor™, a Next Gen platform comprised of : i) ALT 100 mAb, a humanized eNAMPT-neutralizing monoclonal antibody; ii) eNAMPT-Plex, a plasma-based biomarker panel comprised of cytokines, including eNAMPT, which predicts ARDS mortality; and iii) NAMPT-Gene, a genotyping assay that identifies individuals at increased risk for ARDS death. The pipeline of ALT is designed to target a range of diseases, including ARDS, ventilator- and radiation-induced lung injury, chorioamnionitis, prostate cancer, pulmonary hypertension, and both pulmonary and hepatic fibrosis (NASH), conditions each with significant unmet medical needs and with significant morbidity and mortality. For additional information about the company, please visit www.aqualungtherapeutics.com.
Aqualung Therapeutics Corporation
www.aqualungtherapeutics.com
Tel: +1- 312-618-7337
Joe GN Garcia MD
Email: skip@aqualungtherapeutics.com
SOURCE: Aqualung Therapeutics