Arizona Telemedicine Program Founding Director Dr. Ronald S. Weinstein Honored by the 'Custodian' of the Nation's First Telemedicine Program, the Center for Connected Health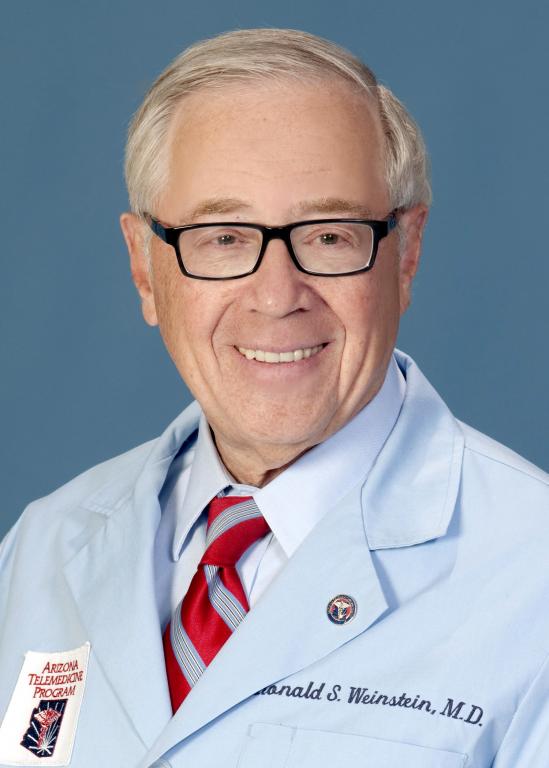 The Massachusetts-based organization is recognizing Dr. Weinstein "for his groundbreaking work in bringing health care to the farthest corners of the state of Arizona and beyond, and for his vision and leadership that propelled telehealth to its current state of adoption."
TUCSON, Ariz. – Ronald S. Weinstein, MD, founding director of the Arizona Telemedicine Program (ATP) at the Arizona Health Sciences Center and one of the "fathers" of telemedicine, will be honored for "distinguished service in advancing technology-enabled care delivery and help promoting health and wellness," on Thursday, Oct. 23, at the 11th Annual Connected Health Symposium, hosted by the Center for Connected Health, Partners HealthCare, in Boston, Mass.
The Center for Connected Health is part of Boston-based Partners HealthCare, a non-profit integrated health system, and was started in 1994 by two of the nation's leading academic medical centers: Brigham and Women's Hospital and Massachusetts General Hospital (Mass General), both affiliated with Harvard Medical School.
"It's a homecoming for me," said Dr. Weinstein, who did his residency in pathology at Mass General, and participated there in the very first telemedicine cases in the country, in 1968.
"That program is of enormous historical interest, and to receive an award from the people who are now the custodians of the Mass General-connected program has special significance for me," Dr. Weinstein said.
"We are recognizing Dr. Weinstein for his groundbreaking work in bringing health care to the farthest corners of the state of Arizona and beyond, and for his vision and leadership that propelled telehealth to its current state of adoption," said Joseph Kvedar, MD, founder and director of Partners HealthCare's Center for Connected Health.
Multispecialty telemedicine got its start in 1961, following a tragic plane crash at Boston's Logan International Airport, Dr. Weinstein said.
"City leaders approached Mass General about the possibility of somehow bringing emergency services more rapidly to the airport, since the only access to the airport then was through Callahan Tunnel," Dr. Weinstein recalled. "Over a period of six years they studied the request and devised a plan linking Logan Airport to Mass General Hospital by point-to-point microwave. Not only that, they developed a total telemedicine solution that is almost identical to what we use today – electronic stethoscopes, teleradiology, teledermatology, telepsychiatry, even the first telepathology."
The Mass General-Logan International Airport Telemedicine Program became the model for two of the first statewide programs, one started in Georgia – by Dr. Weinstein's fellow Mass General resident and friend, Jay Sanders, MD, in 1993, and the second in Arizona, in 1996.
Former State Sen. Bob Burns, a machine language computer programmer at General Electric early in his career, heard of the Georgia program in 1993. He flew to Georgia then back to Arizona with a video recording of what he saw, and consulted with James Dalen, MD, then-dean of the University of Arizona College of Medicine, about starting a telemedicine program at the UA. Burns energetically took on the role of legislative champion. He co-founded the Arizona Telemedicine Program with Dr. Weinstein and they still manage the large, 70-community enterprise together, 20 years later.
The Arizona Telemedicine Program formally launched in 1996, following two years of planning, and began connecting UA physicians to doctors and patients in Nogales, Ariz., and other rural communities in 1997.
About Dr. Weinstein
Dr. Weinstein is a national award-winning visionary who has created transformational innovations in education, science and health-care delivery systems. He is a Massachusetts General Hospital-trained pathologist and former chair of the University of Arizona Department of Pathology.
Dr. Weinstein often is referred to as the "father of telepathology" for inventing, patenting and then commercializing robotic telepathology, a technology that has benefited tens of thousands of patients on five continents. He is founding director of the Arizona Telemedicine Program, headquartered at the Arizona Health Sciences Center of the University of Arizona in Tucson, and is executive director of the T-Health Institute at the UA College of Medicine – Phoenix.
Dr. Weinstein has received many honors and awards, including the UA's "2012 Technology Innovator-of-the-Year" award; the Arizona Medical Association's Distinguished Service Award for his pioneering work in telemedicine in Arizona; the Association of Pathology Chairs Distinguished Service Award, for his leadership on modernizing medical school and pathology resident curriculum; and the Association for Pathology Informatics' Lifetime Achievement Award, for his work leading to the creation of telepathology services around the globe (remote laboratory diagnostics).
He has been president of six medical organizations, including the U.S. and Canadian Academy of Pathology and the American Telemedicine Association.
————————————-
About the Arizona Telemedicine Program
The Arizona Telemedicine Program (ATP), based at the Arizona Health Sciences Center of the University of Arizona in Tucson, is a large, multidisciplinary program that provides telemedicine services, distance learning, informatics training and telemedicine technology assessment capabilities to communities throughout Arizona and in neighboring states. Established in 1996 by Dr. Weinstein and former Arizona State Sen. Burns, the program is recognized as one of the premier entities of its kind in the world for telemedicine clinical services, education and research. More than 1 million people in Arizona have received telemedicine services over the program's private telecommunications network.
A division of the ATP, the Institute for Advanced Telemedicine and Telehealth (T-Health), is housed in the historic Phoenix Union High School building on the campus of the UA College of Medicine – Phoenix. One of the nation's first regional demonstration learning centers, T-Health incorporates both telemedicine and telehealth – distance learning and health care delivery – using a wide range of technologies, including real-time videoconferencing, electronic transmission of digital medical images and data and the Internet.
For more information about the Arizona Telemedicine Program, please visit the website, www.telemedicine.arizona.edu