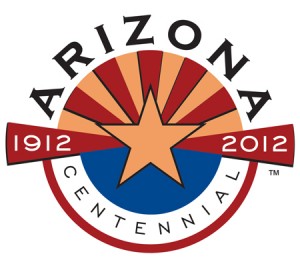 On Valentine's Day in 1912, Arizona became the 48th state and the last of the contiguous 48 states. Alaska and Hawaii would join The Union later, but for native Arizonans, it was a momentous day. Fast forward 100 years and now Arizona is in its centennial year. The celebrations have begun and more are to come. The question is, what lies ahead in our next 100 years.
Spending my days in the midst of Arizona's bioscience community, I get little glimpses of the future. Artificial hearts, life saving technologies, truly green energy sources drawn from algae farms, and agricultural advancements that will allow us to feed the world.
So in honor of Arizona's centennial, it might be fun to postulate on what it will be like to be an Arizonan 100 years from now at our bi-centennial.
People:
In our first 100 years, Arizona saw its population grow from 204,354 in the 1910 Census to close to 6.5 million people today.
By 2050, the Arizona Sun Corridor alone could grow to over 12 million people according to the website America2050 and if we manage our resources wisely, could support upwards of 20 million people by our next centennial.
The United Nations long-range estimates for the global population by our next centennial show a growth from almost 7 billion people today to almost 9 billion people in the medium estimate.
How does Arizona's bioscience industry fit into this bi-centennial world?
I seem to have misplaced my crystal ball. So instead, let's take some of the work being done in Arizona's bioscience community today and extend it out into our bi-centennial world. Just imagine if in 2112…
AIDS is a footnote in the annuals of human history thanks to a breakthrough platform technology pioneered at Tucson's Calimmune, Inc.
Early detection and treatment of cancers is the global standard of care thanks to early diagnostics pioneered by VisionGate, Provista Diagnostics, RiboMed Biotechnolgies, TGen, the International Genomic Consortium, The Biodesign at Arizona State University, BIO5 at the University of Arizona, Ventana Medical Systems (a member of the Roche Group), HTG Molecular Diagnostics, Sanofi, the Arizona Cancer Center, Banner/MD Anderson and other Arizona based companies. Arizona is recognized as one of the world leaders in Personalized Medicine, Companion Diagnostics and Molecular Diagnostics.
The Arizona Alzheimer's Consortium has broken the code on Alzheimer's Disease. The Consortium is credited for averting a world health crisis.
Stem cell banking is now the norm. Cord Blood Research (CBR), the world's largest umbilical stem cell bank at our first centennial, continues its world leadership into our second century. The Celebration Stem Cell Centre in Gilbert, Arizona completes its first century of stem cell research in partnership with Arizona's world-class hospitals and research institutions and continues to pioneer new therapies in regenerative medicine.
Life expectancy is well over 100. Medical devices from the Medtronic Tempe Campus, W.L.Gore, Regenesis Biomedical, Invoy Technologies, SynCardia, and others are not only helping us live longer, we are living better.
The revolution in healthcare, led by the Center for Sustainable Health at ASU Biodesign and the Chan Soon-Shiong Institute in Phoenix, results in a global network of highly effective and affordable care where information technology and medical technology converge with Arizona at the heart of the world's largest and most effective health information network. IBM moves its central operations for global healthcare management to Arizona.
Research at The Center for Microbial Genetics and Genomics (MGGen) at Northern Arizona University is credited for for eradicating the threat of bioterrorism.
Arizona's Apache and Yuma counties are top producers of Algae based biofuels. USAIR, the world's largest airline, paints all of its planes green in honor of the milestone of being the first all-algae air carrier. The Arizona/California/Vancouver pipeline is the first dedicated biofuel pipeline to rival the fossil fuel pipelines of days gone by.
Ecologically and human friendly agricultural innovations from NAU and UA have helped to increase the world's food supply, allowing it to keep pace with the world's growing population.
Reforesting projects pioneered at Northern Arizona University have kept our world growing. Now they are working with longtime partner NASA to establish forestry projects on Mars!
So those are my predictions for what we will be talking about at Arizona's Bi-Centennial in 2112. Break out your crystal ball and add a few of your own. Arizona innovators are leading the way today and we will be 100 years from now.
Happy Birthday Arizona!