John D. Carroll of FierceBiotech to Keynote  the 2012 AZBio Awards Gala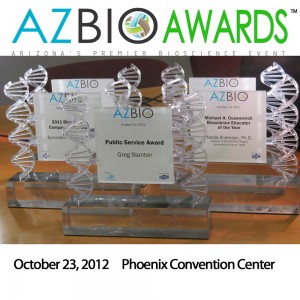 As Arizona's bioscience industry comes together to celebrate key milestones, the achievements of leaders, and to thank Arizonans for the investment and support that has made it all possible, the community will also gain insights into what lies ahead from John D. Carroll, Editor of FierceBiotech. Carroll will deliver the keynote at the 7th Annual AZBio Awards on October 23, 2012 at the Phoenix Convention Center.
John D. Carroll is a biotech analyst with 34 years of prize-winning experience in journalism. Appointed editor of FierceBiotech in 2003, he has covered virtually every aspect of the global drug development industry over the past decade. His work includes the popular Fierce 15, which recognizes the most innovative private companies in the business each year. His daily reports keep more than 100,000 subscribers around the world clued in to the latest developments on deals, data and industry trends. Carroll plans to address the biggest influences affecting the fast-changing biopharma industry and what it means to biotech executives in Arizona.
"Arizona is home to one of the fastest growing bioindustries in the U.S." shared Joan Koerber-Walker, AZBio president and ceo. "We have a lot to celebrate and a lot to be thankful for. Most importantly, we need to stay focused on the road ahead if we are to continue to keep moving forward faster. Having John D. Carroll's global view and industry insights to share with our community will help us do just that. I am looking forward to our community having a chance to meet and hear from John and for John to connect with our community too."
The 7th Annual AZBio Awards will be held Tuesday, October 23, 2012 at the Phoenix Convention Center. Prior to the AZBio Awards dinner, a Company Showcase and Student Discovery Showcase will be free and open to the general public from 3:00 pm to 5:30 pm so that the people of Arizona can see the work being done in the industry and interact with the leaders and future leaders who are driving bioindustry innovation.
"The people of Arizona have generously invested in science and technology over the last decade. This is especially true for our bioscience industry" stated Glen Galster, co-founder of Algae Biosciences, Incorporated and AZBio Board Chair. "By opening the Company and Student showcases to the public we can thank them for their support and show them what we have developed as well as a look at what is still to come."
Carroll will keynote the AZBio Awards Dinner which begins at 6 PM. The gala event, attended by industry leaders from across the state will celebrate key milestones including the 10th Anniversary of the Arizona Bioscience Road Map and the Translational Genomics Research Institute (TGen), the 25th Anniversary of Ventana Medical Systems, a member of the Roche Group, and the 125th Anniversary of the Arizona Experiment Stations at the University of Arizona, the state's first bioscience research facility. In addition. AZBio will honor three very special leaders whose dedication and commitment have helped to shape our industry and our State.
The AZBio Awards will recognize industry leaders for their achievements as:
· Michael A. Cusanovich Educator of the Year
· 2012 Public Service Award
· Arizona Bioscience Researcher of the Year
· Arizona Bioscience Company of the Year
· Jon W. McGarity Bioscience Leader of the Year
· 2012 Fast Lane Award Winners
The list of past honorees can be viewed at: https://www.azbio.org/azbio-awards/awards-history. For tickets and more information, visit www.AZBioAwards.com.
It's Time To Say "Thank You" In A Very Special Way
Our community believed in us, the people of Arizona have invested in us, and thanks to your hard work, ingenuity, and dedication the Arizona Bioindustry is growing, contributing and making a difference that makes an impact today and will shape our community and the world for decades to come.
To say "Thank You" in a very special way, the 2012 AZBio Awards will open with a special Company Showcase and Student Discovery Showcase from 3:00 PM to 5:30 PM that will be free and open to the public. This is our opportunity to thank the people of Arizona, to show them what you are creating, and to share with them how it will make their lives better in the years to come.
Our companies, universities, research institutions and students have wonderful stories to tell and life changing innovations to showcase. We hope you will join us in showcasing yours at this very special event.
At 6 PM the Celebration Begins
Join us after the showcase for the 2012 AZBio Awards from 6:00 – 9:00 PM at the Phoenix Convention Center for our Gala Celebration and Dinner. Enjoy video vignettes courtesy of New Angle Media, celebrate with our leading companies and leaders, and recognize the achievements of the 2012 AZBio Award Winners.
A Special Keepsake to Take Home and Share
The 2012 AZBio Awards Commemorative Program will be a special keepsake to take home and share. Each company that supports the event by purchasing an exhibit in the Showcase will also receive a a 1/2 page in the program to share their message in the program. Join them and leaders from our bioindustry and state in making the program a lasting record of what the last 10 years has been all about.
So mark your calendars, reserve your tickets, get that display ready and let's give our community something special and something to remember as we say "Thanks!"
See YOU in October!
— Joan Koerber-Walker
president & ceo, AZBio
Important Dates 9/15/2012
Last Day for the 25% Early Bird Discounts10/1/2012
Last day to submit ads in the commemorative program10/23/2012
Company and Student Discovery Showcase
3:00 – 5:30 PM2012 AZBio Awards
6:00 – 9:00 PMImportant LinksAZBio Awards 2012 – HomeInformation on the:
Student Discovery Showcase
Company Showcase
Commemorative Program Page Rates
SponsorshipRegistrationContact the  AZBio  Member Support Team480.779.8101
AdvancingBio@AZBio.org