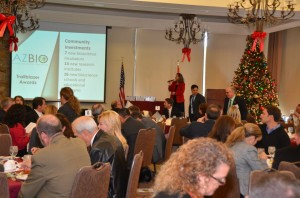 Arizona's bioscience community came together on December 1, 2011 to show appreciation to the leaders who have blazed the path for bioscience growth here in Arizona.  We call these individuals "Trailblazers."
Members of community from across the  state had an opportunity to share ideas with legislators, elected officials and leaders from Arizona's bioscience companies, universities and research institutions.  AZBio members also were updated on the latest results from the AZBio Viewpoint Survey and all attendees received the 2012 AZBio public policy initiatives as well as  a comprehensive list of policy recommendations from the Flinn Foundation and the Bioscience Road Map Steering Committee.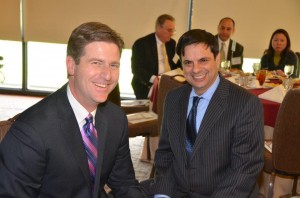 It was a day for showing appreciation, sharing ideas, and getting a better understanding of what we all need to do to continue along the path to reaching new heights in out Arizona Bioscience Industry.
We even had a few surprises up our sleeves including when Mayor Elect Stanton honored Mayor Gordon with a special Trailblazer for his unflagging commitment to our community during his 8 years as mayor of Phoenix.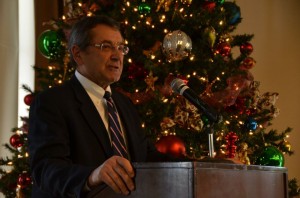 Peter M. Pellerito  flew in from BIO in Washington, D.C. and  shared key insights from across the nation on how states are moving forward faster and how Arizona is leading due to its collaborative spirit and well coordinated bioscience road map.
You can find the full list of Trailblazers here.
We are especially grateful  to the following legislators and elected officials who were able to join us to connect and share ideas:
From the City of Phoenix, Mayor Phil Gordon and Mayor Elect Greg Stanton, and Councilman Jim Waring
From the Arizona House of Representatives:
House Minority Leader Chad Campbell
Rep. Anna Tovar
Rep. Doris Goodale
Rep. Eric Meyer
Rep. Heather Carter
Rep. John Fillmore
Rep. Kate Brophy McGee
Rep. Vic Williams
From the Arizona Senate
President Elect Steve Pierce
Senator Debbie McCune Davis
Louis Dettorre from Senator Rich Crandall's office
Below our Trailblazer Honorees are shown with their awards.  To see the full photo set, visit the AZBio Trailblazer album on Facebook.