AZBio honors Arizona Legislators with 2011 Trailblazer Award:
Tobin, Tovar, Campbell, Goodale, Carter, Jackson, Sinema, Reagan , Crandall, and Williams recognized for supporting education, innovation and the growth of Arizona's bioscience sector.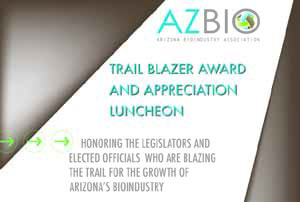 The Arizona BioIndustry Association (AZBio) today announced the names of 10 Arizona Legislators who will be honored on December 1, 2011 for their service to the community and for championing education, innovation and the growth of Arizona's bioscience sector at the 2011 AZBio Trailbazer Awards during a special appreciation luncheon for members, elected officials and legislators which will be held at the Phoenix Country Club.
"Arizona's bioscience sector is leading the way both in advancing science and in job creation" shared AZBio president and ceo, Joan Koerber-Walker.  "While our leading educational, research, and industry partners are making it happen on the front lines, we rely on the support of our legislators and elected officials to clear the path for growth with a commitment to quality education, scientific discovery, and a business environment where companies are attracted to Arizona, created in Arizona and most importantly choose to stay and grow here."
Each year, AZBio shares with the community the key factors that lead to growth in this vital economic sector.  The 2011 Trailblazer honorees were selected based on their engagement with the bioscience community as well as committee and voting records on key issues that shape the key bioscience growth factors.  The 2011 Trailblazer Honorees are:
Speaker of the House Andy Tobin, District 1
Representative Anna Tovar, District 3
Representative Chad Campbell, District 14
Representative Doris Goodale , District 3
Representative Heather Carter, District   7
Senator Jack Jackson Jr., District 2
Senator Kyrsten Sinema , District 15
Senator Michele Reagan, District 8
Senator Rich Crandall, District 19
Representative Vic Williams , District 26
From 2002 until today, bioscience jobs in Arizona have grown 32%, the number of bioscience firms including research, manufacturing, testing, medical labs, and healthcare delivery systems have grown 28% and research partnerships with the National Institutes for Heath has increased 65%. Arizona bioscience organizations now generate $21 Billion in annual revenues and $765 Million in state and local taxes.  Community investments statewide include 7 new bioscience incubators and accelerators, 14 new research institutes, 16 new bioscience schools and educational programs and the attraction of investments from global leaders in healthcare and the biosciences who have elected to locate or expand operations here and now call Arizona home.
"Arizona's impressive progress is not the result of short term thinking, one-time investments, or partisan politics" added Koerber-Walker.  "It is the result a community committed to working together to build a world-class research base, support commercialization efforts, and migrate the latest discoveries from the bench to the bedside in a manner that is both translational and transformational not just for our industry but for our community as a whole.  The Trailblazer Awards give us the opportunity to thank our elected officials and legislators for being part of the team that is blazing the trail for bioscience industry growth in Arizona."
About AZBio:
AZBio is a not-for-profit, 501 (c) 6 trade association promoting the growth of Arizona bioscience companies.  The Association is comprised of member organizations in business, research and education, economic development, government, and other professions involved in the biosciences.  As the unified voice of the bioscience industry in Arizona, AZBio strives to make Arizona a place where bioscience organizations can grow and succeed.
AZBio accomplishes this by…
creating a forum for the bioscience community to join together to engage, connect and collaborate.
educating policy makers and the public about the benefits of our industry to the community.
advancing the economic interests of individual organizations as well as the sector as a whole.
As the state affiliate in Arizona of the Biotechnology Industry Organization (BIO), the preeminent national association for biotechnology companies, and of AdvaMed, the largest association representing manufacturers of medical devices, diagnostic products and medical information systems, AZBio has access to information, contacts, resources, cost saving programs, and access to a global bioscience community which are deployed to support the growth of the bioscience sector in Arizona.
Additional information about the Arizona BioIndustry Association and Arizona's bioscience community as well as the 2011-2012 Bioscience Key Initiatives may be found at www.AZBIO.org.
For information on attending the AZBio Trailblazer Awards and opportunities to get actively engaged showing your appreciation to our elected officials and legislators at the event please visit:
https://www.azbio.org/events/event/azbio-trailblazer-awards-and-legislator-appreciation-luncheon
For additional information regarding this press release, contact:
Joan Koerber-Walker, 480-332-9636, jkw@azbio.org