Register  Apply to Present  Exhibitors  Student Posters  Sponsor The Expo  2014 Attendees  Past Expo Videos  Welcome Page
Exhibiting at the AZBio Expo is a great way to...
Get Connected
Get Noticed
Grow Your Business
The AZBio Expo is the place where you can connect with Arizona's growing bioscience community to engage, collaborate and move your bioscience business…. Forward Faster.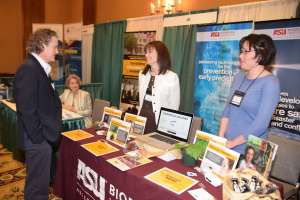 Showcase your products and Services…
Show off your Expertise…
Find Partners and Resources.
Join us April 29, 2015 at the Sheraton Phoenix Downtown for a full day of opportunities.
The Exhibit Hall opens at 9:00 AM during registration and breakfast and is open during all networking breaks throughout the day.
The Exhibit Hall will close during general sessions to allow exhibitors to take full advantage of all general session presentations.
Our AZBio Exhibitor Package is designed to Maximize Your Visibility at the Expo.
Exhibitors receive:
2  Tickets for each 8 ×10 exhibit space.
A 4-color half page ad in the AZBio Expo 2015 program that is distributed to all attendees at the conference and to community throughout the year.
Sponsorship recognition at the event.
All booths include 6 foot exhibit tables, pipe and drape, and two chairs.  Contact advancingbio@azbio.org for information on electrical or Internet access needs.
8 ×10 Exhibit Booth, 2 Tickets and Half Page Ad 
Early Bird Rates – End March 15, 2015
AZBio Members ($2,000), Guests ($2,500)
Regular Rate – After March 15, 2015

AZBio Members ($2,500), Guests ($3,000)
 To view a partial list of attending companies, organizations and exhibitors, from last years AZBio Expo 2014 - click here.
Half Page Program Ad Specs:
Half Page:  4.0 H x 5.0 W
Examples of Exhibitor Ads from past AZBio Events:
Half Page
Contact Our Member Support Team
email: advancingbio@AZBio.org
phone: 480-779-8101