AZBio's resources and our ability to support the growth of our Bioscience Industry today and in the future are directly related to the  engagement and support of our community.
We use these resources to move us all Forward …Faster
Events like the AZBio Expo and our services including Advocacy, Branding support for our industry and its members, our work with students and educators and AZBio educational and networking events statewide are made possible through community support.
AZBio Supporters enable AZBio to support our community.
AZBio Supporters also enjoy special recognition at AZBio Signature events like the AZBio Expo, online, and in our AZBio email and print publications. The AZBio Expo is the place where you can connect with Arizona's growing bioscience community to engage, collaborate and move your bioscience business…. Forward Faster.
Show your support of Arizona's Bioscience Communty as a supporter when you join us April 29, 2015 at the Sheraton Downtown Phoenix in Phoenix, AZ for a full day of opportunities.
To learn more about the benefits of supporting AZBio, click here.
Opportunities for Support
Naming Rights: (Requires 3 year commitment)
$50,000—contact AZBio for more information.
Presenting Sponsor (1): "AZBIO Expo presented by ______",  Includes 8×10 exhibit, opportunity for  video and on-stage welcome,  Full page ad, 20 tickets  $20,000
Keynote Sponsor (1) Introduce keynote speaker, 8 x 10 exhibit, Full page ad, 10  tickets $10,000
Gold Sponsor (3) Includes Full page ad, 10 tickets and opportunity to introduce general session presenter $5,000
Gold Sponsor/Expo Reception (1) Includes Full page ad, 10 tickets, expo booth and opportunity to welcome guests to the closing reception from the main stage in the closing session  $5,000
Silver Sponsor Includes 1/2 page ad, 5  EXPO tickets $2,500
Program Ads:
Back Cover /Inside Cover :  $2,500  /  $2,000
Full Page/Half Page:   $1,500  /  $1,000
Ad Specification: 4-color, EPS, or 300 dpi jpg
Full page: 5.25 W x 8.25 H (inches)
Half Page:  5.0 W X 4.0 H (inches)
Examples of Ads from past AZBio Events: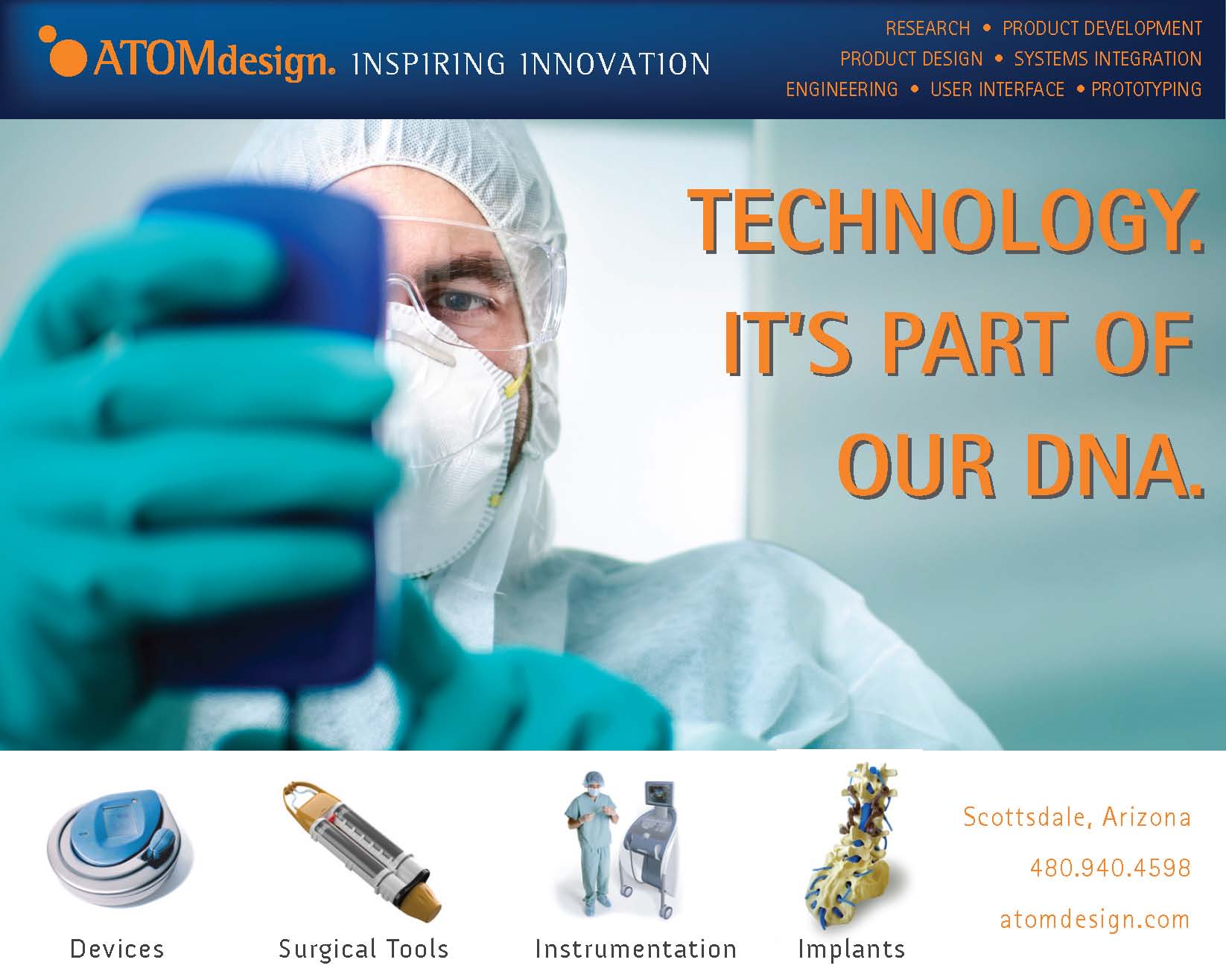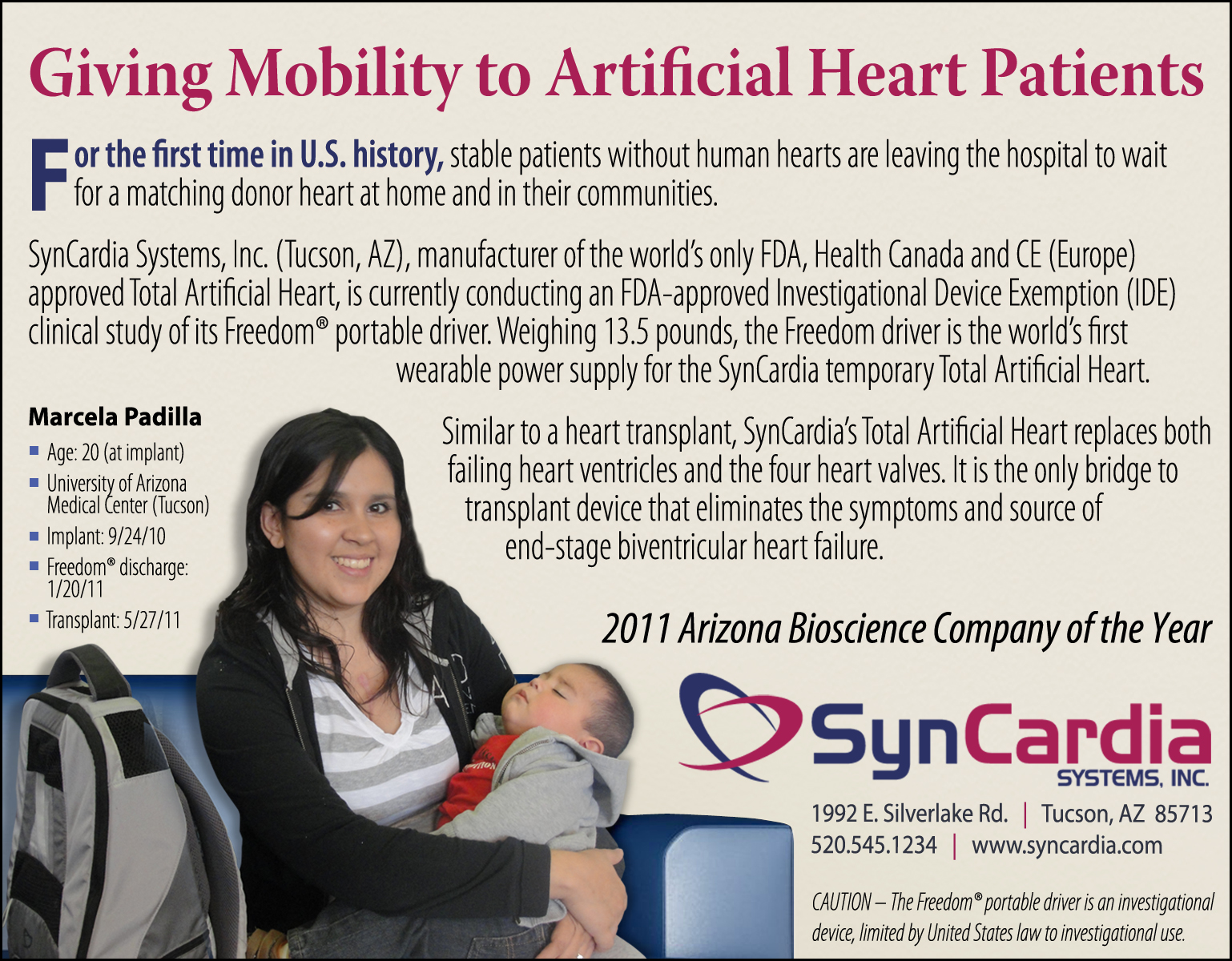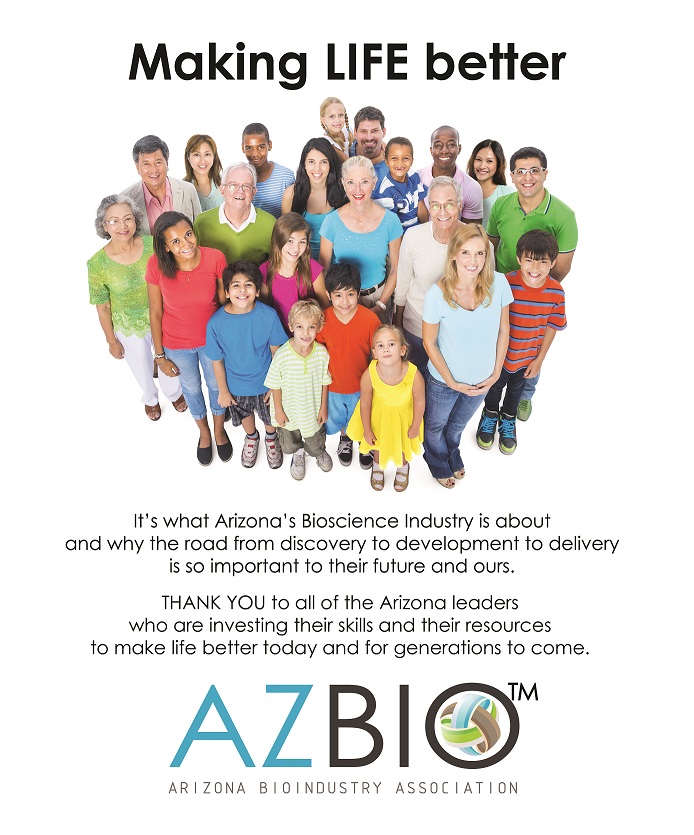 Additional Sponsors and Exhibitors
Silver Sponsors:  
DB Wilson LLC
AzHIMSS Elite Sponsors
Exhibitors:
AirGas, Arivis, ASU Dept.of Bioinformatics,  AZBio, AzHIMSS, BIO, Biodesign Institute at ASU, Center for Entrepreneurial Innovation (CEI), Cord Blood Registry, DCA (Direct Consulting Associates), Fortinet, Global Cancer Diagnostics,  Insight, InterLink Engineering, Knobbe Martens, Konica Minolta Business Solutions,  Life365, Merchant & Gould, Midwestern University's Institute for Healthcare Innovation,  PADT, Pinnacle Transplant Technologies, Prudential Cleanroom Services, RGroup Professional Services, SynCardia Systems, Inc., Trans-West, Ulthera, University of Arizona, VWR
Stay Tuned...More Coming Soon!