Botanisol Analytics is being honored with a 2021 AZBio Fast Lane Award for the progress they have made as they work to develop new tools that can be used to detect current and future health threats.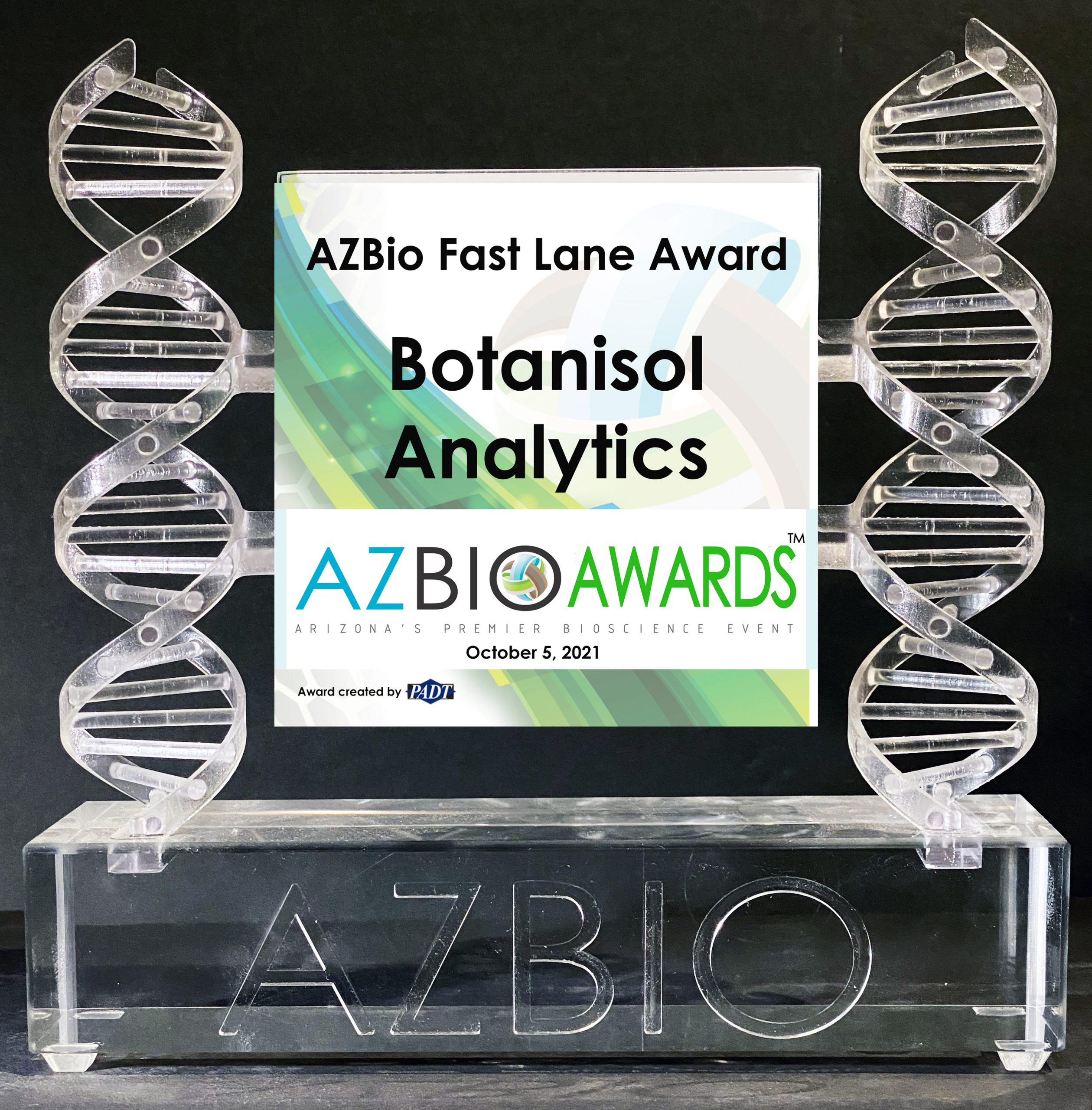 Laser Focused on Health and Safety
As we have all seen over the last two years, what you can't see can have a devastating impact.
Botanisol Analytics uses lasers to enable autonomous disease screeners. Pandemic prevention is an essential component of national security, and the company has been awarded a contract with the US Air Force to support their ongoing product development. Once validated, Botanisol plans to provide systems designed to help keep the nation's armed forces, and the civilians they protect, safe.
The company's Arizona roots run deep. The company licensed a new technology from the University of Arizona that it believes will make its next generation product significantly more accurate than the current optical state of the art. Botanisol Analytics received mentoring and development support from Tech Launch Arizona, was founded in Phoenix, and is located at the Center for Entrepreneurial Innovation at Gateway Community College.
"From their first days of developing the invention, I have enjoyed seeing the Botanisol Analytics team develop, grow and build on their success," stated Douglas M. Hockstad of Tech Launch Arizona. "In today's world, the ability to detect COVID-19 has become essential. As the world works to develop new tests and methods for such detection, the technology invented at the University of Arizona that Botanisol Analytics is commercializing is well on its way to having real impact."
Botanisol's technology uses lasers to illuminate upper respiratory samples and interprets the optical signature associated with pathogens present in the sample. While current tests rely on a variety of reagents and other chemical consumables, Botanisol's technology uses only a sample slide and is designed to be used anywhere with a standard power outlet.
In September 2020, Botanisol Analytics partnered with the Precision Diagnostics Lab at Beth Israel an affiliate of Harvard University Medical School to validate their technology and reports that accuracy levels have been consistent with current gold standard diagnostic technologies such as polymerase chain reaction (PCR) tests.
Botanisol Analytics has also worked with the University of Arizona, Northern Arizona University, and Rensselaer Polytechnic Institute (RPI) to build their technology based on cutting-edge science.
The company has been awarded $2.5 million in SBIR Air Force contracts since the end 2019 and was accepted into the Flinn Foundation Bioscience Entrepreneurship Program in 2021.
"In the 21st century, we have had multiple near-miss pandemics (Ebola, SARS, H1N1) and a direct hit with the COVID-19 pandemic. The chance to weaponize pathogens remains very much alive," stated David Talenfeld, CEO of Botanisol Analytics. "That's why we are building a technology to screen for multiple pathogens simultaneously. Beyond national security threats, we are building capacities to help public health officials make data-driven determinations about epidemiological threats, allow universities to screen large numbers of people quickly, and give event planners the confidence to hold large events securely."
Botanisol Analytics is being honored with a 2021 AZBio Fast Lane Award for the progress they have made as they work to develop new tools that can be used to detect current and future health threats.
About the AZBio Awards:
Each year, the AZBio Awards celebrate Arizona's leading Educators, Innovators and Companies during Arizona Bioscience Week. In 2021, the AZBio Awards will be celebrated as a 1-hour television special – Celebrating Life & Science – which will premiere on ABC15 at 4 PM on October 3, 2021. For more information and additional air dates and times visit https://www.azbio.org/celebrating-life-science-2021
About Arizona Bioscience Week
Each year Arizona Bioscience week is proclaimed at the Arizona Legislature and by the Governor. Arizona Universities, business organizations and economic development agencies host a series of educational events, investor forums, and celebrations to engage the community in one of Arizona's most important industries. To access the full schedule of events, visit AZBio.org/AZBW2021.
About AZBio
Since 2003, the Arizona Bioindustry Association (AZBio) has supported life science innovation and life science innovators in Arizona. A key component in Arizona's life science ecosystem, AZBio is the only statewide organization exclusively focused on Arizona's bioscience industry. AZBio membership includes patient advocacy organizations, life science innovators, educators, healthcare partners and leading business organizations. AZBio works in partnership locally and nationally to advance health innovation and to ensure that the value delivered from life-changing and life-saving innovation benefits people in Arizona and around the world. Learn more at www.AZBio.org