"The Honorable Kate Brophy McGee has a proven track record as a leader capable of tackling tough issues, solving problems and getting results," said Joan Koerber-Walker, president & CEO of AZBio. "During her time in the Arizona legislature she grounded her policy decisions and actions on making people the #1 priority and Arizona is better for it."
Putting People First
Putting people first is easy to say but building policy solutions that address the challenges people face is easier said than done. It requires the willingness to actively listen to different viewpoints, the ability to compromise, a talent for creating shared solutions, and, at times, the courage to put people over party.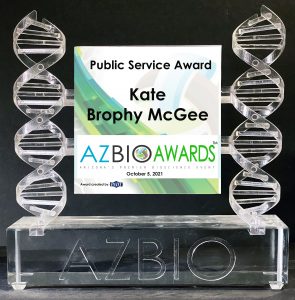 Getting Things Done
Kate Brophy McGee is a self-described community builder and has served as a leader in our community for over two decades – first as a school board member, and then in the Arizona State Legislature.
Known for her "door is always open" attitude and her willingness to listen and act, she built a reputation as a leader who effectively developed workable solutions. She sponsored and passed over 123 bills during her legislative career, including restored school funding, and policies that protect mothers and babies, migrant children, seniors, neighborhoods, drivers, and small business owners.
A Healthcare Leader
During her decade in the Arizona Legislature, Brophy McGee worked to improve access to care and keep Arizonans safe and healthy. Major efforts included work on Medicare Expansion, restoring funding for Kids Care, and supporting funding for biomedical research and medical education. In her final session as a State Senator and Chair of the Senate Health and Human Services Committee, she sponsored S.B. 1523, also known as Jake's Law. The legislation, introduced by Senator Kate Brophy McGee and Representative Jeff Weninger, requires health care insurers to cover mental health without additional barriers — just like they would cover an annual physical. The bipartisan bill passed the Arizona legislature with unanimous support and was signed by Governor Ducey in 2020.
A Champion for Children
At a time when Arizona's child welfare system was deemed a national disgrace, she led the charge on key health and human services policy initiatives. This resulted in massive and needed reforms to child welfare that helped to turn Arizona's new Department of Child Safety into a national best practice model.
Protecting Essential Education Funding
Prop 301 is a voter-approved initiative passed in 2000. It provides millions of dollars annually in funding for K-12 education as well as workforce development funds at our community colleges and TRIF, the Technology & Research Initiative Fund that provides research funding for important initiatives our three state universities. Prop. 301 was set to expire in 2021. Senator Brophy McGee and Representative Doug Coleman introduced S.B. 1390 to extend Prop. 301 Funding to 2041. The bill was signed into law by Governor Ducey in 2018. No one knew at the time that 2020 and 2021 would bring a global pandemic. Thanks to early action by Arizona's leaders, this essential education funding was not facing expiration at a time when the legislature and the governor were dealing with the impact of COVID-19.
"Senator Kate Brophy McGee has a proven track record as a leader capable of tackling tough issues, solving problems and getting results," said Joan Koerber-Walker, president & CEO of AZBio. "During her time in the Arizona legislature she grounded her policy decisions and actions on making people the #1 priority and Arizona is better for it."
For her tireless efforts on behalf of people across our state, Senator Kate Brophy McGee is being honored with the 2021 AZBio Public Service Award.
About the AZBio Awards:
Each year, the AZBio Awards celebrate Arizona's leading Educators, Innovators and Companies during Arizona Bioscience Week. In 2021, the AZBio Awards will be celebrated as a 1-hour television special – Celebrating Life & Science – which will premiere on ABC15 at 4 PM on October 3, 2021. For more information and additional air dates and times visit https://www.azbio.org/celebrating-life-science-2021
About Arizona Bioscience Week
Each year Arizona Bioscience week is proclaimed at the Arizona Legislature and by the Governor. Arizona Universities, business organizations and economic development agencies host a series of educational events, investor forums, and celebrations to engage the community in one of Arizona's most important industries. To access the full schedule of events, visit AZBio.org/AZBW2021.
About AZBio
Since 2003, the Arizona Bioindustry Association (AZBio) has supported life science innovation and life science innovators in Arizona. A key component in Arizona's life science ecosystem, AZBio is the only statewide organization exclusively focused on Arizona's bioscience industry. AZBio membership includes patient advocacy organizations, life science innovators, educators, healthcare partners and leading business organizations. AZBio works in partnership locally and nationally to advance health innovation and to ensure that the value delivered from life-changing and life-saving innovation benefits people in Arizona and around the world. Learn more at www.AZBio.org