On September 24, 2019, a letter was sent to Congressional Leaders in the Senate and House leadership on behalf of a group of over six hundred innovators, patient groups, physicians, hospitals, venture capitalists and other stakeholders representing millions of patients and hundreds of thousands medical technology jobs, requesting that Congress prioritize repeal of the medical device excise tax before it causes any more harm to the innovation ecosystem.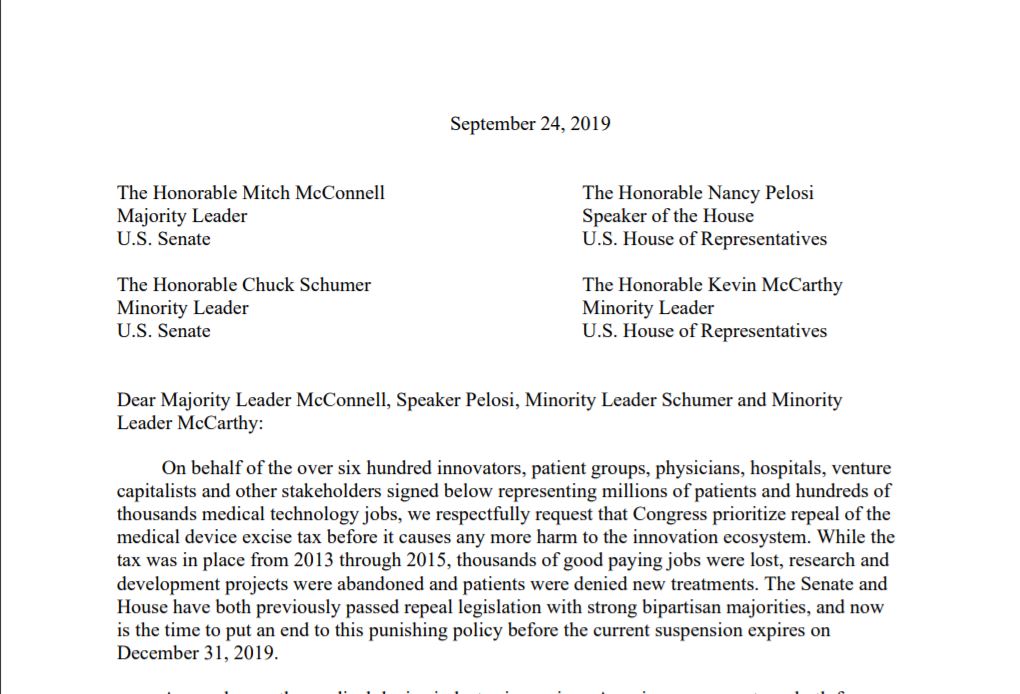 To view the full letter and the list of signatories, which includes AZBio, click here.
Signatories with operations in Arizona include: Arizona Bioindustry Association, Inc. (AZBio), Arthritis Association, B.Braun Medical, Becton Dickinson & Company, Cardinal Health, Cardioalert Systems, Dexcom, GE Healthcare, GT Medical Technologies, Inc., Hologic, Inc., Medtronic, NFIB, Phillips North America, Regenesis Biomedical, Roche Diagnostic Corporation, Stryker Corporations, Thermo Fisher Scientific, Vomaris Innovations, VQ Ortocare, Wenzel Spine, W.L. Gore and Associates, and Zimmer Biomet.
The majority of medical device companies are small businesses. Should the medical device tax suspension expire before the tax is repealed or the suspension is extended, small and emerging medical device companies, many of which have yet to attain profitability, will be required to divert precious resources from development of products and jobs . The looming deadline of December 31, 2020, is already creating uncertainty for these companies and forcing them to readjust their growth plans. This is especially troubling to the investors that these young companies rely on to survive.
Lifescience investment firms that are signatories to the letter include: Affinity Capital, Arboretum Ventures, Caanan Partners, Longitude Capital, New Enterprise Associates (NEA), Sutter Hill Ventures, SV Health Investors, Vensana Capital, and others.
Nine members of Arizona's eleven member Congressional Delegation are co-signors on bills to repeal the medical device excise tax in their respective chambers.
Currently, the "Protect Medical Innovation Act" S.692 has 35 cosponsors and H.R.2207 has 247 cosponsors.
On September 16, 2019, nine members of Arizona's Congressional Delegation sent their letter to leadership. The bipartisan letter from members of the Arizona Congressional Delegation urging Congressional leaders to permanently repeal the medical device tax was signed by Senator Kyrsten Sinema, Senator Martha McSally and Representatives Tom O'Halleran (AZ-01), Ann Kirkpatrick (AZ-02), Paul Gosar (AZ-04), Andy Biggs (AZ-05), David Schweikert (AZ-06), Debbie Lesko (AZ-08), and Greg Stanton (AZ-09).
The opening paragraph of their letter states:
"As members of the Arizona delegation who support a repeal of the medical device tax, we write to urge bipartisan action before the current suspension of the tax expires on December 31, 2019. We are extremely concerned its resumption will harm the sustainability of the medical device industry, which provides life-saving technology to millions of patients and supports 400,000 American workers, including over 17,000 in Arizona,"
The Arizona Congressional Delegation members who signed the letter are all cosponsors of the Protect Medical Innovation Act, which permanently repeals the medical device tax. Medical devices improve the lives of millions of patients every year and a return of the tax would raise health care costs on consumers. In addition, the medical device industry in Arizona supports thousands of jobs and contributes nearly $3 billion to Arizona's economy.
The full text of the letter can be found HERE.