Colorectal cancer biotech Cancer Prevention Pharmaceuticals files for a $29 million IPO
Cancer Prevention Pharmaceuticals, which is developing treatments for colorectal cancer risk factors, filed on December 23, 2015 with the SEC to raise up to $29 million in an initial public offering.

The goal of Cancer Prevention Pharmaceuticals, Inc. (CPP) is to develop "prevention therapies" for people with elevated risk for cancer. CPP's approach is: "Don't wait until you get cancer. Treat the risk factors."
Treating risk factors has saved lives in heart disease, neurovascular disease, and infectious diseases; but has yet to be applied to cancer. Founded by some of the most highly respected leaders in preclinical and clinical cancer prevention research, the CPP team has well over 100 years of combined drug development, research, and commercialization experience. CPP works  closely with the National Cancer Institute (NCI), the Food and Drug Administration (FDA), and the European Medicines Agency (EMA) to make prevention therapies a reality for those at-risk for cancer.
According to Renaissance Capital, the Tucson, AZ-based company, which was founded in 2009 and booked $4 million in sales for the 12 months ended September 30, 2015, plans to list on the NYSE under the symbol CPP. Cancer Prevention Pharmaceuticals filed confidentially on 9/4/2015. Aegis Capital Corp. is the sole bookrunner on the deal. No pricing terms were disclosed.
View the S-1
Aegis Capital Corp. is the sole book-running manager for the offering. The company has enlisted the legal services of Gracin & Marlow. The underwriters are being represented by Zysman, Aharoni, Gayer and Sullivan & Worcester LLP.
Cancer Prevention's S-1 states plans to use the proceeds of the offering to fund clinical trials, develop additional product candidates and fund working capital and general corporate purposes.
The company lists Meyskens Pharmaceutical Investors, Gerner Pharmaceutical Investors, Tierney Family Trust and Arizona based Translational Accelerator LLC as its principal stockholders.
Cancer Prevention's new drug product is designed to treat the risk factors that lead to colon cancer and may have the ability to prevent various types of colon cancer.
The proposed maximum aggregate offering of USD 29m currently listed in the prospectus is subject to change pending the company's roadshow and market conditions.
Progressing Pipeline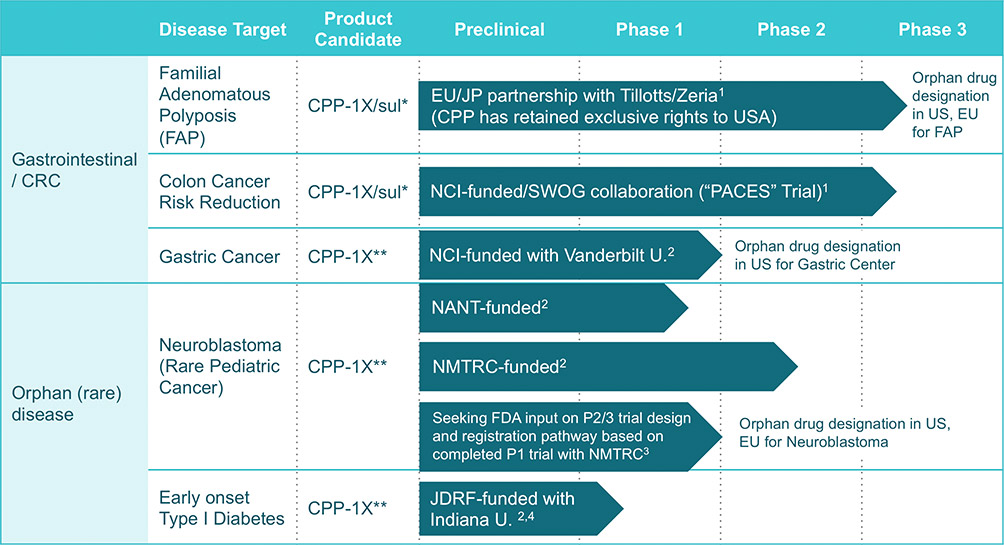 1Company-Sponsored Phase 3 Clinical Trial (preclinical, Phase 1 and Phase 2 clinical trials sponsored by third parties)
2Investigator-Sponsored 3Company-Sponsored preclinical and Phase 1 Clinical 4Pursuing orphan drug designation
*eflornithine plus sulindac combination tablet **eflornithine tablets and high dose powder sachet
Source: http://canprevent.com/pipeline/
Elizabeth Bruckheimer, PhD, Vice President, Drug Development at Cancer Prevention Pharmaceuticals  presents on CPP Clinical Trials at the AZBio Expo in April, 2015