The move would enable the organizations to meet a demand for clinical cell therapies that is expected to grow 42 percent annually over the next decade
DUARTE, Calif. and PHOENIX, Ariz. — Nov. 1, 2018 — City of Hope, a world-renowned independent cancer research and treatment center, and its affiliate, Translational Genomics Research Institute (TGen), have announced a letter of intent to develop a state-of-the-art cell therapy manufacturing facility in the Phoenix Metropolitan Area, a move that would improve the speed at which stem cell research and cancer treatment is delivered.
The Phoenix facility would model City of Hope's three Current Good Manufacturing Practice (cGMP) facilities in Duarte, California, which have produced well over 1,300 cell and gene therapy products and oncology drugs for many cancer clinical trials across the nation. City of Hope is one of a small number of select cancer centers in the U.S. to provide both biological and chemical GMP manufacturing at a single institution. Its facilities have the ability to produce both gene therapy viruses and cells needed for CAR T therapies.
"City of Hope is dedicated to innovation in biomedical science and has one of the most comprehensive CAR T cell programs in the world with 16 ongoing CAR T clinical trials," said Robert W. Stone, president and chief executive officer of City of Hope as well as vice chairman of the TGen board of directors. "Cancer patients need effective treatments now. City of Hope and TGen are working to quickly move effective therapies from the laboratory to patients' bedside. Additional cGMP facilities will help us expand our capabilities to serve people in Arizona and across the nation."
Demand for clinical cell therapies is expected to grow 42 percent annually over the next decade, according to "Cell Therapy Manufacturing Market." Most cell therapy manufacturing facilities are at capacity or over capacity because demand is outpacing production rates.
"This significant investment further enhances Arizona's reputation as a hub for bioscience and health care innovation," said Arizona Governor Doug Ducey. "Our state offers a strong concentration of talent ready to meet the needs of this facility. The work being conducted by City of Hope and TGen is critical in the fight against cancer, and Arizona is proud to play a role in it."
The planned facility would meet an urgent need of accelerating cures for patients in Arizona, Southern California and elsewhere. The facility would also provide additional opportunities to partner and collaborate with scientists in Arizona, an important objective for TGen, an affiliate of City of Hope.
At this future facility, chimeric antigen receptor (CAR) T cells, which have demonstrated durable cancer remission in blood cancers such as leukemia and lymphoma, would be among the cells that are produced. The new facility could also support the cell therapy production needs of pharmaceutical and biotechnology companies who need this kind of specialized GMP capability to move clinical trial programs forward.
"The road to future cancer cures requires genomic-enabled medicine and the type of immune-system enhancements that would result from this cell therapy manufacturing facility, which will provide local access to new treatments for Arizona patients," said Jeffrey Trent, Ph.D., TGen president and research director. "City of Hope's clinical and manufacturing expertise in immunotherapy is at the forefront of this field, and combined with TGen's genomic testing, offers patients new hope for their future."
The Arizona Commerce Authority will work in partnership with City of Hope and TGen to provide workforce development assistance through its Navigator and local One-Stop programs.
# # #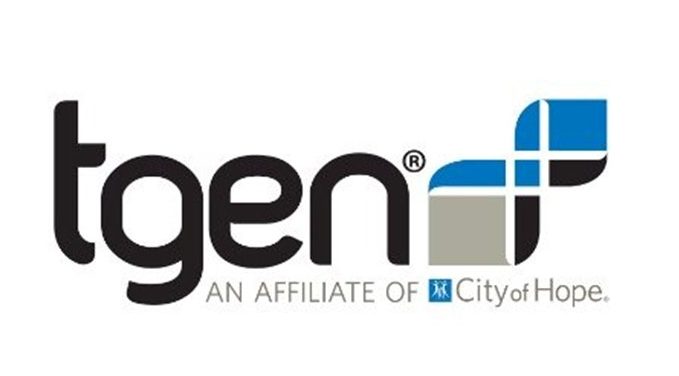 About TGen
Translational Genomics Research Institute (TGen) is a Phoenix, Arizona-based non-profit organization dedicated to conducting groundbreaking research with life changing results. TGen is affiliated with City of Hope, a world-renowned independent research and cancer and diabetes treatment center: www.cityofhope.org. This precision medicine affiliation enables both institutes to complement each other in research and patient care, with City of Hope providing a significant clinical setting to advance scientific discoveries made by TGen. TGen is focused on helping patients with neurological disorders, cancer, diabetes, and infectious diseases, through cutting edge translational research (the process of rapidly moving research towards patient benefit). TGen physicians and scientists work to unravel the genetic components of both common and rare complex diseases in adults and children. Working with collaborators in the scientific and medical communities literally worldwide, TGen makes a substantial contribution to help our patients through efficiency and effectiveness of the translational process. For more information, visit: www.tgen.org.
About City of Hope
City of Hope is an independent research and treatment center for cancer, diabetes and other life-threatening diseases. Designated as one of only 49 comprehensive cancer centers, the highest recognition bestowed by the National Cancer Institute, City of Hope is also a founding member of the National Comprehensive Cancer Network, with research and treatment protocols that advance care throughout the world. City of Hope's main campus is in Duarte, California, just northeast of Los Angeles, with additional locations throughout Southern California. It is ranked as one of "America's Best Hospitals" in cancer by U.S. News & World Report. Founded in 1913, City of Hope is a pioneer in the fields of bone marrow transplantation, diabetes and numerous breakthrough cancer drugs based on technology developed at the institution. For more information about City of Hope, follow us on Facebook, Twitter, YouTube or Instagram.