NIH/NCI SBIR Program Directors Saroj Regmi, PhD and Swamy Tripurani, PhD are joining us for Arizona Bioscience Week. Learn how you can get connected.
The National Cancer Institute (NCI) Small Business Innovation Research (SBIR) and Small Business Technology Transfer (STTR) programs support small businesses across the United States to develop innovative cancer technologies with strong potential to help people live longer, healthier lives.
The SBIR and STTR programs seek to:
Stimulate technological innovation.
Increase private-sector commercialization of federal research and development (R&D).
Increase small business participation in federally funded research and development.
Foster participation by minority and disadvantaged companies in technological innovation.
Dr. Saroj Regmi and Dr. Sawmy Tipurani will share information on opportunities for collaboration and support available from NCI at the The 5th Annual Arizona Drug Discovery & Development Summit on Tuesday, September 26, 2023. This year's summit will highlight key areas of research in discovering effective drug candidates for cancer, diabetes, and other prevalent diseases.
Request a 1:1 Meeting
AZBio is facilitating the schedule of 1:1 meetings where Arizona innovators who are working on projects that are within the National Institutes of Health's (NIH) mission can request a one on on meeting with an NIH/NCI program director on Wednesday, September 27th prior to the AZBio Awards.
If you are ready to discuss your project with an NIH/NCI program director, Arizona Bioscience Week is your opportunity. To request a 1:1 meeting, please click here.
For additional information on meeting opportunities, email Dr. Dylan Peay, AZBio Entrepreneurial Programs and Grants Manager.
Meet the NIH/NCI Outreach Team
Saroj Regmi, PhD, is a Program Director at the National Cancer Institute's Small Business Innovation Research (SBIR) Development Center. In his role, he provides oversight, guidance, administers funding, as well as offers networking assistance for small businesses to accelerate the translation of cancer-related technologies.
Prior to joining the NCI, Saroj was a Program Officer at the National Institute on Aging Office of Strategic Extramural Programs (OSEP) where he led the development of entrepreneurship-focused REDI program and played a key role in planning and implementation of a suite of programs to help small businesses and early-career scientists.
Saroj conducted his postdoctoral work at NIH using CRISPR/Cas9-based approaches to study cellular processes. He received his Ph.D. in molecular and cellular biology from Dartmouth Medical School.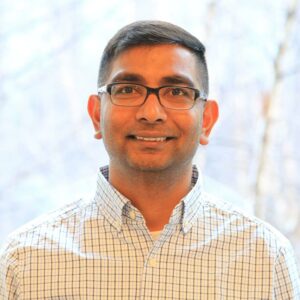 Swamy Tripurani, PhD joined the Small Business Innovation Research (SBIR) Development Center at the National Cancer Institute in January 2023. He serves as a Program Director, managing a portfolio of small businesses that develop novel diagnostics, devices, and targeted therapeutics (Biologics and small molecules) for cancer detection, diagnosis, and treatment. He is also involved in the CARE (Connecting Awardees with Regulatory Experts) program, which fosters interactions between NCI-funded small businesses and the Food and Drug Administration (FDA).
Before joining NCI, Swamy worked at FDA for eight years as a research and regulatory review scientist. At FDA, he reviewed Chemistry Manufacturing and Controls (CMC) attributes in drug applications and non-clinical studies in tobacco product applications. He also developed and executed multiple research projects focused on understanding mechanisms behind adverse toxicities associated with FDA-approved cancer therapies, for which he received numerous honor awards. Swamy received his Ph.D. in Genetics and Developmental Biology from West Virginia University and completed his postdoctoral research training focused on reproductive disorders and cancer development at Baylor College of Medicine. He also worked as a clinical research associate in the Department of Investigational Cancer Therapeutics at MD Anderson Cancer Center.