Regenerative medicine company adds 15,000 square foot expansion to support increased production capabilities for its innovative allograft products.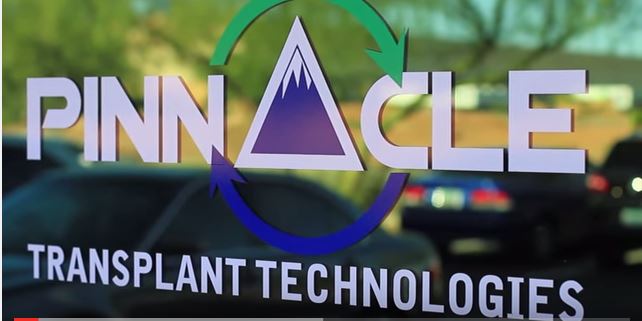 Pinnacle Transplant Technologies, a leading manufacturer of bone and tissue allografts for human transplantation, announced today that it is expanding its Phoenix headquarters as part of its ongoing mission to improve lives around the world. The company will be adding 15,000 square feet of administrative office space by the end of September 2017 and plans to dedicate its existing facility entirely toward the production of its innovative products.
"This is one of the most exciting times for our company," said CEO Russ Yelton. "Our growth over the last three years has rewarded us with the opportunity to add additional square footage and scale our production capacity. This ultimately will enable us to impact more patients with our life-changing allografts."
Pinnacle has experienced an average of 30% growth in revenue each year since 2014 and has reached nearly one hundred associates on staff. The company has also racked up some impressive accolades, including being named to the Inc. 5000 list of fastest-growing companies in 2016.
This expansion comes at just the right time as the company is now registered to distribute in 13 countries and will be bringing additional products to market later this year, according to Yelton.
Thanks to the efforts of the City of Phoenix, the Arizona Commerce Authority and Greater Phoenix Economic Council Pinnacle was able to identify training partners and the workforce needed to support the expansion. This comes after the company spent time evaluating multiple markets across the United States.
"We looked at several other markets as possible expansion targets, but Phoenix and the state of Arizona can offer unrivaled resources and opportunities that are integral to the growth of our business," Yelton said.
For more information, visit http://pinnacletransplant.com.
###
About Pinnacle Transplant Technologies
Pinnacle Transplant Technologies is a regenerative medical company that manufactures innovative allografts to the highest standards of quality and safety for transplant into human recipients. To date, Pinnacle's products have improved the lives of more than 100,000 individuals worldwide. Pinnacle operates out of a 24,000 square-foot facility located in Phoenix, Arizona, with a processing core that contains 10 validated cleanrooms and state-of-the-art equipment, such as CNC precision milling machines, designed to produce specialty allografts. For more information, visit pinnacletransplant.com.
Media contacts
Russ Yelton, ryelton@pinnacletransplant.com, 828.582.6323
Greg Bullock, azbullock@gmail.com, 480.544.8320