OLD BOUTIQUE GETS NEW LIFE AS DPR CONSTRUCTION'S HEADQUARTERS: Adaptive reuse project showcases sustainable building design
Rising from the remains of the former Castle Boutique on 44h Street and Van Buren,DPR Construction's new Phoenix headquarters – the DPR Boutique – opened on October 14, 2011 as a living laboratory for how to live and work sustainably in our desert environment.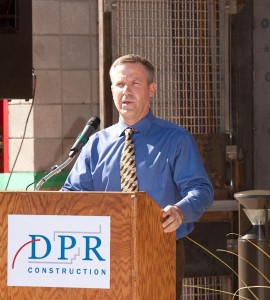 Located in the heart of the Discovery Triangle development zone, the DPR Boutique is on track to be the first Net Zero building in Arizona, where on-site renewable energy generation is equal to or reater than consumption. It is a short walk from the 44th Street light rail stop and incorporatesnumerous green building features and systems to inspire, educate and encourage clients and the community on green building design.
"We're proud of our new office and how it physically, environmentally and visibly represents our core values and culture," said Dave Elrod, regional manager of DPR Phoenix. "While many building owners may think it's impossible to turn a 30-year-plus old building at the end of its intended life cycle into something forward-thinking and sustainable, that is precisely what we've achieved for our new home."
To help celebrate the building's opening, Councilman Michael Johnson and the Southwest Autism Research & Resource Center's (SARRC) GardenWorks program  participated in a ceremonial planting and ribbon cutting.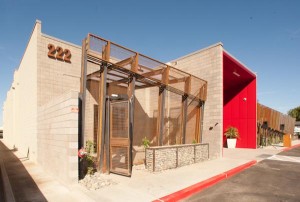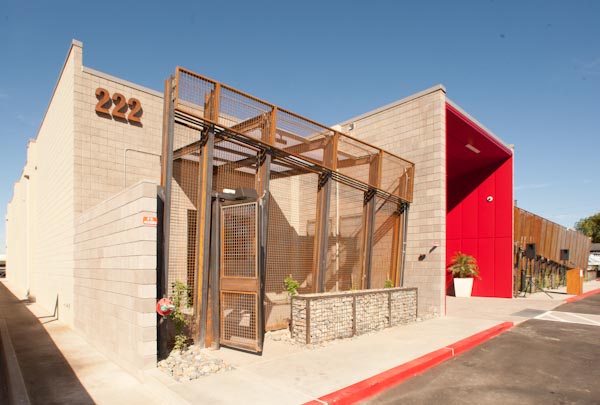 DPR Construction has built its reputation in green construction through excellence in client projects. The company wanted its Phoenix headquarters to reflect its commitment to innovative construction practices and sustainable design. DPR took on the challenge to turn an existing structure into a completely net-zero building that is also a comfortable and efficient workspace for its employees. Using prior experiences, the team was able to reduce design time and sustainability consulting fees by 75 percent.
"SmithGroup is excited to be a part of part this visionary project undertaken by DPR," said Mike Medici, AIA, managing director SmithGroup. "Their innovative approach will be a leading example of sustainable urban development for the Greater Phoenix area."
To learn about the many examples of  unique and sustainable features in DPR's new home, read the release on the  DPR Boutique's Sustainable Innovations.