Clara Curiel-Lewandrowski, MD, FAAD, professor of medicine and chief of the Division of Dermatology in the UArizona College of Medicine – Tucson has been accepted into the Hedwig van Ameringen Executive Leadership in Academic Medicine (ELAM) program.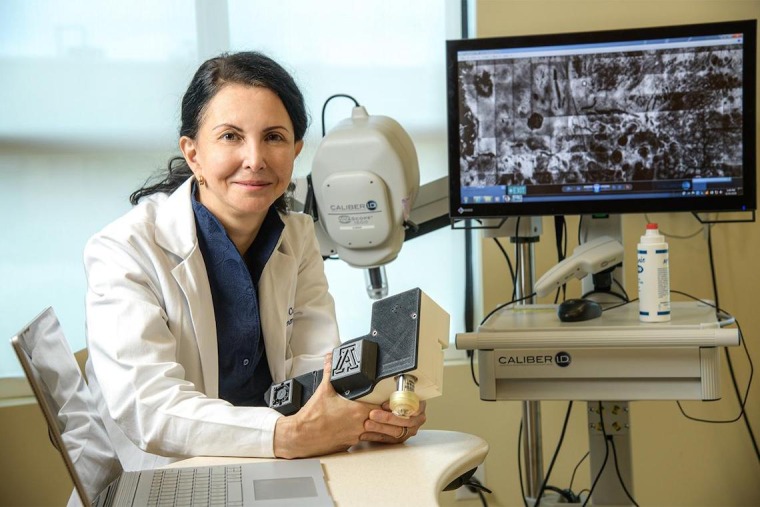 The intensive, one-year fellowship offers leadership training with coaching and networking aimed at expanding the national pool of qualified women candidates for leadership positions in academic medicine and other health sciences fields.
"I see my selection for this competitive fellowship as a defining step in my academic career," Dr. Curiel-Lewandrowski said. "The ELAM program is an opportunity to understand one's leadership skills in academic medicine, and how to improve them and apply them to support the mission of our home academic institution. I look forward to setting a concrete plan for my sustainable development of these skills while utilizing ELAM's professional resources to ultimately move our collective vision forward."
Dr. Curiel-Lewandrowski was recommended to the fellowship by Michael M.I. Abecassis, MD, MBA, dean of the College of Medicine – Tucson, who wrote in his letter of recommendation: "Given her track record and skills, I predict that Dr. Curiel-Lewandrowki will not only be an outstanding department chair, but also a dean in the future if she so desires. For these reasons and more, I strongly support her nomination with the utmost enthusiasm."
Dr. Curiel-Lewandrowski, who is a member of the UArizona Cancer Center and co-director of its Skin Cancer Institute, joined the university in 2004 from Harvard Medical School's Department of Dermatology. She has had continuous funding since 2008 and leads a multimillion-dollar National Institutes of Health program project grant on skin cancer therapeutic prevention. She has published more than 135 peer-reviewed articles and reviews in high-impact journals and was AZ BIO's Arizona Bioresearcher of the Year in 2018.
"The timing for this award couldn't be better," Dr. Curiel-Lewandrowski said. "Effective leadership is needed now, given the increasing complexity of academic medicine. Through my participation in the ELAM fellowship, I am looking to maximize these skills, and, in turn, guarantee the successful capitalization of the unique and transformational opportunities across the University of Arizona Health Sciences, the College of Medicine – Tucson and the Cancer Center. We want to set ourselves apart in these evermore competitive fields. We are excited by a series of recent initiatives already in action, including establishing a dermatopathology service, a dedicated laser program, the only Mohs micrographic surgery fellowship in Arizona, and the expansion of the dermatology-oncology program."
The ELAM program was started in 1995 and has over 1,200 graduates serving in leadership roles throughout the U.S. and Canada, according to Drexel University's website.
SOURCE: https://healthsciences.arizona.edu/connect/honors/0922/dr-curiel-lewandrowski-accepted-leadership-fellowship
IMAGE SOURCE: https://bio5.org/news/dr-curiel-lewandrowski-accepted-leadership-fellowship