A Tempe bioscience firm selling its DNA analysis kits to 25 countries worldwide is expanding into the education sector.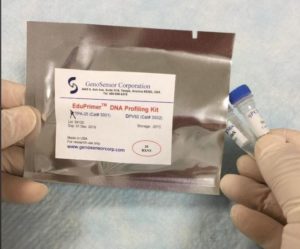 In 2006, James Xia, founder of GenoSensor Corp., made headlines when he began his first steps into the international market.
His company — which has been generating revenue since 2005 — has made a diagnostic chip to help scientists find genes that cause diseases, such as cancer and diabetes, using microRNA.
Now he is launching his products within schools — from high schools to universities. Some of his first customers were Arizona State University and Johns Hopkins University. They now include Phoenix Bioscience High School, where students can learn how to use his analysis kits.
"The idea is to introduce the newest concepts and newest technology to the classroom so students are able to learn modern, current technology," he said.
These skills will help them prepare for their work in research when they're ready to enter the workforce, he said.
"We've simplified all the technology processes and procedures so even high school kids can handle DNA analysis," Xia said.