H.R. 184 the Protect Medical Innovation Act which would repeal the Medical Device Excise Tax passed in the U.S House of Representatives on July 24, 2018. (283 Ayes; 132 Nayes; 13 Not Voting) Seven members of Arizona's nine person House Delegation both co-sponsored and voted in support of of the bill. The next step is the Senate.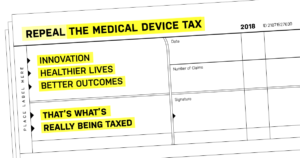 The Medical Device Tax is a direct tax on the sale of certain medical devices, such as pacemakers, catheters, and artificial joints. The legislation passed today permanently repeals the tax effective December 31, 2019. Medical technology supports 17,000 good-paying jobs in Arizona and contributes almost $3 billion to the state's economy.
The Advanced Medical Technology Association (AdvaMed) issued the following statement from President and CEO Scott Whitaker after passage in the U.S. House of legislation to permanently repeal the medical device excise tax:
"Today's vote is a win for American innovation, American jobs, and most of all for American patients, who benefit from the life-changing innovations our industry produces every day. We commend Rep. Erik Paulsen (R- Minn.) and a number of leaders from both sides of the aisle for their commitment to permanently repealing this onerous tax and for working to ensure our member companies have the long-term certainty they need to invest in R&D, hiring and other capital improvements to create the next-generation of treatments and cures.
The next step is the Senate.
"The overwhelming, bipartisan support for repeal sends a strong message that lawmakers recognize this tax is not good health policy or good fiscal policy. We know a significant majority of the Senate feels the same way and urge them to quickly take up this measure and eliminate once and for all this drag on one of the country's best hopes for better patient care and economic growth," added Whitaker.
Sending A Strong Message from Arizona
"Arizona has nine members in its U.S. House Delegation. Seven of them both co-sponsored and voted for H.R. 184 the Protect Medical Innovation Act which would repeal the Medical Device Excise Tax" stated AZBio president & CEO, Joan Koerber-Walker. "We are deeply appreciative of all of the effort of these leaders in carefully considering the impact that this tax has on both Arizona industry and Arizona patients. Thanks go to Rep. Tom O'Halleran (CD1), Rep. Martha McSally (CD2), Rep. Paul Gosar (CD4), Rep. Andy Biggs (CD5), Rep. David Schweikert (CD6), Rep. Debbie Lesko (CD8) and Rep. Kyrsten Sinema (CD9).
Here's what Arizona's Congressional Leaders had to say after the vote.
"This week, the House of Representatives passed H.R. 184 to repeal the Medical Device Tax, which was created under Obamacare," said shared Representative Andy Biggs. I was pleased to vote in favor of this bipartisan effort. The Medical Device Tax has harmed countless businesses and has stifled economic productivity in the medical industry. Congress needs to push the federal governments' over taxation out of the way of Americans and American business. I call on the Senate to approve this legislation to permanently repeal the Medical Device Tax."
"I worked tirelessly with my colleagues on the Ways and Means Committee to repeal this harmful Obamacare tax that would divert critical funding away from medical device R&D to Washington, DC. Repealing this senseless tax restores certainty to manufacturers as they continue to rapidly innovate medical technologies that improve and, in many cases, save the lives of patients," shared Representative David Schweikert.
"Manufacturers in our state should be free to grow, hire, and pioneer technology that improves lives without being burdened by additional, misguided taxes," said Representative Kyrsten Sinema. "Repealing this unnecessary tax on manufacturers is a commonsense solution that encourages innovation and provides access to life-saving medical technology."