To grow their confidence and skills, it's critical for young scientists to have opportunities to present their research continually.
Hosted by the Arizona Bioindustry Association, the AZBio Awards provides the perfect platform for alumni from the BIO5 Institute's flagship KEYS Research Internship program to present their research projects. These students are eager to continue their research journey after completing KEYS, an immersive summer internship on real-world scientific problems under the mentorship of University of Arizona scientists.
The AZBio Awards is an annual event that celebrates leaders across the state of Arizona who illustrate the depth and breadth of the life science industry. A component of the event is the Student Discovery Zone where aspiring researchers showcase their work with the potential to win scholarships towards furthering their education.
This year, 32 alumni were accepted to present from the BIO5 Institute's KEYS Research Internship, with 29 in the high school category and three in the undergraduate/graduate category.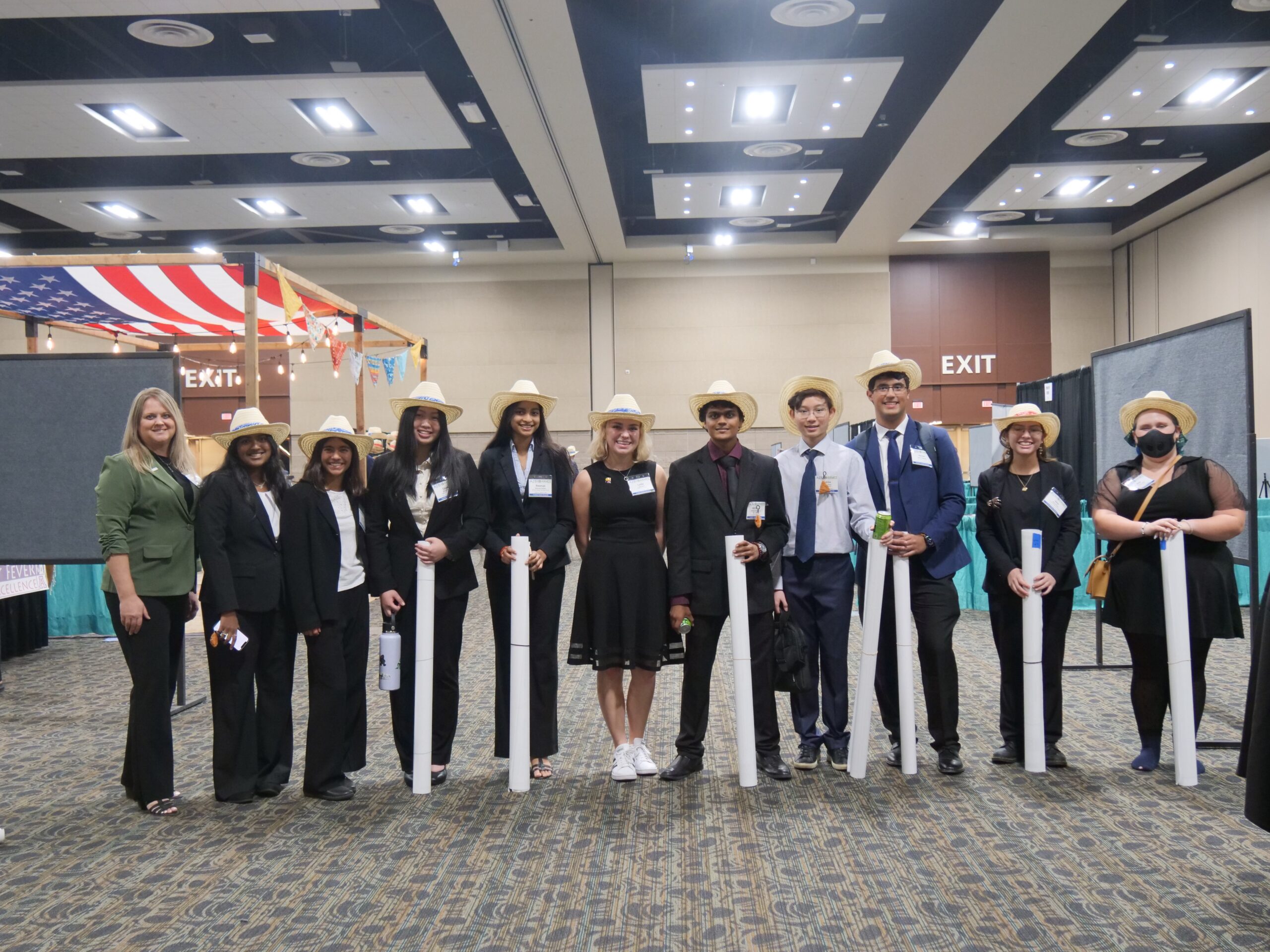 "We are excited and proud to have a record number of KEYS alumni participating in this year's event," said Kelle Hyland, KEYS program manager. "These students are our future and the ones who will be creating solutions and improvements to society's greatest challenges."
In addition, KEYS alumni connected with Arizona industry partners, building a professional network to help with future job opportunities.
2022 KEYS alumni Maritza Roberts-Padilla and Keona Kuo placed first and second, respectively, in the high school research category. 2021 KEYS alumna and current UArizona student Audrey Sweten placed second in the undergraduate/graduate research category.
"Winning an award at the AZBio Awards was very special to me because it was nice to see my hard work recognized," said Kuo, currently a senior at University High School.
During KEYS, Kuo learned biochemistry techniques while working in the lab of Nancy Horton, professor of molecular and cellular biology and a BIO5 Institute member. She feels fortunate to be given the opportunity to present her independent research project Novel Isolation and Filamentation of Drosophila melanogaster Phosphofructokinase-1 at the event. For her future plans, Kuo wants to major in biochemistry or biomedical engineering in college and wishes to continue research as an undergraduate and potentially as a career.
Other KEYS alumni accepted to present were: Adam Bedeir, Lydia Behr, Madeleine Berry, Diya Bhattacharya, Kya Bruckner, Sophia Chen, Ellie Dorland, Andrew Du, Cate Dunn, Emma Edwards, Atharva Goel, Swanuja Godasi, Shreya Guggilla, Ella Harris, Gina Horner, Elysa Kan, Andrew Kang, Emma Kim, Katherine Lam, Chanae Lopez, Adrian Matzkin, Riya Nalla, Hersh Nanda, Riya Nannapeni, Bernardo Navarro, Charisse Qin, Sabrina Russell, SriVarun Vungutur, and Jake Weiss.
Learn more about two of our award winners and their next steps.
Maritza Roberts-Padilla: Committed to STEM, chemistry and her community
Roberts-Padilla is a KEYS Class of 2022 alumna and is currently a senior at BASIS Tucson North High School. She presented her research project Batch Adsorption Study of Methylene Blue Using Fresh Prickly Pear Cactus Cladodes as a Novel Model Material for Textile Wastewater Remediation.
What does winning an AZBio Award mean to you?
In 2022 I attended the AZBio Awards, and it was the first science competition I entered in high school.
I left the competition empty-handed but with a new motivation to continue challenging myself and building up my research skills. I am very grateful to have won first place this year, it's the culmination of a four-month-long independent research project and countless long school days.
Being recognized by AZBio represents how others value my perspective in STEM as a young Latina pursuing chemistry.
How did KEYS help prepare you for this experience?
Beyond science communication, data skills, and wet lab experience, the KEYS Research Internship showed me the importance of finding a community within science.
During KEYS, I was not only introduced to my first chemical hood but also to the first woman in science who sought to help me achieve my research goals, Malak Tfaily, associate professor in the UArizona Department of Environmental Science and a member of the BIO5 Institute.
Outside of the lab, I was able to foster a broad community with peers across Arizona and learn how interdisciplinary approaches to complex issues are necessary for comprehensive science-based solutions.
What are your next steps?
Furthering my commitment to the STEM field, I am working on sidewalks, in schools, and in the lab.
As a SARSEF Science Ambassador, I help ignite passion and curiosity among the under-resourced Tucson youth, encouraging them to dip their finger into engineering or science.
I am also a podcast host for Cientifica Discussions, where I interview Latina astrobiologists, neuroscientists, physicists, chemists, and environmental scientists. The goal of the podcast is to diversify the discussions of research for youth within my community and highlight the importance of equity in the scientific field.
I am continuing research, working in the lab of Alicja Babst-Kostecka, assistant professor in the UArizona Department of Environmental Science, on an independent research project that intersects across the fields of plant science, phytostabilization, and sustainability.
Audrey Sweten: Current UArizona student, future infectious disease microbiologist
Sweten is a KEYS Class of 2021 alumna and currently a UArizona junior majoring in cellular and molecular biology. She presented her research project CRISPR interference (CRISPRi) Technology to Investigate Group B Streptococcal Pathogenesis.
What does winning an AZBio award mean to you?
Winning second place in the undergraduate/graduate category at AZBio Awards was an incredible honor. It was a privilege to not only win a cash prize to fund future research expenses, but also to network with so many experts in the biotechnology and medicine fields.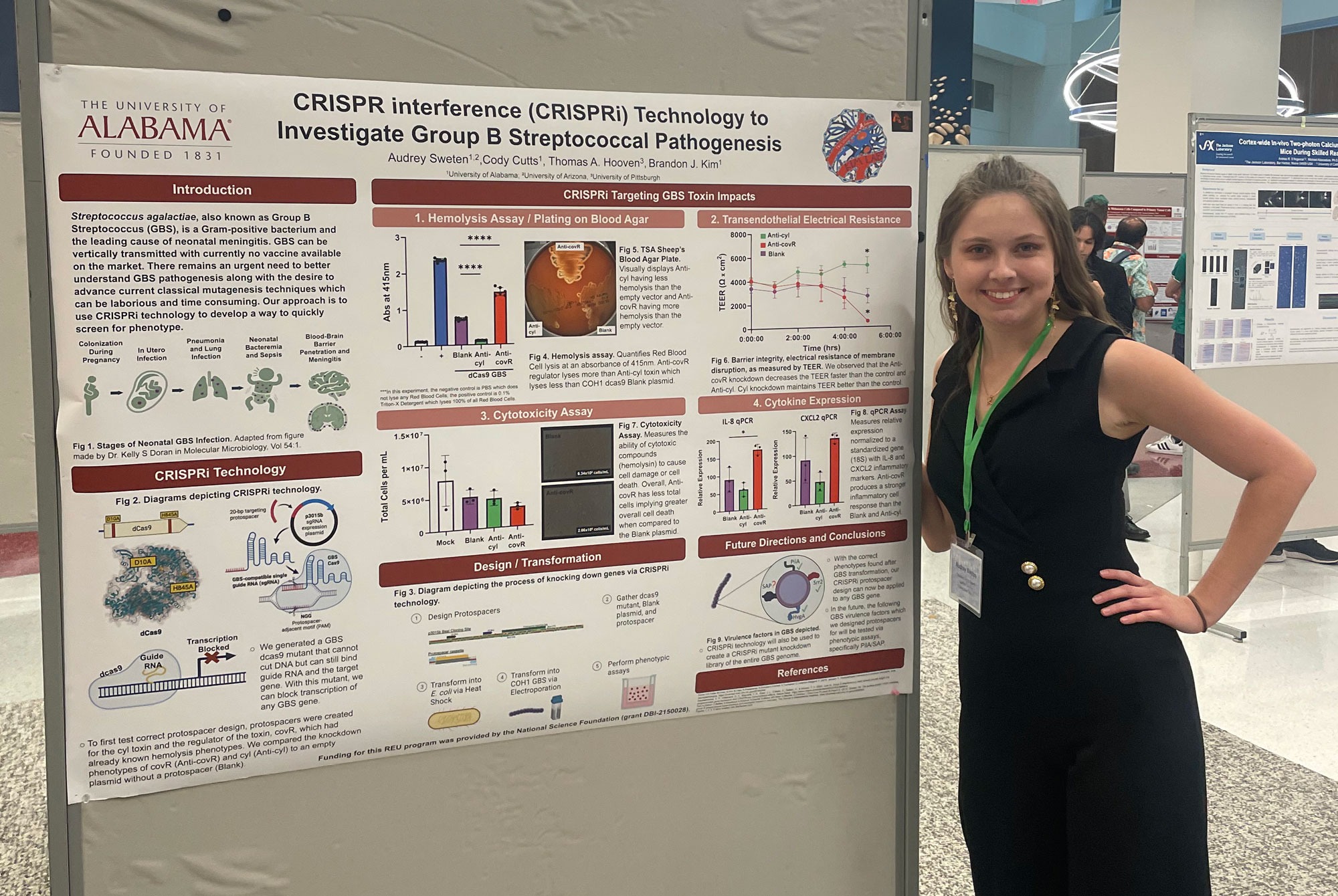 I think science communication is extremely important. It was inspiring to meet so many researchers that are changing the world, from new medical devices to novel vaccines.
How did KEYS Research Internship prepare you for this experience?
KEYS was the first steppingstone into finding my passion for research.
I joined the lab of David Baltrus, associate professor in the UArizona School of Plant Sciences and member of the BIO5 Institute, and my KEYS project focused on advancing our current knowledge of genetic engineering and antibiotic resistance.
Coming from an underfunded public high school, I did not have many opportunities to explore scientific careers, so the ability to conduct research (even online due to COVID) was phenomenal.
KEYS helped build my passion for microbiology research and persuaded me to become a UArizona student.
What are your next steps?
After KEYS, I was accepted to the University of Arizona and have continued to work on various research projects.
I continue to work in the Baltrus' lab, researching antibacterial agents for agricultural pathogens. Then I gained the opportunity to work in the lab of Marc Orbach, professor in the UArizona School of Plant Sciences and member of the BIO5 Institute, for a semester to study the mechanism and safety of the first fungal vaccine for canines with Valley fever.
I was then selected to participate in a National Science Foundation Summer Research Experience for Undergraduates (REU) at the University of Alabama, Tuscaloosa where I worked on Group B Streptococcus, the number one cause of neonatal meningitis in the world, with Dr. Brandon Kim and that was the research I presented at the 2023 AZBio Awards. I will also be presenting this work at the 2023 Annual Biomedical Research Conference for Minoritized Scientists in Phoenix, Arizona.
My dream career goal is to work in government as an infectious disease microbiologist, but I also have interests in vaccine development. To better set me up for my future, I will be applying to biomedical and microbiology doctoral programs.
Applications for the 2024 KEYS Research Internship open on November 1, 2023. Please visit keys.arizona.edu/apply to learn more.