Langham Logistics, an Indiana-based warehousing and transportation company with a focus in life sciences, today announced an adaptation of the second half of its Arizona building to GMP controlled room space. More than 9,000 newly-converted controlled room temperature (CRT) pallet positions opened for full operations on June 1st to serve the West Coast's cold chain warehousing and distribution demands.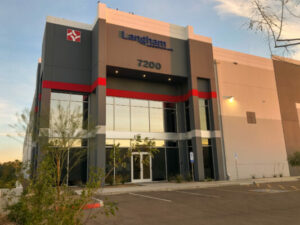 The warehouse first opened in the fourth quarter of 2020 to provide customized transportation, warehousing, and fulfillment services for the West Coast's GMP and pharmaceutical industries. It is one day's drive from the Port of Los Angeles, boasts 151,000 square feet of storage space, and has the capability to store goods at temperature ranges including a CRT space (15°C to 25°C), a walk-in cooler (2°C to 8°C), a walk-in freezer (-30°C), and an ultra-low temperature freezer farm.
"The expansion of these CRT pallet spaces reflects Langham's commitment to custom solutions for the GMP industry," said Cathy Langham, CEO of Langham Logistics. "We're grateful to work with clients that push us to grow so quickly."
In the three years since the Phoenix facility's first announcement, Langham Logistics has tackled an aggressive growth plan for the life sciences logistics industry. It has received licensure by the Indiana Board of Pharmacy, accepted a board appointment to AZBio as well as one for BioCrossroads, and built two additional distribution centers in Whiteland and Whitestown, Indiana.
About Langham Logistics
Langham Logistics is a global transportation and warehousing company based in Indianapolis. The company offers supply chain management, domestic and international freight services, airport logistics services, and warehouse and fulfillment services in the Midwest and Southwestern United States with a focus on the life sciences industry. The reputation of being calm, cool, and delivered echoes throughout all of Langham's services, giving their clients the freedom to stay focused on their business while their goods are stored and shipped on time and in perfect condition. www.elangham.com
Contact
Cathy Langham
President and CEO
cathylangham@elangham.com
+1-317-506-4573
Leah Harris
Director of Business Development, Life Sciences
leahharris@elangham.com
+1-304-494-8198
source: https://www.elangham.com/2023/06/13/langham-upgrades-phoenix-gmp-warehouse-crt-expansion/