Dr. Anna Barker and Dr. George Poste of ASU and Dr. Donald Tindall and Dr. Allan Jaffe of Mayo to share insights at BioConference Live's Ground-Breaking Cancer Research, Discovery and Therapeutics FREE Virtual Conference in October.
First of Its Kind Online-Only Conference Focusing on Cancer with Live Streaming Video Presentations Delivered by Industry Experts; Earn Continuing Medical Education Credits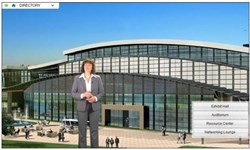 (PRWEB) August 27, 2013
BioConference Live, the largest producer of online-only conferences focused on life sciences, laboratory animal sciences and clinical diagnostics, has announced the upcoming "Cancer: Research, Discovery and Therapeutics" online-only conference. The virtual conference is slated to take place October 16-17, 2013, and will be conducted through live video webcasts and real-time networking. This comes as good news to many in the cancer research community who are seeking alternatives to customary (often expensive and time consuming) physical conferences.
The "Cancer: Research, Discovery and Therapeutics" online conference event is set to feature some of the world's top research scientists, medical experts and more to speak about the latest advances in cancer research. Attendees can expect to be educated on new concepts, tools and techniques applicable to current and future research and diagnosis. The conference will cover a wide range of topics from many fields within the scientific community, including: up-to-date research findings, epigenetics, drug discovery, therapeutics, vaccines, melanoma, stem cells, nanotechnology, certain human cancers, the most recent developments in cancer evolution and resistance, and much more.
Participants can earn free CME and CE Credits.
Speakers include:
    Charles M. Perou, PhD – University of North Carolina School of Medicine, Lineberger Comprehensive Cancer Center
    Andrew Armstrong, MD ScM FACP – Duke Cancer Institute, Divisions of Medical Oncology and Urology, Duke University
    Adil Daud, MD – UCSF Helen Diller Family Comprehensive Cancer Center, University of California San Francisco School of Medicine
    Fred Kramer, PhD – Public Health Research Institute
BioConference Live has been acclaimed by professionals throughout the life science and clinical diagnostics community for its innovative series of online centered conferences. The online-only format has been widely praised for its cost-effectiveness and ability to easily breakdown the barriers of time and distance that has traditionally hampered collaboration between scientific researchers the world over. BioConference Live boasts all the benefits of a world-class conference, without any of the classic drawbacks.
Parties interested in current research in cancer science should sign up today, for free, to take advantage of live streaming sessions by industry leaders, networking with peers, and exploration of the virtual exhibit floor showcasing the state-of-the-art in life science and medical technologies.
About BioConference Live: Founded in 2009, BioConference Live's vision was to connect the scientific world leveraging a unique virtual platform, discovering meaningful collaborations across geographic boundaries and fields of expertise.  BioConference Live has grown into the world's largest producer of virtual events within the Life Sciences and Clinical Diagnostics community. LabRoots is the owner and producer of BioConference Live, and is the leading scientific networking website designed to connect all science verticals. For more detail visit, http://www.bioconferencelive.com/.