2010 Arizona Bioscience Educator of the Year  Dr. Andrew Lettes, a Pueblo Magnet High School teacher, will be honored as Teacher of the Year as part of the 2014 Governor's Celebration of Innovation.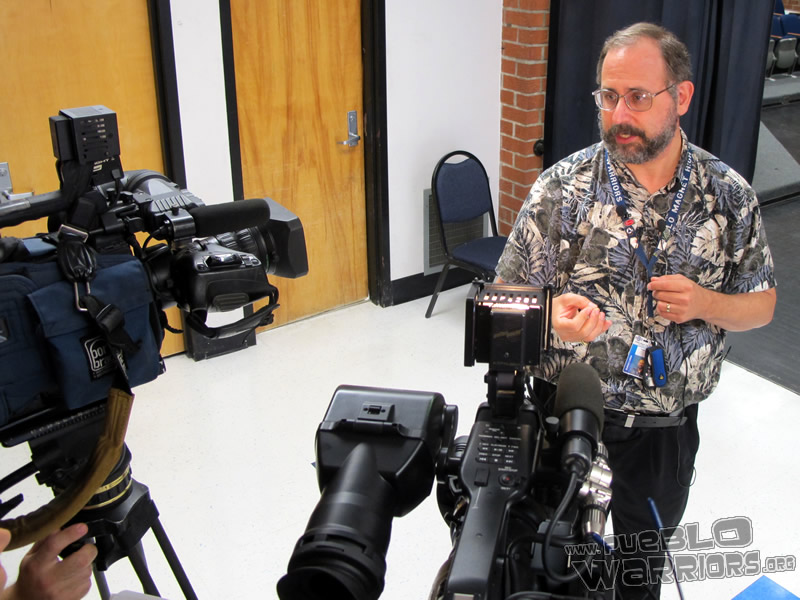 Andrew Lettes, Ph.D. has taught at Pueblo since 1994 in the capacity of science and Career and Technical Education teacher.  Dr. Lettes initiated Pueblo's Biotechnology Program in the summer of 2004 in response to the low number of students enrolled in advanced science classes.
 "Biotechnology provides the framework for students to be excited about science, and also apply this knowledge. The curriculum produces students who are prepared for good paying careers in the emerging technology sector, " Lettes remarked.
Through 2013, over 600 students have participated in Biotechnology at Pueblo Magnet High School.
A recipient of the AZBio Michael A. Cusanovich Bioscience Educator of the Year in 2010, Dr. Lettes continues to provide opportunities for his students. All Advanced Biotechnology students presented their research at the Southern Arizona Regional Science and Engineering Fair (SARSEF). Students placed first place in Cellular and Molecular Biology, second in Chemistry, and second in Environmental Sciences. In addition, dual enrollment students earned three college credits this past year through the Molecular and Cellular Biology Department at the University of Arizona.
Dr. Lettes and Pueblo High School are currently working with the Pima County One-Stop to create a workforce development program connecting high school bioscience students and Pima County bioscience companies. The program includes opportunities for bioindustry members to share their experiences with tomorrow's bioscience leaders as guest speakers and  student mentors.  Industry members also have the opportunity to pair up with a student for a day in their workplace and allow the student to experience "a day in the life" of the life science industry member.
Dr. Lettes' former students have gone on to pursue degrees in neuroscience, molecular biology, and science education.  One is currently a segmented polyurethane solution (SPUS) Technician/Manufacturing Technician at SynCardia Systems, Inc. in Tucson.
Arizona's bioscience community will again see Dr. Lettes take the stage as he presents the 2014 Michael A. Cusanovich Bioscience Educator of Year honors to Dr. Miles Orchinik of the School of Life Sciences at Arizona State University at the AZBio Awards on September 17, 2014 in the Phoenix Convention Center Borth Ballroom.
The Governor's Celebration of Innovation (GCOI) is the Arizona Technology Council's (AZTC) annual awards gala in partnership with the Arizona Commerce Authority (ACA) that honors technology leaders and innovators from across the state. The event will take place at the Phoenix Convention Center's West Building on Thursday, November 13, 2014.
For more information on how you can get involved in developing tomorrow's bioscience leaders…
Contact:
Dr. Andrew Lettes
520-225-4302   andrew.lettes@tusd1.org.