"Great leaders pursue a vision, bring people together to make that vison a reality, and inspire and help others to realize their visions too," stated AZBio president & CEO Joan Koerber-Walker. "Dr. Mark Slater exemplifies what it means to be a great leader. He has made and continues to make a significant impact on Arizona's bioscience and healthcare community."
Working Towards Tomorrow's Cures
The HonorHealth Research and Innovation Institute is a collaborative enterprise with approximately 180 employees and 300 investigators working toward tomorrow's cures. The institute runs a sustainable, self-supporting operation that benefits patients, the health system, and the greater community.
HonorHealth's 250-plus active research studies encompass not only cancer, but also bariatric (weight loss), cardiovascular, gastrointestinal, neurologic/spine, trauma, and translational (personalized) medicine.
Collaborative relationships with TGen, ASU, UA and many other top local, national, and international organizations have resulted in international recognition for breakthrough innovations in medical care, attracting world-class talent, global innovation companies and technologies, as well as patients from all 50 states and over two dozen countries to our community for innovative early-phase trials.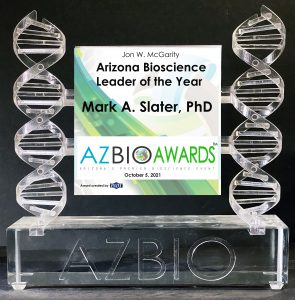 For the past 15 years, Mark Slater, PhD has served as Vice President for Research at HonorHealth and Chief Executive for the HonorHealth Research and Innovation Institute developing a premier collaborative institute without walls to bring tomorrow's cures to our community today through accelerating translational and clinical research in precision medicine.
Many significant advances have been made at the HonorHealth Research & Innovation Institute under Dr. Slater's leadership in oncology, cardiovascular disease, and neuroscience.
In addition to leading the institute, Dr. Slater is an active researcher and recognized leader in in fields of pain, behavioral medicine, and clinical research. He has authored over 100 scientific publications and has benefited from 30 years of continuous grant funding. Committed to developing the next generation of health innovators, Dr. Slater mentors his doctoral students and keeps in touch with them as they progress in their careers and have gone on to hold leadership positions in major academic institutions.
Under Dr. Slater's leadership, the HonorHealth Research & Innovation Institute has emerged and grown as a significant site for innovation development, medical science advancement, collaboration, attraction of world-class talent, bioscience employment, and investment/support for local start-ups.
The pandemic highlighted how the institute's unique model for collaboration and innovation was able to accelerate effective response to the unprecedented challenges that provided rapid impactful advances in clinical care, therapeutics, and prevention for Arizona and beyond.
In addition to his work at HonorHealth, Dr. Slater has served the community to advance the biosciences through leadership and advocacy in the Scottsdale Cure Corridor initiative, the Scottsdale Unified School District Foundation Board (where he developed a Bioscience Teacher Excellence program in conjunction with HonorHealth), the Frank Lloyd Wright Foundation Board of Stewards, Premier Innovations Research Collaborative Board of Advisors, the BioAccel Council of Advisors and as the immediate past-Chair of the Arizona Biosciences Roadmap Steering Committee.
"Great leaders pursue a vision, bring people together to make that vison a reality, and inspire and help others to realize their visions too," stated AZBio president & CEO Joan Koerber-Walker. "Dr. Mark Slater exemplifies what it means to be a great leader. He has made and continues to make a significant impact on Arizona's bioscience and healthcare community."
Mark Slater, PhD is being honored with the 2021 Jon W. McGarity Arizona Bioscience Leader of the Year Award by AZBio.
About the AZBio Awards:
Each year, the AZBio Awards celebrate Arizona's leading Educators, Innovators and Companies during Arizona Bioscience Week. In 2021, the AZBio Awards will be celebrated as a 1-hour television special – Celebrating Life & Science – which will premiere on ABC15 at 4 PM on October 3, 2021. For more information and additional air dates and times visit https://www.azbio.org/celebrating-life-science-2021
About Arizona Bioscience Week
Each year Arizona Bioscience week is proclaimed at the Arizona Legislature and by the Governor. Arizona Universities, business organizations and economic development agencies host a series of educational events, investor forums, and celebrations to engage the community in one of Arizona's most important industries. To access the full schedule of events, visit AZBio.org/AZBW2021.
About AZBio
Since 2003, the Arizona Bioindustry Association (AZBio) has supported life science innovation and life science innovators in Arizona. A key component in Arizona's life science ecosystem, AZBio is the only statewide organization exclusively focused on Arizona's bioscience industry. AZBio membership includes patient advocacy organizations, life science innovators, educators, healthcare partners and leading business organizations. AZBio works in partnership locally and nationally to advance health innovation and to ensure that the value delivered from life-changing and life-saving innovation benefits people in Arizona and around the world. Learn more at www.AZBio.org